Silverlight Shadows (Rock) - Melbourne, Australia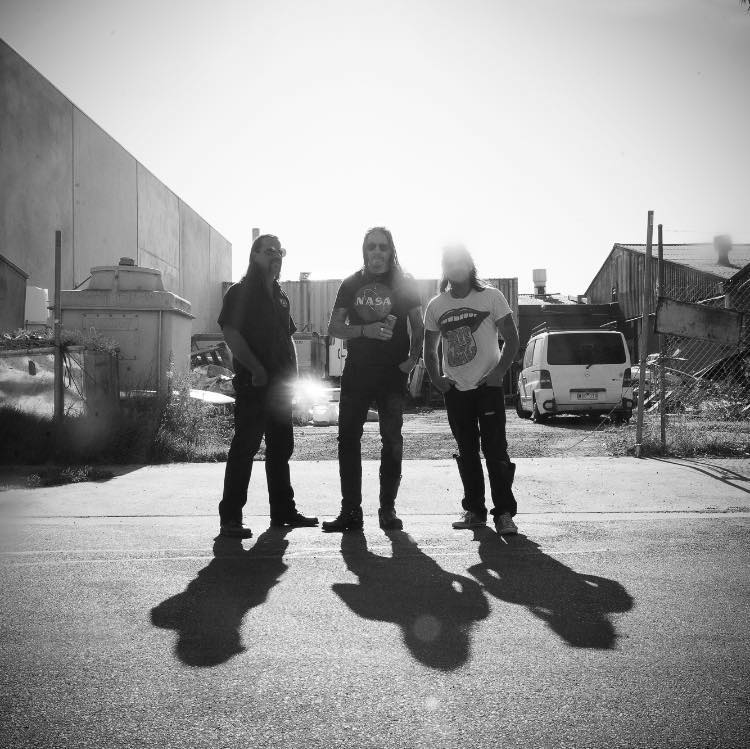 SILVERLIGHT SHADOWS are thrilled to announce the release of their highly anticipated sophomore album HEADSPACE. Influenced by classic early 90s rock bands including Tumbleweed, Magic Dirt and Spiderbait along with Nirvana and Motorhead, Melbourne three-piece SILVERLIGHT SHADOWS deliver a unique sound that is part punk, part thrash, part grunge and 100 percent rock'n'roll.
Upcoming Shows:
More shows coming soon.
"Black the World" Single Review
The track wastes no time in blasting right in to its high octane Fuzz Rock sound. The track goes full speed ahead into the first verse with a more furious form of Rock. The chorus features touches of old school Punk in its delivery. The guitar solo near the end of the track takes it to an even higher level. The fast, unrelenting track ends and you'll be reaching for the repeat button in no time as it's straight, to the point Rock that craves more attention.
Verdict:
Silverlight Shadows deliver a single that should become one of your favorites in no time.
"Headspace" Album Review
Silverlight Shadows from Australia released this album back in 2017 but with new music on the horizon, let's go back and check out what they have to offer for the Rock music scene. The opener and title track "Headspace" immediately gets in your face with the hard hitting riffs and force behind its vocals. It's quite the track to kick things off with as it grabs you in and doesn't let you go. "Computer Say No" is faster and has a bit of Punk to it. It's the brash attitude of the track that really sets it off. "Country Band" continues the onslaught of no gimmick, fast, Hard Rock music. The guitar work on the track is stellar and really takes things to an even higher level. "Never Alone" has that old throwback Grunge sound to it. The Mudhoney sound comes through as it twists and turns like a runaway freight train with its grooves and melodies. "F.F.F.F" has that fast unrelenting sound to it that will make the live crowd move and sing along in delight. "Deadweight" is straight up awesome. The driving melodies, infectious riffs and overall twang will be stuck in your head for days. It's no wonder why it's a single. "The Night Becomes The Sun" keeps things going on a steady clip. It's a track that drives home the fact that the band aren't messing around. They know how to crank out tunes that'll hook you in. "Caught In The Weather" is another banger of a track to sing along to. It's crunchy in all the right ways and keeps your foot tapping along. The closer "Space Cadets" is the shortest track on the album, clocking in at barely over two minutes. The track sums up everything in fine detail as it's short, to the point and packs quite the punch.
Verdict:
Silverlight Shadows takes a no holds barred approach to their Rock sound with their "Headspace" album.
-Interview- (3/29/19)
1. How did you get started with music and how did you develop your sound? Who thought of the name "Silverlight Shadows" and is there any meaning behind it?
From the moment I saw Animal from the Muppets I was fucking sold. To see him go absolutely crazy just made me want to do the same. Mix that with my old man banging his head to deep purple in the car there was no way I could escape that fast heavy and frenetic beast that is rock. We developed our sound through years of listening to good heavy rock partying and fucking up.
Nida (guitar, vocals) came up with the name after a few shit ones and I thought this one wasn't bad. I liked the fact that it made me think of moonlight and werewolves and all the scary shit the hides in the dark.
2. What do you want people to take away from your music?
We want people to get caught up in the frenzy of it all. It's fuckin fast, there are no breaks and as an audience there is no escape but to go just crazy. Get all of it out of your system then come hang out for a beer and a few laughs.
3. How would you describe your sound to the average listener?
Grunged out high octane rock with a punk edge.
4. Who are three bands you'd like to tour with?
Magic Dirt, Mudhoney, and Cosmic Psychos.
5. What are your three desert island albums that you'd never get tired of listening to?
Wipers - is this real
The Beatles - Abbey Road
Magic Dirt - Signs Of Satanic Youth
6. What's your take on the current state of Rock?
At the moment it seems like rock isn't getting a heap of attention, most of the stuff is bland and too slick at the top end. It needs to be roughed up again!
7. What's the current music scene like there in Australia both locally and country wide?
The music scene here is awesome, especially in Melbourne, there is heaps of venues and bands. You can pretty much catch an awesome band any night of the week here. There are some really good relatively unknown bands who in my opinion are kick ass. We also have two great community radio stations PBS & RRR that showcase and promote the underground music scene.
8. What's your take on legal/illegal music downloading?
I don't have a problem with it, I just want our music out there. If someone wants to listen to a song they are going to find it online somewhere anyway so they might as well download it for free. At the end of the day without people hearing your tunes what's the fucking point.
9. What's next for Silverlight Shadows?
We have just recorded a split 7 inch vinyl with our mates Monarchus so we will be promoting and releasing that. We will be back in the studio recording again soon as well. Definitely like to get a tour happening. Record a few more singles and then just get right in the faces of everyone and show them how to have a good fucking time.
10. Any shoutouts?
All the people who have come to our gigs and listened to our music. Rock On.