Slanderus (Progressive Metal) - California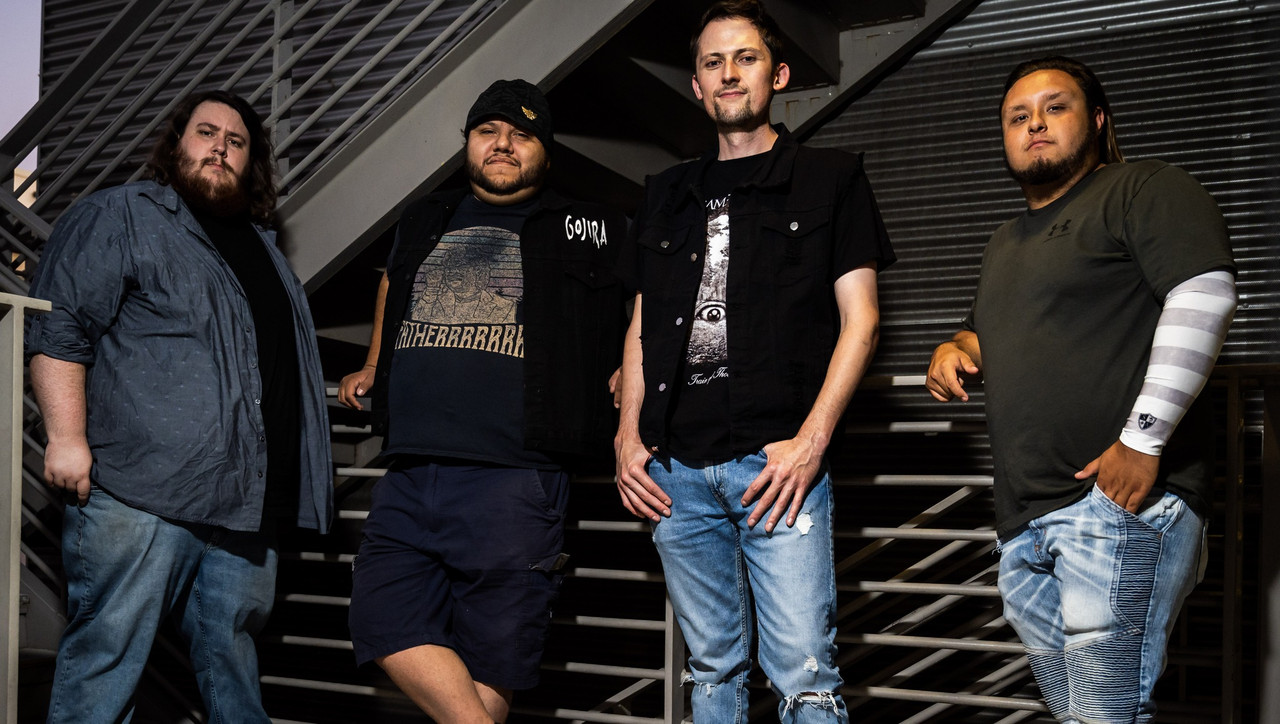 Slanderus is a progressive metal band straight out of the Inland Empire, with members from Eastvale, Ontario, Mira Loma and Hemet. Founded and formed by guitarist (and backing vocalist), Jason J. Kennedy, who also creates the music that is overloaded with heavy, yet intricate guitar solos- mesmerizing riffs and flawless breakdowns. Drummer, JJ Gawrich, plays his set like it's a part of him- with an ease that says "this comes more naturally to me than speaking"- every count is melodic, yet powerful and compelling, played with an unparalleled passion. Bassist, Bryan Porter, lets loose on his bass guitar with fat, yet mellow and authoritative riffs- commanding a technical groove. Last, but certainly not least, Allen Alamillo- lead vocalist, uses painfully honest lyrics in combination with an innately sincere tone and impressive pitches that just pulls you in. Round off all this talent, with the energy that they pack into every one of their shows, you're in for one hell of a night!
They played their first show at Angel's Roadhouse (Yucaipa) in 2009, following with a strong attack on hot spots from their native locale- such as Mission Tobacco Lounge (Riverside), The Venue (Grand Terrace), Character's (Pomona) and then taking their mind-bending sound to new spots, such as Rockefellas (Corona), The Slidebar (Fullerton), Stages (Santa Ana), Loaded (Hollywood), OC Fair (Costa Mesa), several successful Battle of the Bands competitions and far too many others to list in just one biography.
With such a heavy and diverse group of influences, from bands such as Anthrax, Dream Theater, Iron Maiden, Machine Head, Metallica, Queensrÿche, Rush, Slipknot and System of a Down- it's no wonder they won "Best Metal Band of 2012" in IE Weekly magazine. The stamina of the Absorbing Infinity album (2022) plays with seemingly reckless abandon, divergent styles, and a determined ambition that makes you want to play it on loop until your stereo implodes.
Also worth noting, is their contribution to the metal scene in the Inland Empire. Tired of dealing with a "middle-man" when booking shows? They set up our their shows, in turn putting shows into the hands of the bands. Every show created by them is made cover-charge free- to increase the draw of shows, first come first serve to bands- to increase the motivation of the bands booking and every band was rewarded equally for shows- headliners received the same treatment as opening bands. Slanderus has booked and played shows with nearly 100 different bands, expanding both their fan base and their musical connections.
-Interview- (8/9/22)
1. How did you get started with music and how did you develop your sound? Who thought of the name "Slanderus" and is there any meaning behind it?
I started playing guitar when I was 14. When I first started I was into bands like Korn, Limp Bizkit, Disturbed and Godsmack. After I started developing my skills more I started to get into bands like Iron Maiden, Metallica, Judas Priest and Megadeth. The band name comes from a Machine Head song titled "Slanderous". I thought it was a cool title and that it would make a great band name. I dropped the O from the word so its spelled "Slanderus"
2. What do you want people to take away from your music?
I would like people to think they had an enjoyable experience from listening to our songs and maybe there's something they can take away and use in their everyday life.
3. How would you describe your sound to the average listener?
Progressive metal, a mix of Iron Maiden, Dream Theater, Queensryche, System of a Down and Disturbed.
4. Who are three bands you'd like to tour with?
Dream Theater, Queensryche, Mastodon
5. How has Covid affected what you do?
It did for sure in 2020, we weren't able to do anything other than stay home and work on new songs. Those songs ended up on our new album.
6. What's your take on the current state of Progressive Metal?
I believe it is thriving. There are tons of great progressive bands out there, you just have to know where to look.
7. What's the current music scene like locally there in California?
Our local music scene is doing really well. When we all come together to promote a show we can get a pretty good turnout!
8. What's your take on the royalties that streaming services pay out to artists?
I think artists don't get paid enough for streams, it's pretty obvious we all get ripped off. You'd have to get millions of streams just to make any money out of your own music from streaming.
9. What's next for Slanderus?
We have a new music video for our song "Espiritu" coming out very soon! Right now we are just focused on promoting the new album and playing shows.
10. Any shoutouts?
Shoutout to all the people who have supported us over the years and continue to do so, we really appreciate it!