Small City Blues (Hard Rock) - Regina, Canada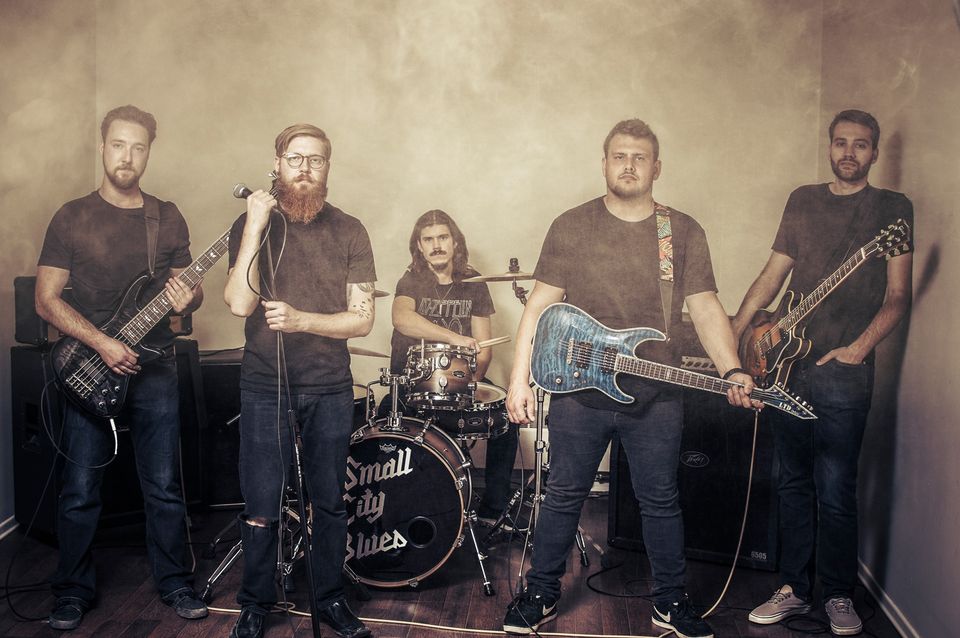 SMALL CITY BLUES is a five-piece rock band, formed in the winter of 2013, currently operating out of Regina, Saskatchewan. SCB plays a "High-energy brand of hard rock music, with epic guitar solos and an in-your-face rhythm section."(Adam Hawboldt, The Verb). SCB consists of: Adam Hoffart – vocals, Austin Kot – guitar, Dalton Lemon – guitar, Luke Brunskill – drums, Evan Mass – bass. Influences include Rival Sons, Jimi Hendrix, Alice in Chains, Metallica, etc.
Small City Blues has performed at numerous venues including The Gateway festival, Noise Fest, The Exchange and several bars in southern Saskatchewan. SCB has also opened for touring bands such as "The Blue Stones", "Whale and the Wolf", "Enter Sandman", "The Faceplants", and "The Hazytones". SCB has also qualified for Regina's rock station 104.9 The Wolfs' Queen City Rocks competition three times, winning the title of "Queen City Rocks Winners of 2018". In Support of The Gateway Music Festival, SCB has performed acoustic versions of their songs on Global Regina twice. The latest video received over 20,000 views on Facebook.
SCB released the EP "Cold White Snow" that was recorded at Blue Door recording studio, produced by Miguel Dey, and mastered by Big Bass Brian. This EP is available for purchase on most online music platforms. "Gimme Something" and "Cold White Snow", singles from the EP, have been played in general rotation on Regina's rock station 104.9 The Wolf. "Gimme Something" has also been featured on Weyburn's rock station K106.7, Mellvile's Parkland Rocks radio, and is Featured on podcasts by "The Film Guild". Small City Blues is currently recording new material.
If your venue is looking for a nonstop, high intensity, show of original material and covers then look no further than SMALL CITY BLUES.
Upcoming Shows:
More shows coming soon.
"Kind of Feeling" Single Review
Rock music out of Canada has been hot and heavy as of late and Small City Blues is no exception. Taking flight off their newest single "Kind of Feeling", let's dive on in and tell you why you should check these guys out in our newest review. The track kicks off with a whirlwind of the Hard Rock/Blues sound that sucks the listener right in. Once the vocals kick in, you're already hooked. The chorus combined with the melodic riffs make it super duper infectious. The next verse glides along and the toe tapping continues as it gets more and more stuck in your head. The bridge comes along with its hard hitting riffs and complexities which are very unique to hear. Overall this track is a can't miss. You. Need. To Hear. This. Right. Now!
Verdict:
This new single from Small City Blues will get stuck in your head for days on end.