Snailmate (Synth Punk/Hip Hop) - Tempe, Arizona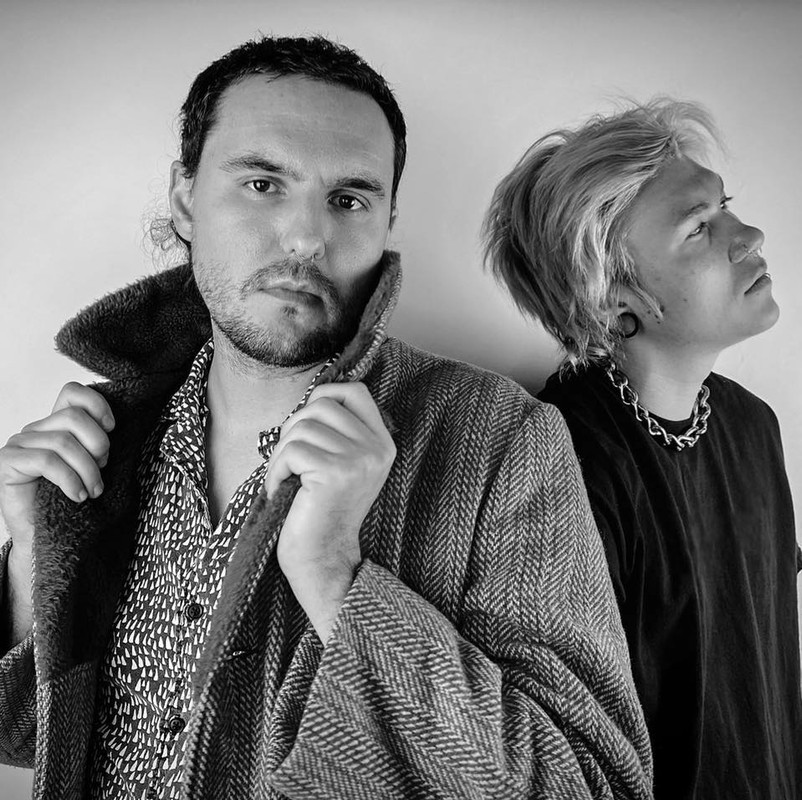 Since Synth-Punk Hip-Hop duo, Snailmate, formed in 2015, they have been on a relentless tour across the world. For real! Look - check for yourself! We'll wait.
See!?
Now, years later, you can still find vocalist/keyboardist, Kalen Lander, and drummer/vocalist, Bentley Monet, connecting with their dedicated fan base, slinging their hand-drawn-and-printed merchandise, and genuinely enjoying sharing their genre-bending tunes in countries like USA, Brazil, Canada, Europe, and Japan to name a few. The band prides themselves on a being fully DIY. From Bentley booking national and international tours from his iPhone to editing their own music videos, everything the band does is deeply ingrained with their high-energy, colorful, take on the punk work-ethic.
Snailmate has released 4 EP's, a 7" vinyl split, a cassette split, PLUS a full-length album in their short time together. Their debut LP, "Love In The Microwave" (2018), garnered praise from local and national press alike, including the Phoenix New Times, Java Magazine, Rogue Valley Messenger, and ABQ Free Press. Kalen and Bentley have had the honor of performing at many prestigious venues, concerts, showcases, and festivals across the world including SXSW, Evel Knievel Days, UFO Festival, Phoenix Pride, State Fairs, Maximum Ames, and Fog Fest. Catch them on tour in the USA and Brazil throughout 2020.
Upcoming Shows:
More shows coming soon.
"Donuts in the Rain" Single Review
The track wastes no time in getting into the weirdness. The vocals are tempo keep things thumping as it leads into the chatic chorus. There's some strong Mindless Self Indulgence vibes with the vocals and instrumentation throughout. The chorus shifts gears and hits its stride. The verses glide along a certain path and doesn't really ramp up until the chorus. The last minute is a breakdown that features more chaos to wrap things up in a bonkers way.
Verdict:
Snailmate hit the ground running with their newest single.
"Hot Sauce for Blood" Single Review
The spicy track kicks right in with sharp lyrics and a smooth flow on top of a funky beat. The chorus is simple yet effective. The second verse keeps the bars coming at a steady clip. It's almost like hot sauce is flowing through as the tempo of the track ramps back and forth. The two minute mark slighty changes things up before heading back into the chorus before the last twenty seconds is spoken dialogue to close things out.
Verdict:
"Hot Sauce for Blood" generates some serious heat.
"I Know What You Want" Single Review
The tracks kicks off with Nerdcore like tendencies to get things up to a nice energetic pace. It's not until the synth laden chorus that it really cranks into another gear. The second verse keeps the high tempo moving as it moves into the chorus. The bridge of the track is powerful but a tad short. The chorus caps off the two minute action packed track.
Verdict:
Snailmate smashes down the doors off of genre bending music.
-Interview- (6/26/20)
1. How did you get started with music and how did you develop your sound? Who thought of the name "Snailmate" and is there any meaning behind it?
Snailmate got started when our old bands fell apart. Bentley had some shows booked that now needed filling, so we decided to throw something together. We had no idea how it was going to turn out or what kind of sound we were going for, especially since Kalen had never played keyboards before. We had to come up with a name, and after exhausting every combination of "Snail_____" Bentley woke up in the middle of the night and thought of "Snailmate" and it stuck. We think it's cute and we wanted something that felt inclusive and inviting. We are all, like, about the love. The rest is history, as they say.
2. What do you want people to take away from your music?
We want people to have fun when they watch us perform. We want the fun that we are having to be infectious. We want to provide a musical experience that they have never had before, and we want everyone to feel less alone in the world. Snailmate is a celebration of weirdness and anxiety and release.
3. How would you describe your sound to the average listener?
We classify ourselves as "SynthPunk HipHop"... we combine electronic synthesizer riffs with heavy drums, rapping and screaming. It's fast and loud and quirky, but not angry or confrontational.
4. Who are three bands you'd like to tour with?
We want to tour with Primus, Miley Cyrus, and Cake.
5. What are your three desert island albums that you'd never get tired of listening to?
Kalen: The Odious - Vesica Piscis, Beck - The Information, Clutch - Robot Hive/Exodus
Bentley: Miley Cyrus - Bangerz, Halsey - Manic, Tegan & Sara - If It Was You
6. What's your take on the current state of Synth Punk/Hip Hop?
Well, if there are any other bands that are repping this "genre" then we would love to hear from them! The more the merrier!
7. What's the current music scene like there in Arizona?
The Arizona music scene is radical. So many eclectic bands and sounds and everyone gets along really well. We are proud to have gotten our start there.
8. What's your take on legal/illegal music downloading?
I'm not sure how much illegal downloading is happening anymore. I know it used to be a huge issue and everyone I knew did it liberally. But now with all the streaming options available, I don't think it's worth the effort to steal it. It is wonderful how accessible and available all music is these days... but what artists get paid for streams is criminal. If someone was illegally downloading our music and enjoying it, I wouldn't be mad tho. We don't do this for the money.
9. What's next for Snailmate?
We are eagerly awaiting the opportunity to safely tour again. Nothing gives us more joy than bringing our music to people around the world. Until then we are continuing to write and record music, as well as make music videos, merchandise, playing live streams and other fun things to engage our awesome fans.
10. Any shoutouts?
Shoutout to everyone who has ever supported us in any capacity ever. We are so grateful to all the wonderful people in our lives. We sincerely love everyone. And our pets, Doctor, Bill, London and Princess Pheebee.