Sölar (Alternative Rock) - Granada, Spain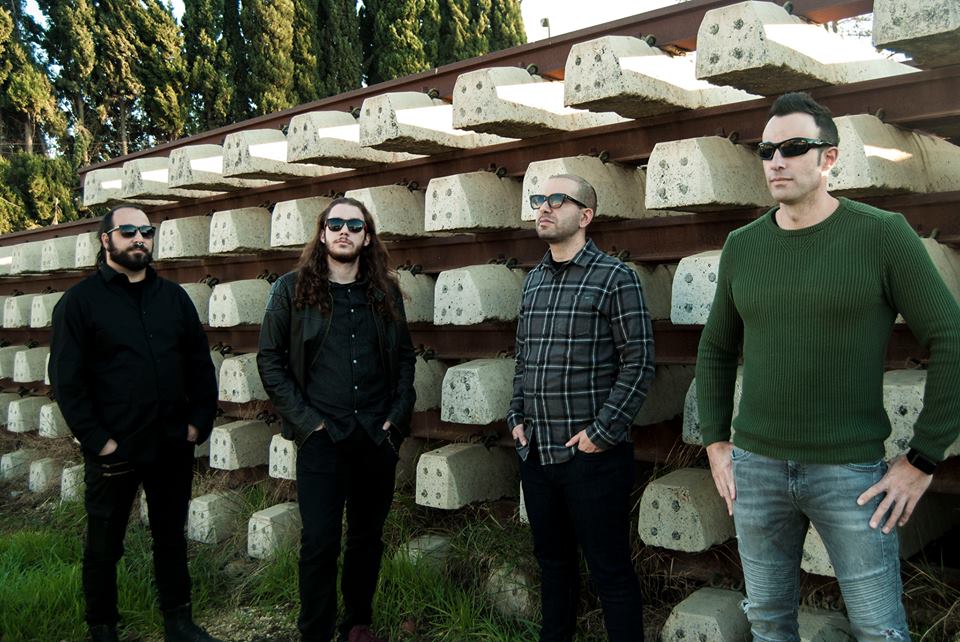 Sölar is an alternative rock band founded in Granada (Spain) at the end of 2013. It all started as a project that was experienced with extreme sounds, powerful riffs, unusual effects joined to heavy rhythmic bases and full of energy. In the beginning, still without established band, it was tried to look for a musical line looking for a purely American style. For this, we were inspired by sounds from bands like Audioslave, Sound Garden, Alice in Chains, Foo Fighters, Incubus.
At the moment, everything has been complicated rhythmically and harmonically to give even more force to the new subjects. Harmonically everything has been complicated to offer a broad sound spectrum that is able to revive the deepest instincts without giving up a melody that reaches the world and is easy to interpret. It has to hook up after the first listen. Everything is designed to offer a strong sound effect, from the rhythmic schemes to the severe tuning of our instruments. With one of these first experimental subjects, Steel Community, we were finalists in the Hard Rock Café Rising 2014 contest, even without a consolidated band.
Sölar officially presents himself as a band in partnership with LP Another way. The recording of the album began in November 2014 and after 6 months of recording work in 3monkys Studios and the mastering in London in charge of the 4DSound mastering studio offers 10 powerful and full of energy themes in which you can highlight a rhythm section Heavy sound innovation of guitar riffs and solos, a blunt bass line and a powerful electrified timbre. Simply, Sölar sound.
In relation with the subjects of the lyrics, it could speak of idyllic and idealistic poetry of a cryptic approach, dealing with issues such as disloyalty, social injustice, existentialism and spirituality. With an explosive staging and a shuddering sound, with a direct and existentialist speech, a thunderstorm that will not leave you indifferent - Sölar sound.
Upcoming Shows:
2/23/19 - Milwaukee Puerto - Puerto de Santa Maria, Spain
"Your Creed" Album Review
Sölar from Spain aren't messing around with their newest full length album. Let's dig in and tell you why you need to check these guys out. The single "Tonight" kicks off the album. The track has a Finger Eleven feel to it as it has some slow tendencies before bursting at the seams with some Hard Rock feels. It's quite the opener and really helps to set the upbeat Rock tone. "When You Are Ready..." is five minutes long but is quite the stunner. There's a lot contained within its length. The Hard Rock sound really shines bright on the track and gives a good insight of how far the band can take their sound. "Your Creed" is another single and it hit shard and often. The highly infectious track will get stuck in the listeners head for weeks, not just days. It's an immediate banger and should be on every Rock fans' playlist. "February" takes the listener on a roller coaster of Rock emotion. The track features up and down tempos and is a heck of a ride to jam out to. "Something From Nothing" is the longest track on the album. The track is more of a ballad but it works quite well to break up the pace of the album. "I'm Alone" continues the slower pace. The acoustic track pulls at the heartstrings and doesn't let go for anything. "Shut Up" picks up the energy level. The track has enough grit and bite to it to tread into more Hard Rock/Metal territory. It's an explosive track that needs to be heard to be believed. "Temperance" starts off slow but builds up to an eruption of highly emotional Rock. The track soars with confidence and plays out quite well with its heart on its sleeve. "Alexandra" has a slight Country feel to it. The slowed down tempo and extraordinary guitar work make the track a standout gem on the album. "You Can Feel" is an awesome track through and through. The track screams single. The ultra catchy sound is on point and will have people singing along in no time. "Steel Community" is a bonus track and is a hit in the making. The track is upbeat in all of the right places and features a surefire Rock sound that'll cling to the listener for days. Be sure to check out the track right away!
Verdict:
Sölar's newest album is an exhilarating ride of pure Rock.
-Interview- (4/15/18)
1. What's new? How's the response been so far to the new album?
Firstly, I would like to thank you for the opportunity to work together again. I´m sure that great things will come from this. Up until now, the comments and criticisms about our new album have been very good. We have refined our stile which was created in our first album, making our work and sound more complicated as much rhythmically as harmonically, it has given a stronger character to our new sound. The wording is more direct and relates to topics which affect everybody as so makes it easier to identify and relate to, this make and easier and more direct connection between our music and those who listen.
2. How's the new music different than your previous work?
There has been an evolution in music that is easy to see and defined for difficulties of harmony. The melodies are more direct and emotional, to such an extent that the sounds remain in the mind of the listener from the first moment that they hear it. The wording has been created and used in such a way that it has a continuous relationship in relation to the themes chosen so that whoever hears it, they feel a great affinity. We have worked very hard to refine our verbal aspect and vocal sound, always searching for an easily and recognizable sound but at the same time being powerful and transmitting it in all its splendor, the themes that we wish to express. We look for an intimate effect but in a passive non-aggressive way, more emotional but also suggestive. Each theme conflicting within itself when scaled with all the collective parts that form the vocal aspect.
3. What was the music video shoot like for "Tonight"? Who thought of the concept?
The video shoot was quite intense, we were filming for two days. We had to shoot individually and in various places. We filmed in hotels, the Street, in pubs. It resulted frustrating having to film time and again the same scenes and from different angles to get it just right. The biggest frustration was that due to filming in public places, there were many spectators, some nor overly desirable and tried to get in to the shots. There were some inebriated spectators who were slightly aggressive but that´s a story for another day. The scenes for the video clip were discussed and planed specifically so that the images would reflect and portray the songs wording. Everything that can change a persons life for good or for bad if they are a nocturnal person. The vicious circle of misuse of alcohol, drugs…At the end of day, you realize that it isn't the way, you want to change but, night time returns and you fall back in to your bad practices.
4. What do you want people to take away from your live show?
In live concerts and shows, this is where a band can really show what they are made of. In a studio all bands can sound great, but once you see them live their defects are easily seen. Studios twerk and dissimulate defects that obviously cannot be rectified and masked when a band is playing live. Sölar is superior in that we offer incredible live performances filled with energy, from the very first moment transmitting and alternating sentiments to those who listen to our music.We want to grow with our followers. We want that they can see our origins and can follow our journey to its end. It`s an experience for all those who see us performing live. We actually have performance dates already confirmed throughout our natal country and we remain open to any other offers and possibilities that present themselves.
5. Where should people check out if they came to Granada?
Granada is a wonderful place and one of the prettiest in the world. In the morning you can ski in the Sierra Nevada mountain, you can eat in various restaurants and bars typical to the area and famous for this tapas. Tapas are a small savory dishes served with drinks. Then you can go swim at the beach in the afternoon. Granada also boasts of one of the most visited monuments in the world, " The Alhambra". There is an ample cultural aspect as well as leisure activities.
6. What are some artists you'd recommend that people listen to?
There are so many! We could talk about bans such as Korn, Slipknot, Biffy Clyro, Saliba, national groups like Ankor, Bolu2 Death, Donuts Hole, Hamlet…We haven´t and don´t lock ourselves to one sole music style so as not to fall into the" norm", this is why we can also use and listen to artists of other styles, this includes classical music. One style, totally prohibited and not wanted is reggaeton. For us, it´s a style of music disrespectful and a pain in yours ears. Musically it holds no merit.
7. What's one thing you wish you could change about the Rock music scene?
It´s not widely merited nor though of or valued, the mount of effort that goes into the process of composing and the work involved in creating an album from it´s beginnings to the final product when at last, it is in the hands of the people. It´s a shame that other styles of music require little effort and work, many styles triumph in a passive way due to the latest social tendencies. These solely remove prestige towards other more complicated music styles, for example good rock or metal. In Spain, we pay stupid overly priced entrance fees to see a live international band, on the other hand, we pay very little to see and support new national and upcoming bands. It´s very frustrating to see groups who has a lot of financial support that end up falling and are forgotten, or directly they get lost due to the lack of expectation and don´t generate enough money that would allow them to continue to be in the industry.
8. What do you think of streaming services and how they pay out royalties to artists?
Everybody knows how this works. The thing is you need to be seen however slightly, you need economic assistance in most cases which will eventually pay back. You need to realize being a musician on a low or even middle scale costs money and that only a select few have the possibility and the good fortune to be able to live from this, always taking into account that you have a good base in your work and also in your defense. Royalties are good good for artists so that they can continue and pay beforehand for their promotional publicity with thousands of visualizations and/or reproductions but in majority in is insufficient for the majority of other bands, to book halls, to make video clips etc.
9. What were some highlights in the past year for you guys as musicians?
Some of our highlights from last year were for example our new record contract with Rock Estatal Records in Madrid, we hope with our affiliation to become internationally recognized, they are affiliated in many countries such as Britain, Japan, America… Another highlight was to be able to play in big musical halls thanks to the aid given to us by Granada Cuidad del Rock, they are sponsored by a very famous Spanish beer company. A huge highlight was being able to meet very famous and recognized radio presenters, TV music program presenters and directors.
10. What do you wish to accomplish this year?
It would be incredible that we are recognized for our work internationally and not just in our natal country, to have the opportunity to have concerts abroad. Britain, Germany, Italy….even the USA…Japan. Singing in English has opened more doors and opportunities for us rather than singing in our maternal tongue. It`s very thankful and it is boosting our morale receiving emails etc from other countries praising us for our efforts and work. Generally, augmenting our international presence as well as our national presence, we know it`s a difficult job but we won`t stop or tire until we have achieved our goals.