Somewhere Between (Hard Rock/Metal) - Bend, Oregon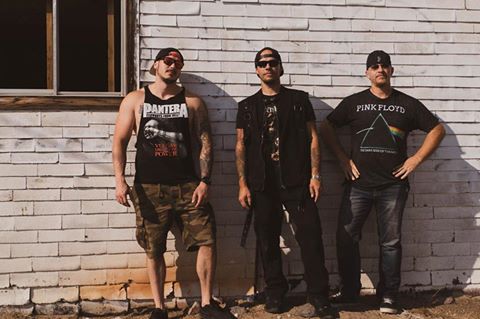 Somewhere Between was founded by singer / guitarist Brett Poindexter and (former guitarist) Greg Lancaster mid 2015. Their idea was to form a band with no limitations of what they wanted to play. Mixing a style that varies from Sevendust to Avenged Sevenfold and blending in sounds from bands like Killswitch Engage and Dream Theater, they have mastered a sound that is sure to make you get up and mosh, head bang and hold up your lighters.
Brett found his passion for guitar at 13 years old and wound up teaching guitar at merely 18. He has formed a few original bands, Dexx (formed with his brother Ramz and sister Laura, stemming from their last name Poindexter), StillFear (where he did vocals and all guitars), Halo Haven (with his wife Erica Poindexter on vocals) and now Somewhere Between. Brett has had many opportunities to open for bands such as Nonpoint, Powerman 5000, Sick Puppies, Eyes Set To Kill and Lacuna Coil. Many would say that Brett is a truly amazing musician and songwriter.
Ramz started playing drums at the age of 13, blasting away on a hand-made kit passed along from a family friend. With early influences such as the mighty Van Halen, Led Zeppelin, Mr. Big, Metallica and Ozzy, it wasn't long before he would discover his main drumming influences in Neil Peart (Rush) and Mike Portnoy (Dream Theater; Winery Dogs). Recently, Ramz has taken on the bass, quickly learning the skills it takes to round out a heavy rhythm section for Somewhere Between. His bass influences range from John Paul Jones to Robert DeLeo, Geddy Lee, adding in other great shredders like Billy Sheehan and John Myung. Ramz has been part of several bands over the years, including a very successful stint in StillFear (#2 Best Hard Rock Album on Amazon.com; #11 Best Hard Rock/Metal Band on Amazon.com).
Jay started his music journey in high school at the age of 14. As soon as he picked up the guitar, he knew it was the start to something special. Jay spent a lot of his early days playing riffs from other bands as well as writing his own. His brother was the drummer for his band Black Theory, which was a prog/thrash metal band and the people that helped form that band really helped to push his desire to continue getting better. There was always something about mastering the art of soloing that caught his attention. He would spend hours and hours learning scales, arpeggios and melodic phrases to help blend his ideas. His early influences came from punk rock music but as he progressed with skill, his music style broadened to jazz, classical, blues and metal. at 20, Jay left for the military where he spent 8 years preforming duties as an Airborne 13Fox (FISTER) during which he didn't have much time to pursue music because of the mission of the unit he was in, but that time has ended and the time for music has re-entered Jays life and the journey with Somewhere between has begun.
Upcoming Shows:
More shows coming soon.
"Burn It To The Ground" EP Review
The opening track "Warmth" is an instrumental introduction to kick start the EP. It works fairly well and injects some riffs into the fray. "Living Again" hits hard and heavy. The track sways to and fro with Hard Rock melodies and Metal screams that will get even the hardest headbanger singing along. "In Despair" is very mosh worthy. The track steers more into Metal territory and brings to mind early Bullet For My Valentine in its intensity. "Oubliette" has shades of Nu Metal to it as it twists and turns with melody and riffs for days. The track is extremely catchy and sure to perk up some ears. "Cabin Fever" goes for the jugular. The track is tremendous in its frantic pace and melody. This track has single written all over it and has the goods to be something special. The closing track "Stepping Stone" is a near six minute jaunt through the minds of Somewhere Between. The track perfectly captures what the band is all about.
Verdict:
Somewhere Between reach another level with their newest EP.
"Overcome" Album Review
Somewhere Between have gone through a bunch of adversity since their last release. Lets see how they've taken the strength they've gathered from those experiences and put it into their latest "Overcome" release. The opening "Prelude To Light" is a minute long intro track that builds ambiance for what's to come. "Light The Sky" unleashes guitar fury right from the get go. The track blazes a path with an early All That Remains feel to it. The clean sung chorus combined with the harder instrumentation (and awesome guitar solo/breakdown later on) make this quite the stunner. "Rise Above" continues the onslaught. The track has a bit of bounce to it off the bat and features more melody than the previous track with a tinge of harder edge. "Empowered" is mosh inducing madness of a track. The breakdowns and rage are a thing of beauty alongside the driving riffs and melody. "Deny The Darkness" is more of a harder ballad than anything. It's passionate, emotional and draws in the listener with ease before erupting with a runaway freight train delivery. The closing track "Another Dose" has a touch of Machine Head to it. The guitar solos are on point, the lyrics are sharp and the track works wonder with a chaotic beauty to it.
Verdict:
Somewhere Between lets loose and unleashes their captivating style of Hard Rock/Metal.
"Somewhere Between" EP Review
Somewhere Between are an up and coming band from Oregon who are looking to make their mark in the scene by way of their recent "Somewhere Between" EP. Let's dive in and see what they're all about. The opening track "Smoking Gun"has the old crunch of early Sevendust in its delivery and melody. It's an incredible opener and as it introduces the listener to the highly infectious soaring melodies combined with aggressive instrumentation. Let's not forget about the mind blowingly awesome guitar solo later in the track...DAMN. "I'm Ready" kicks right into high gear with its intensity. The guitar work on the track is phenomenal. It's an extremely heavy track and veers more into the Metal territory as it brings to mind Soulfly or Slipknot. Once "No Longer Afraid" kicks in, just sit back and enjoy the adrenaline filled ride. The Hard Rock tendencies mixed with the harsh vocals make this one hell of a standout track. Be sure to stretch your neck beforehand as you'll be headbanging along in no time. "Without You" opens with some killer riffs before blazing full speed ahead. It's an amazing track to rock out to. It's so damn good and should be on Hard Rock radio right now. The closing track "Somewhere Between" just devastates everything in its path. It doesn't slow down for anything and really knows how to crank things up to 11 to close things out. Five tracks are not nearly enough!
Verdict:
This recent EP from Somewhere Between is sure to make you get up and mosh, headbang and hold up your lighters.
-Interview- (5/24/17)
1. How did you get started with music and how did you develop your sound? Who thought of the name "Somewhere Between" and is there any meaning behind it?
Greg and I (Brett) were starting an instrumental solo project that I (Brett) had been recording by myself for a few years. I (Brett) released a few Instrumental albums for fun and we had decided to start jamming them as a band. After only a few weeks, I (Brett) kinda felt like it wasn't gonna go anywhere and if we really wanted to be successful, we needed something better that had vocals. As far as our sound, we all have our separate influences that drive it. We are all huge Sevendust and Avenged Sevenfold fans, but individually our music styles are all over the place that can vary anywhere from John Mayer and tonic, to As I Lay Dying and Dream Theater and anything in the middle. When it comes to the writing process, I (Brett) write and put the songs together and through the riffs and structure are mainly ready to go, we all throw in our own flavor to make it the perfect blend of a Somewhere Between song. The name Somewhere Between was chosen because I (Brett) had written a song called Somewhere Between, which was about a friend who had issues with multi-personalities. After trying to figure out what our band name was going to be, I (Brett) threw the name 'Somewhere Between' on the table and we all immediately fell in love with it.
2. What do you want listeners to take away from your "Somewhere Between" EP?
We really want people to hear our potential and what we're capable of accomplishing. We want the listeners to almost feel like they're at a live show seeing us when they listen to our EP. Most bands try to reflect the power of their album in a live setting. We are actually trying to reflect the power of our live shows into our album.
3. What can people expect from your live show?
A purely raw and powerful performance. We leave it all on the stage every time we play. It's chaotic, energetic and almost like we're having a party on stage. We really want the audience to feel like they're a part of the show and get them involved as if they're a part of the band.
4. What's your favorite track to play live?
We all have our own picks as far as what our favorite songs are to play live. Ramz's favorite is a song that will be on our next EP called 'Deny the Darkness'. My (Brett) favorite song to play would have to be another song that will be on our new EP called 'Light the Sky'. Robert's favorite is 'Somewhere Between' and Greg's is 'Without You', which are both off of our debut EP. Our favorite as a group would probably have to be another one off of our debut EP called 'Smoking Gun'.
5. Who are three bands you'd like to tour with?
Damn, we only get three? Lol! I'd say for TOP three we would have to go with Megadeth, Avenged Sevenfold and Sevendust. BUT just for the sake of throwing out some influences, we'd also love to tour with Bullet For My Valentine, Trivium, Killswitch Engage, Dream Theater and HELLYEAH. This list could keep going though.
6. Any crazy show stories?
We played a show in Astoria, Oregon at the Astoria Event Center (Port of Call) and had an amazing time. We had such an amazing time that most of the band got smashed and we left some gear in the venue after loading. Just before we had left, we remembered we had left gear inside and went in and grabbed it. We usually keep everything secured inside a trailer to avoid anything possibly getting stolen. Well, of course the gear we almost forgot was thrown into the front seat of the truck and left there overnight. We woke up the next morning and saw our truck window was smashed in and the gear was stolen. It took over 2 hours for the police to arrive in the city we stayed in because of other thefts they were dealing with that night. We learned two very valuable lessons that night: Don't get smashed until all the gear is loaded up and don't leave gear in the front seat of a vehicle overnight.
7. What's your take on the current state of Hard Rock?
There are a lot of bands coming out of the woodwork and most of them are pretty damn good. It seems like the hard rock scene is flourishing these days. Since the recent digital age, there are many more opportunities for bands to be successful and it is creating more variety for the listener to choose from. It's a very healthy situation for the music industry.
8. What's the current music scene like there in Oregon both locally and state wide?
It's amazing! Central Oregon is loaded with talented bands and extremely talented people. Since Bend, Oregon has been growing rapidly, there has been a flood of talent coming in. The only problem with that is that this area is lacking in venues to play, so it's tough getting shows around the area. State wide, there are some pretty amazing bands saturating the Portland area, but every city seems to have it's local favorites. Oregon, in general, is a great place for music.
9. What's your take on legal/illegal music downloading?
Legal downloading is great. It's a new way for people to buy a band's song or album and continue supporting the music scene. Some of us still enjoy buying cds for the artwork and lyrics inside and some things can never replace that, but there's definitely nothing wrong with legal downloading. It also let's the music fan better select their favorite songs based on their budget. As far as illegal downloading is concerned, it's something that's obviously not in the best interest of the artist and absolutely hurts the artist, but is also something that will never go away and will always happen.
10. What's next for Somewhere Between?
We have plenty of new material and have a new EP planned to begin recording in early July (2017). We just became members of the "From the Depths Entertainment" family and lots and lots of touring is on the horizon. We have a plan to just be the busiest group of people we can be. Everybody knows that a busy band equals success!
11. Any shoutouts?
We would like to give a shout out to all the wives and girlfriends for being so supportive of our musical endeavors, all of our influences for shaping who we are as a band, all the fans who believe in us and our goals, all the local venues who still support hard rock and metal music and all the aspiring musicians out there who have big goals and dreams. Never give up and keep doing what you're doing.