Split66 (Hard Rock) - Missouri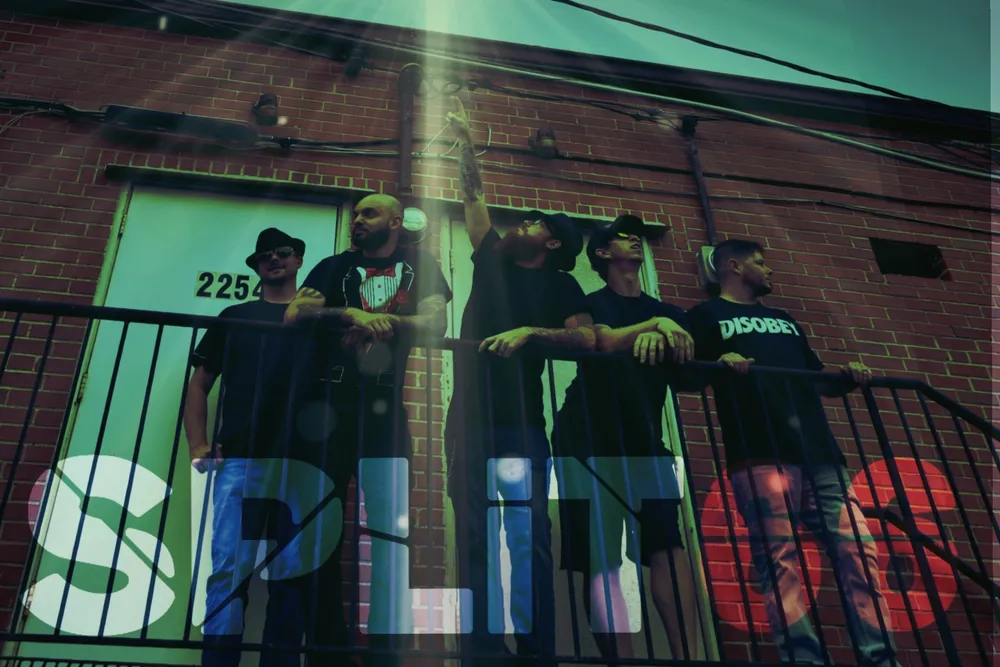 SPLIT66 STARTED AS A PROJECT BETWEEN A GROUP OF FRIENDS BACK IN 2006. THE ORIGINAL "FOUNDING FATHERS" WERE DANNY CAMERON (GUITAR), TREVOR WILLIAMS(VOCALS) AND MIKE HOHMAN(GUITAR), WHO SADLY PASSED AWAY IN 2016. THE THREE ALWAYS HAD ONE THING IN COMMON, A LOVE FOR MUSIC. IN LATE 2007, THE BAND WENT ON A HIATUS OF SORTS, WITH THE FOUNDING MEMBERS GOING ON TO WORK ON OTHER PROJECTS. BUT SPLIT66 NEVER DIED. IT LIVED ON IN THEIR HEARTS AND WAS A PART OF THEM. IN EARLY 2020, DANNY AND TREVOR DECIDED TO GET THE PROJECT ROLLING AGAIN. NEARLY 13 YEARS HAD PASSED SINCE THE LAST TIME THEY HAD PLAYED MUSIC TOGETHER, AND WHEN THAT AMPLIFIER AND MICROPHONE TURNED ON, MAGIC WAS CREATED AGAIN. THEY JUMPED IN LIKE THEY NEVER MISSED A BEAT! SINCE THEN, A NEW LINEUP HAS DEVELOPED DUE TO LIFE CHANGES BUT THE CORE REMAINS OUR VISION...
JAMESON(VOCALS)2021-PRESENT: JAMESON HAS PRESENTED SPLIT66 WITH A NEW DYNAMIC TO DRIVE THE DARKER AND MORE PALPABLE EMOTIONS OF THE MUSIC TO LIFE. JAMESON IS A U.S. ARMY VETERAN WHO SERVED IN AFGHANISTAN, A FATHER, HUSBAND, AND PRESIDENT OF A MOTORCYCLE CHARITY.
DANNY(GUITAR) 2006-PRESENT: DANNY IS A MULT-FACETED MEMBER OF SPLIT66. SOME OF HIS CONTRIBUTIONS INCLUDE; PR, MARKETING, EVENTS,WRITING, CO-WRITING AND PRODUCTION.
CHRIS(GUITAR) 2021-PRESENT: CHRIS MADE HIS FIRST PUBLIC APPEARANCE WITH SPLIT66 OCTOBER 25, 2021 WHILE OPENING FOR TOURING ARTIST TOMMY GIBBONS. CHRIS BRINGS A PUNK/POST ALT VIBE TO THE BAND AS WELL AS INNOVATIVE IDEAS. HE IS A NEWLY MADE FAMILY MAN WITH GREAT AMBITION AND DRIVE.
MIKE(BASS/HARMONICA/ACOUSTIC) 2021-PRESENT: MIKE WAS BROUGHT TO SPLIT66 BY DRUMMER BOBBY. ACQUIRING MIKE BROUGHT ON SOME VERY MUCH NEEDED VIBE WITHIN THE BAND ITSELF AS WELL AS TONE. HE IS A VERSATILE MULTI TALENTED MUSICIAN WHO HAS PLAYED WITH ORCHESTRA AND ROCK BANDS ALIKE. MIKE IS A BUSINESS OWNER, FATHER, HUSBAND AND OVERALL GREAT HUMAN BEING.
BOBBY(DRUMS) 2020-PRESENT: BOBBY IS THE PHYSICAL DRIVING FORCE OF SPLIT66, HANDS DOWN. HIS PERCUSSIVE STYLE IS SO IMMERSIVE THAT YOU WILL FEEL THE MUSIC...EXACTLY HOW YOU SHOULD. HE IS A VERY SKILLED DRUMMER WITH UNIQUE SIGNATURE. ALTHOUGH BOBBY CAME ON IN 2020, HE IS REGARDED AS A FOUNDING MEMBER. SHORTLY AFTER THE REEMERGENCE OF SPLIT66 THERE WERE A NUMBER OF LINE CHANGES AND CHALLENGES WITHIN THE GROUP OF WHICH BOBBY STOOD THROUGH, EVEN AT TIMES WHEN IT WAS ONLY HIM AND DANNY. BOBBY JUGGLES MANY PROFESSIONS SIMULTANEOUSLY AS WELL AS CONTRIBUTING TO THE BAND AND BEING A FATHER AND HUSBAND.
"Revitalized" EP Review
"Deceiver" takes a bit to get going but once it does, it brings with it a sound of Melodic Metal fury. The clean sung chorus is on point and the Hard Rock sound swirls around it. The bridge features a phenomenal guitar solo before acapella vocals of the chorus take the forefront. The instrumentation erupts back in to help close out the opener in style. "Anhedonia (Here we go Again)" opens with Hard Rock melodic instrumentation and continues as the clean sung vocals join the fray in the first verse and chorus. The chorus soars with emotion and passion. The track is more friendly for Hard Rock radio than the opening track. There's a touch of aggression by way of harsh vocals here and there for depth. The bridge sees the track go into a more Tool like Progressive sound before building itself back up with an oustanding guitar solo before the end chorus wraps things up. "Severed Wounds" opens with a circle pit like intensity. The track wraps up the EP nicely as it just lets loose with its melody and crunch. The runaway freight train of Hard Rock mixing with Metal stomps hard in the pit and doesn't hold back.
Verdict:
Split66 will surely captivate the Hard Rock/Metal crowds near and far with their newest EP.
-Interview- (5/5/22)
1. How did you get started with music and how did you develop your sound? Who thought of the name "Split66" and is there any meaning behind it?
"We all got into music for the same reason basically, we love it lol. For some it was Vh1 and MTV. I remember watching music videos and thinking; man that's got to be the coolest thing in the world. Rock has always been what drives all of us, especially GOOD metal. But we all have a different bit of flavor which helps us create the 66 sound. Some of us like power metal, some of us like pop alternative, some of us really dig oldies... (Micheal Stanley, the who etc.) There's a lot of flavor in this group so defining it to a T is a bit difficult. Our name, well...Split66 seemed like a catchy name, no one was using it and now we have 6 members so, it stuck"
2. What do you want people to take away from your music?
"We want our listeners and music family to have something relatable...real world life experiences that they can vibe to but also escape with. We want people to enjoy our raw sound to that when they hear us, they hear US and not someone that sounds like a band they've heard before. Most of all for everyone to take away a enjoyable music experience."
3. How would you describe your sound to the average listener?
"Hard rock/metal, melodic groove."
4. Who are three bands you'd like to tour with?
"Asking Alexandria, Killswitch Engage, Slipknot. Any of these would be a lifetime reward and honor."
5. How has Covid affected what you do?
"It's been difficult getting people into venues because of restrictions but now it seems to be getting better. On a positive note it's given everyone time to practice more and focus more energy into our passion."
6. What's your take on the current state of Hard Rock?
"We're glad to see that bands that we listened to 10 years ago are still out there and putting out new music. As we all still hold on to the bigger bands music, it's our generations rotation to start putting out new big things, and keep the scene alive, and we're more than happy to take on that responsibility."
7. What's the current music scene like locally there in Missouri?
"Music scene is great. Local bands/ shows are starting to pick up. People are hungry for a music scene and we're here to deliver! Saint Louis has always been known for its blues heritage but don't be fooled, there are many prolific artists of all genres that have hailed from here. We're proud and grateful of all the support from our hometown."
8. What's your take on the royalties that streaming services pay out to artists?
"Robbery lol, there really should be a better pay system/scale for this. It's a shame at all of the time, money and effort that goes into this; and yes, we love music but the pay system is faulted to say the least."
9. What's next for Split66?
"New music, plans to tour midwest US next year, you'll just have to stay tuned lol."
10. Any shoutouts?
"Family, friends, shock city studios for helping us record our first EP, Cat Mues of Stl Roar, the many local supporters and venues helping us get our music out there."