Teku Syndrom (Rock) - New Brunswick, Canada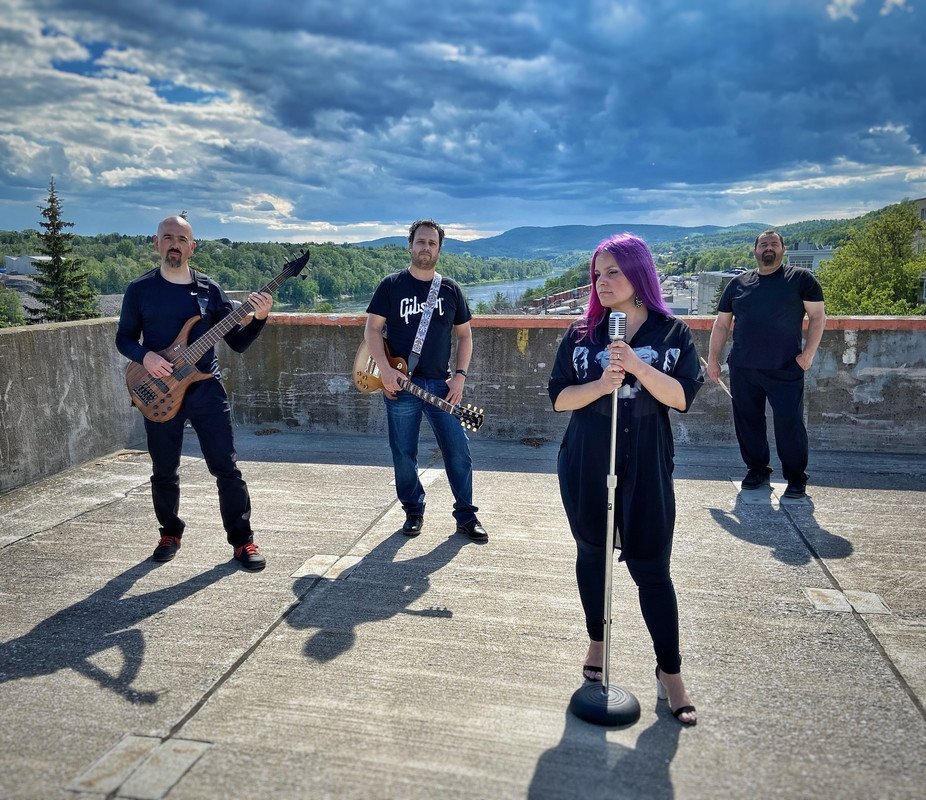 Instagram
Teku Syndrom is an Edmundston, New Brunswick based band who are currently riding the success of their debut single "Help Me Grow." The 5-member group brings together their influences--ranging from GnR to Blondie, King's X to Iron Maiden--to form their own soaring, surging brand of rock. Named for the state of mind lead guitarist Eric "Raz" Toussaint enters when songwriting with his trusty Teku glass in-hand, Teku Syndrom features the brilliant voice of lead singer Teresa, along with Raz's own scorching lead work. Jamy (drums) and Tony (bass) lay a technically strong foundation inspired by their prog and metal roots. Eric N completes the line-up on rhythm guitar.
The band's debut single "Help Me Grow" was released in May 2022 and quickly worked its way up numerous online charts as well onto Australian radio. The powerful ballad captures the emotions surrounding Raz's daughter's gender transition, delving into how she reached out to her family for support throughout her life-changing/altering/awakening and inspirational journey. As Teku Syndrom continues work on their debut album, slated for a March 2023 release, their writing has gathered momentum, gaining power and intensity. "Blistered, Battered, Shattered" is a no-holds-barred guitar-driven rocker, complete with a blistering guitar solo. "Lost" kicks and punches as a bold mid-tempo rocker.
-Interview- (1/31/23)
1. How did you get started with music and how did you develop your sound? Who thought of the name "Teku Syndrom" and is there any meaning behind it?
Music was part of my upbringing from an early age. My father was some sort of a DJ with his trusty vinyl collection and I was raised listening loudly to classic acts such as Styx, The Eagles, Babe Ruth, AC/DC and of course The Beatles. As I am a French Canadian we'd also listen to Offenbach, Corbeau, Code Morse and even Claude Barzotti. Moving into my teenage years we were fortunate enough to have a CD player as soon as they came out. Let me tell you that Bon Jovi's Slippery When Wet was the first CD and the most played we had in the house alongside others such as Canadian rockers The Box and of course, Led Zeppelin.
Then when I hit high school, I got a Columbia House account (you just had to at that time !). That's when I literally fell in love with music…I had a taste of Guns N' Roses Appetite for Destruction and that was it…I was hooked !! From there I have discovered Aerosmith, Skid Row, Pearl Jam, Whitesnake, Metallica and that great hard rock electric guitar sound. My favourite band by far was and still is Guns N' Roses…or Slash actually! Appetite for Destruction is perfect…in my world. Great song structures, raw vocals with what I call the ultimate rock guitar sound ! I was sold…I needed a Les Paul. Although my first guitar was not a Les Paul out of budget consideration, the 2nd one was ! From there I have set out to develop a guitar sound that comes out raw, crunchy while remaining. Melodic.
After many years of experimentation with local bands I decided that it was time to share my music with the world. That's when I reached out to Teresa who's an amazing vocalist and shared my ideas. From there, two extremely talented local favourites, Jamy (drums) and Tony(Tony) accepted my invite…Teku Syndrom was born ! While continuing to write the songs for our upcoming release we reached out to Eric for the rhythm duties. We are now complete and ready to rock.
The name Teku Syndrom came to me while writing songs for our upcoming release. I noticed that when I had my trusty Teku beer glass in hand that lyrics and melodies were coming to me more easily. Therefore I started to say that I had developed the "Teku Syndrom' and it stuck ! Funny facts, on the first radio interview we did when our first demo "Help Me Grow" was released, the DJ was sure that it was some sort of a disease, which it's not. Still made for a good chat !
2. What do you want people to take away from your music?
I think that Teku Syndrom's offering is honest. The lyrics are based on our daily struggles and are inspired by our day to day lives and social interactions. We try to put into words some of the more complex emotions that drive us as human beings. Although I like to use metaphors to lighten some of my thoughts, I truly believe that anybody can easily relate to our songs and find relief that they are not alone going through a rough path.
A song like 'Lost' which is a deep reflection of a moment of doubt when I thought I had it nailed only to realise that I had failed and a song like 'The Path' which is a reflection on my time in the military, carry deep and heavy thoughts and emotions but are still accessible. However, on the other hand a song like "Help Me Grow" is a breath of fresh air that I have written for my daughter's gender transition. It is an uplifting and heartfelt power ballad that can be interpreted many ways. It's a special kind of inspiring love song. Just adapt the lyrics to your situation and voilà !
3. How would you describe your sound to the average listener?
Hm…Think GNR, Aerosmith, AC/DC, Heart kind of sound…definitely 80's inspired with crunchy and raunchy dual guitars. The drums are a bit on a rock-punkish-alt rock style. The bass is melodic with definit hints of heavy metal. I think that our influences are easy enough to spot in our songs. You'll see for yourself in the upcoming weeks.
4. Who are three bands you'd like to tour with?
Well, let's see…Slash, Iron Maiden…It's alright to dream right !? But more seriously it would be cool to share a few shows with our friends Taming Sari, an upcoming Canadian rock band. Definitely check them out ! At this point in our adventure, we would jump on any tour !
5. How has Covid affected what you do?
Covid was actually the catalyst that led to the creation of Teku Syndrom. The fact that the live music scene literally died for a while, allowed time to focus on writing the songs and assembling the band.
6. What's your take on the current state of Rock?
I truly believe that rock is still alive and kicking, and will always be. As long as you know where to find it. Not to piss on any music genre, but there is too much pop all around us. Around me anyway ! It is very difficult for emerging artists to get on the commercial and satellite radios. It's not impossible but very difficult to plant a seed in a world dominated by the wealthy production houses.
7. What's the current music scene like there in Canada?
Originating from Edmundston in northern New Brunswick (Atlantic Canada) our local scene is very supportive but at the same time, somewhat limited. One thing is sure, our town likes their bands ! I am still impressed with how many talented musicians Edmundston holds ! You only need to attend one Jam Night to experience this. On the good side, this abundance of talented musicians yields amazing collaborations.
8. What's your take on the royalties that streaming services pay out to artists?
In all honesty it's a lot of hard work for a little pay. But if you commit to it and you learn to manage your ads and maximize your promotion, you will get a bigger reach and eventually it might become a source of revenue, "they said". For us, at this time, it's costing more to promote than what we collect. But I guess it's part of the growing pains. We'll keep the faith and who knows, we might hit "that" one playlist that will help us out.
9. What's next for Teku Syndrom?
We are just out of the studio recording our first EP, "The Path", which will be coming out this Spring ! Yeah ! It will be an EP with 5 original songs. Watch for the new singles to come out shortly. If you follow us on social media, we will post a few live videos of our original stuff and some covers to give some materials to the fans until the final recordings hit the streaming services. We also have new songs in the works for EP #2. So give us likes on Facebook, Instagram and Youtube. You can also check our website www.tekusyndrom.com for more details.
10. Any shoutouts?
We are very grateful to our family and our friends that have supported (endured) us through the recording process ! Hugo at Back In The Day Studio for dealing with us ! Also a big thank you to Mike and his team at From The Depths Entertainment. Your team is super helpful in promoting emerging artists out there. It also allows us to discover cool new music along the way !