The Creatures In Secret (Metal) - Knoxville, Tennessee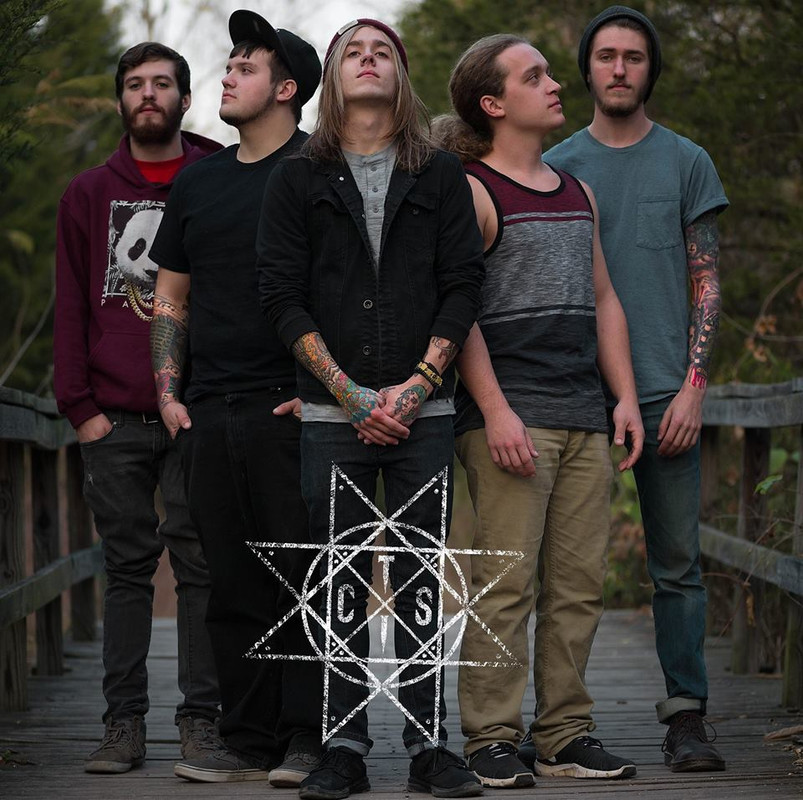 The Creatures In Secret is a metal band based out of Knoxville, Tennessee. With influences spanning from Miss May I, As I Lay Dying, Sworn In, and August Burns Red to Green Day, Panic! At The Disco, and Fall Out Boy. TCIS brings an onslaught of intense riffs, brutal breakdowns, catchy grooves, and beautiful choruses. TCIS brings a superb amount of energy on and off the stage with their music and incredible stage presence. The goal is to always leave the crowd tired and still wanting more. They released their full length album "The Gathering" in February of 2016, recorded at WaveTransform Studio by Producer Yanic Bercier. Check it out on Youtube, Spotify, Itunes, and more.
Upcoming Shows:
More shows coming soon.
"The Gathering" Album Review
The Creatures In Secret is a young upstart Metal band from Knoxville, Tennessee looking to make their mark on the Metal world with their recent full length album "The Gathering". The album still has a lot of buzz to it, so let's jump in and see what it's all about. "Where To Begin" kicks the EP off with a two minute thrasher of a track that features some clean melodic singing as well as crushing breakdowns. "A Tip In Parenting" unleashes hell on the listener with a devastating breakdown early in the track before exploding into a blistering Metal sound that brings to mind Miss May I. It's a catchy, heavy track that'll get you singing along and moshing right away. "Above The Broken" has an early As I Lay Dying influence to it as it annihilates the listener with a raw, emotional Metal sound that any bigger Metal band would be happy to have. "Uninvited (Christmas Party)" brings to mind early Bring Me The Horizon as it has that edge to it. When the clean vocals kick in, they take it to an even higher level and make it a monster of a track. "Spine Full Of Knives" will get the live floor moving as its bouncy right from the get go. The clean vocals kick in right away before giving away to a more August Burns Red vibe. It's a track that has an infectious chorus as well as breakdowns galore. Near the end of the track is pure chaos before heading back into the ultra catchy chorus. Listen to this track right now! "Gather the Misfit Kids" has a near Post Hardcore opening before transitioning into a Metalcore sound that is so destructive that it wouldn't be surprising if some speakers blew out due to the intensity of the breakdowns. "Texas Red" has a bit more melody than the previous tracks but by no means is it soft. It's still just as jaded and tough as Negan's Lucille. Just one listen will make you a believer in that the band know how to make infectiously melodic, brutal tracks. "Everybody Gets One" immediately kicks into high gear. The track features a driving force of carnage that doesn't stop until it hits its four minute end time. "Breathing" is a mind blower of a track. It's one of those Metal track that just takes the entire album to a whole new level. The track has everything going for it and is simply one of the best tracks on the album. The closer "Me Myself And I" summarizes everything that the band encompass: Brutality, Melody and Raw Emotion. Get your hands on this album now and you'll be adding them to your daily Metal rotation guaranteed.
Verdict:
Metal fans would be making a mistake if they don't check out this full length from The Creatures In Secret.
-Interview- (4/21/17)
1. How did you get started with music and how did you develop your sound? Who thought of the name "The Creatures In Secret" and is there any meaning behind it?
Well the band name came from Motionless In White's album "Creatures" the band loved that song much. They basically named the band after it haha and we all got different styles of playing. A lot of different influences. Jacob loves more technical fast paced stuff. Allen loves bouncy, jazzy fun filled riffs. Adam and Jeff love breakdowns. Breakdowns are life and Casey likes technical/beautiful dueling riffs. But this album was made before most of us found what we love. You will hear our true sound on the upcoming Creatures album! It will have everything. There is no boundaries! It's gonna come alive and hopefully take over the music scene.
2. What do you want listeners to take away from your "Gathering" album?
No matter where you are in life or what problem you are struggling with know that life has darkened days and bright. Always know the brighter outweighs the dark.
3. What can people expect from your live show?
It's always different, but in a good way. We always put on an energetic show and make the crowd involved as much as possible. You can always expect a great time.
4. What's your favorite track to play live?
"Me, Myself, and I."
5. Who are three bands you'd like to tour with?
Sworn In, Emmure, Beartooth, Silent Planet, Phinehas, Born of Osiris, Etc. Basically any band that is sick and loves their fan base as much as us.
6. Any crazy show stories?
We had weed delivered to us in Brooklyn and smoked on top of the venue we played at. In Tennessee we also got banned from an upstairs venue. We had the whole crowd jumping and it knocked out lights on the floor underneath.
7. What's your take on the current state of Metal?
It's constantly evolving and I'm honestly wondering how much longer it will be at it's original core before it's completely changed. But it still has the most hardcore loving fans. The least judgmental fans for sure!
8. What's the current music scene like there in Tennessee both locally and state wide?
Locally it's not bad. There's quite a few music lovers in Knoxville but for Metal it can be a stretch. That kind of goes for the state as well. Hopefully it starts to pick back up.
9. What's your take on legal/illegal music downloading?
I can't lie and say I haven't done it. I'm sure we all have at some point. But if you truly support an artist and their movement, you'll buy their material. That's how they make it. But if you don't, we still love you. Just keep sharing and supporting.
10. What's next for The Creatures In Secret?
We're about to be going into the studio for some new material and possibly some new show dates as well. Keep a look out for more news on that.
11. Any shoutouts?
Shout out to all the loving fans that have supported the TCIS family, to all the amazing bands that have supported us, Wavetransform studio.