The Multitude (Progressive Rock/Metal) - London, United Kingdom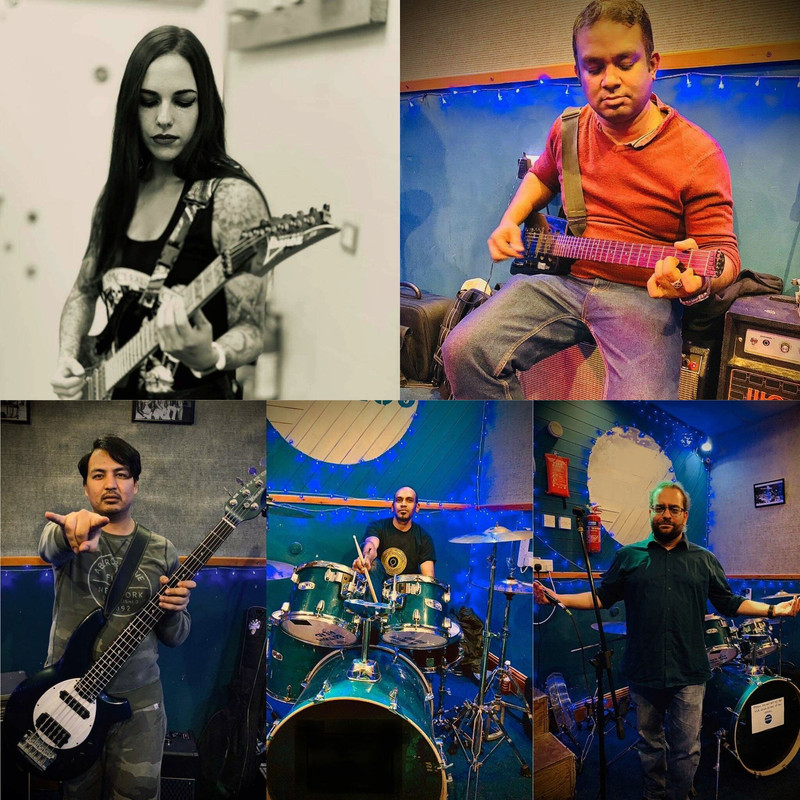 The Multitude are an established 5-piece prog rock/ metal band, based in London UK. The band hail from Bangalore- India, where they were known as Infinite Realms and where they began as a college outfit in 1998. Since their relocation to the UK, the band have performed and headlined at several memorable venues in London, including the famous O2 Academy Islington, Hope & Anchor Islington, the Lounge- Archway, The Dublin Castle, The Unicorn Camden, The Islington and the Enterprise to name a few.
In 2016, the band released a three track EP titled The Globalisation Trilogy, which is available on iTunes, Spotify and various other portals. In Aug 2018, The Multitude released their much-awaited full-length album 'Passing Into Time', which is now available on all digital stores worldwide and has been received with stellar reviews.
Upcoming Shows:
More shows coming soon.
"Passing Into Time" Album Review
The opener "Kyrie Eleison" is a minute and a half intro instrumental track that showcases the stellar guitar work. The title track "Passing Into Time" is next and it picks up the pace nicely with some steady grit. The track marches forward with head banging appeal as well as melodies that are easy to sing along to. "Song of the Whimsical Dreamer" glides along effortlessly with a solid Progressive Rock radio sound. It's super catchy and brings to mind Rush. "A Midsummer Night's Dream" off the bat features a tremendous guitar solo that sets the time early. The six minute long track takes you on a melodic journey of what the band is all about with its riffs and melodies. "Embrace The Lost Horizon" cranks things up a bit. The track is faster paced and really hits on all cylinders. The Iron Maiden vibes come shining through as the melodies and riffs hit their full stride. "Be The Change" is a nice ballad to pull at the heartstrings at the listener. It's a nice change of pace and shows off pure emotion from the band. "On High Seas" keeps things at a more timid pace. The ballad is methodical in its approach and has tons of depth. "A Clarion Call To Revolution" blasts right back into the heavier tones. The upbeat track will get the listener toe tapping and singing along in no time. The closing track "Friends of Mine" wraps up the album nicely with its tight Progressive Rock sound. The album has a lot to like for fans of the genre and shouldn't be missed.
Verdict:
The Multitude looks to make their mark in the Progressive Rock genre with their newest album.
-Interview- (12/17/19)
1. How did you get started with music and how did you develop your sound? Who thought of the name "The Multitude" and is there any meaning behind it?
The band had its genesis way back in 1998 in Bangalore ,India. I (Rajeev) was with a band I had formed then and we were sharing a rehearsal space with another college outfit. I was later asked if I'd be interested in playing a few covers for the college band as their drummer was moving on. That's how it all started. We formed a band called Infinite Dreams, toured the length and breadth of India playing numerous shows for over 8 years- this was the happiest days of our lives, as we forged the strongest of friendships and a common vision of music and life! In 2006, Ash (guitarist) moved to the UK and I soon followed in 2008. The first few years were difficult as we were students in the UK and we were trying to establish a foothold in our chosen paths. We'd always carried the dream of playing music together again though and it wasn't long before we started writing some new tracks. "A Clarion Call to Revolution" was the first track that got put down. This new, refined, Prog Rock signature sound soon became a defining factor in the tracks to follow.
Ash came up with the name The Multitude, as we were trying to create a new identity for this new sound. 'The Multitude' is a pluralistic concept of many ordinary people acting in networked concert, harnessing music and the arts to script alternative worldviews and to freely challenge oppressive, orthodox, unjust and dominating systems. The band believes in making meaningful music, breaking conventions & lyrical barriers and addressing diverse globally-relevant themes and issues. The then 2-piece The Multitude started recruiting the remaining members to establish a 5-piece lineup, to bring to life The Multitude's sound. After a few initial lineup changes, the band settled on this present lineup, bringing together the finest talents and skills.
2. What do you want people to take away from your music?
The Multitude's music comes from a great deal of introspection and personal experiences. We have always sought to address inequalities in societies, social norms and present day political issues affecting the lives of common people. When a listener instantly feels he/ she can connect/ relate with the lyrics and songs, that is the greatest reward for us! As our songs are largely about social issues which the audience can instantly empathize with, nothing gives us more pleasure than to know that our music touches people!
3. How would you describe your sound to the average listener?
Progressive Rock, with hints of neo-Classical elements and melodic Metal.
4. Who are three bands you'd like to tour with?
Rush, Jethro Tull and Indus Creed (from India). Sadly, none of these bands tour anymore!
5. What are your three desert island albums that you'd never get tired of listening to?
Pink Floyd - "Animals", Pink Floyd - "Dark Side of the Moon", and Jethro Tull - "Thick As a Brick".
6. What's your take on the current state of Hard Rock?
Hard Rock at the moment is very diluted. It seems to lack direction, talent and ideals. Rock had its golden era in the 70's when the great legends showed us the way! Today's generation unfortunately seems to find it very hard to match those talents and ideals.
7. What's the current music scene like there in the UK both locally and country wide?
The music scene in London and the UK is very diverse. There's a lot of music happening everywhere and all the time, so it's just impossible for any one genre to dominate the scene. This has its upsides and downsides. The upsides are that you get to play live regularly. The downsides are that as there's a lot happening all the time, it is very difficult to get a dedicated following in such a big city and one has got to rely on very heavy promotions.
8. What's your take on legal/illegal music downloading?
We are not huge fans of digital collections, we prefer owning full length physical copies. However, downloading is great as it opens up one's vista to a whole lot of stuff that is out there. Our take on music downloading is if you want your music, you've got to pay for it and own it.
9. What's next for The Multitude?
2020 onwards, The Multitude are looking to perform their debut album and unreleased material at independent venues and festivals across the UK and further afield. A European tour is on the cards. And of course, we are looking to get the second album into gear, on which work has already begun.
10. Any shoutouts?
Be the change! Now's the time to make it worthwhile!