Then Falls The Sky (Metalcore) - Bainbridge, Ohio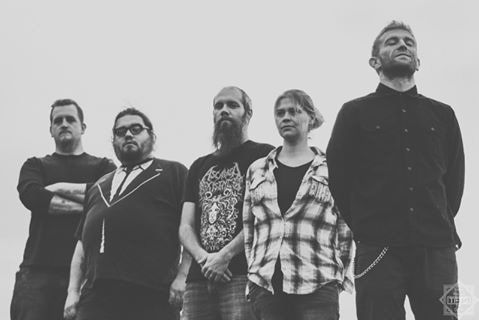 Upcoming Shows:
More shows coming soon.
"Break Free" EP Review
"Blinded" kicks things off with a bang. The track starts off with some distortion before erupting into a high driving guitar riff. The track then switches up and presents a new melodic riff that takes things up a notch. There's a crunchy tone before the vocals kick in around the one minute mark. The Metalcore vocals give way to the chorus which is melodic but not clean sung. There are some heavy It Prevails influences on the track with its Melodic Hardcore vibes. The bridge is just riffage which will surely get the live crowd moving. The breakdown that follows is hard, heavy but a tad short before an audio spoken word clip plays and the chorus follows to help close out the track alongside some heavy riffs. "Complacent" has enough twists and turns to keep any Metal fan happy. The track digs deep with its melodic riffs and screams and creates an early From Autumn To Ashes vibe. "Reasons" will get the pit moving. The track goes off the rails and has that emotional intensity that the band is known for. "Scars" is Then Falls The Sky through and through. The passion, melody, heaviness, riffs and emotion that pours out of this track is something truly special and really showscases the awesome talents of the band. "The End" keeps things going at a frantic clip. The melodic Metalcore sound is in the forefront with some nice breakdowns and aggression. There's a slight Nu Metal feel when the verses are at their peak. "Momento" is a five and a half minute epic instrumental closer that swirls with Progressive Metalcore. The track wraps everything up nicely with its heaviness and melody.
Verdict:
Then Falls The Sky unleash fury with their newest EP.
"Set on Rising" EP Review
Then Falls The Sky come from the rich music state of Ohio and are looking to make their mark in the Metalcore scene with their recent "Set on Rising" EP. Let's take a listen and see what they offer up in our newest review. The opening track "Bleeding Hearts" opens with a lengthy intro that sets a more atmospheric tone before blasting into a vicious breakdown. The track hits hard with a Shadows Fall like ferocity and doesn't hold anything back. "Letting Go" goes straight for the jugular. The track is non-stop chuggery and Melodic Metalcore vocals. It'll get the live crowd moving and singing along immediately as it brings back the early sound of All That Remains. "When Wolves Bleed" features some awesome melodic riffs and destructive breakdowns that crushes everything in its path. "Unreal" features more clean vocals than the previous tracks. The Melodic Metalcore sound is on full display but doesn't give up its edge as it's still hard as nails. "Faded" is the longest track on the EP, clocking in at five minutes. It features a ton of melody and really takes their sound to even greater heights. The track will surely be a fan favorite in no time and brings to mind comparisons to Killswitch Engage. The closing track "Lifeline" is a whirlwind of riffs, harsh vocals and melody. The track is a tremendous way to close a top notch EP.
Verdict:
Then Falls The Sky's newest EP obliterates expectations with its Metalcore savagery.
-Interview- (11/6/19)
1. What's new with the band?
We have one show left for this year. Then we will be back in the studio recording our next EP, and a couple more videos planned in the spring.
2. What can you tell us about the new music?
Going to be full of energy. We are still writing the last few tracks, so there isn't a lot to talk about yet. We are planning to release in late spring early summer, so follow us on social media to keep up to date.
3. Do you have any pre-show rituals? If so, what are they?
Not really any rituals. We like to headbang with the bands before and after us, and talk with fans. That's what show day is all about for us. You meet some pretty amazing people just by being present.
4. What's one highlight in the past year for the band?
We got to put on the first ever Metal show in a local theatre in our hometown. The theatre was built is 1903, and has had a lot of big name Country and Bluegrass acts throughout the years. The show was amazing, the staff was amazing, and everyone had a great time. Not one thing got broke, and very little cups where left behind to clean up. Kinda of breaks the stigma that a Metal show is destructive to the venue.
5. What's one thing you'd change about the local music scene?
We can't change the scene. We can only change how we act within it. We do our part in supporting as much as possible. We network with those that choose to network, and love seeing new bands emerge. That is what keeps the scene alive and healthy. We love our scene.
6. What are you currently listening to?
A lot of local and regional stuff. We are very active within our community and looking to expand.
7. What do you think about streaming services and how they pay out royalties to artists?
I mean they pay a very small percentage back to us artist, but it's not really about the rate. It's about the algorithm that can get you in front of new listeners and potential new fans. Yes streaming doesn't pay the bills alone, but it's a great discovery tool.
8. What do you wish to accomplish in the next year?
Planning our first tour now, so just to execute that plan that is already in place, and hopefully meet more amazing fans and bands from other scenes.