Timeless Haunt (Metal) - Pottsville, Pennsylvania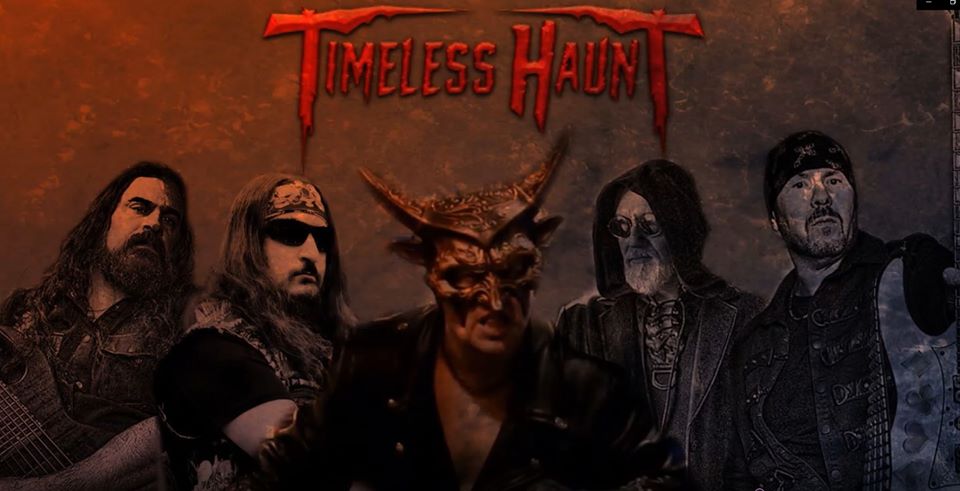 The genesis of Timeless Haunt occurred in the fall of 2018 when this coven of musicians decided to unify their musical experience and prowess with the intent of crafting symphonic and melodic metal songs colored with macabre themes. On that fateful evening Timeless Haunt was born. The original music poured forth from the musical warlocks, mixed in a cauldron of musical ecstasy that rose up and amalgamated into the signature songs that became the critically acclaimed Haunted Symphony, the self-produced first CD release from the band.
Currently Timeless Haunt continues to weave their unique brand of melodic metal with new original songs constantly being crafted with a sprinkling of quality tour dates in between. The passion and fire brought forth in the original recordings is amplified during memorable live performances. Come experience Timeless Haunt and be prepared to be musically inundated and overwhelmed.
Upcoming Shows:
More shows coming soon.
"Dark for Life" Album Review
"Geisterton" is a minute and a half intro track that sets a moody tone to open things up. "Embrace the Haunt" is purely Symphonic Metal instrumentation for the first minute before the vocals kick in. The vocals creep along with the instrumentation nicely and adds good depth with its haunting range. The track takes an even darker and more melodic tone later on which eventually goes off the rails. The title track is next and it slowly climbs the Symphonic Metal mountain. The riffs and vocals soar and its chorus is very catchy and very Iron Maiden like. "Sinful Girl" is a six and a half minute track that's pretty epic. The band doesn't hold anything back and shows off their chops perfectly within all of its twists, turns and melody. "Pain" is a ballad that pulls at the heartstrings and showcases the guitar work in a stellar way. "526" picks up the pace and brings the heavy. The track has shades of Thrash to it and the guitar solos later are just bonkers! "Not For Me" slows the pace down again. The track is more under control and melodic than the previous track. It's more Hard Rock, has some awesome guitar work and the vocals really soar high. Their cover of Chris Isaak's "Wicked Game" closes out the album.
Verdict:
Timeless Haunt evolve their Metal sound even further with their newest album.
"Haunted Symphony" EP Review
The opener "March of Death" starts off with some moody ambient tones before slowly building its pace with some crunchy riffs and melodic Metal vocals. The chorus kicks in with an almost early Mushroomhead like symphonic Metal sound. It's an opener that sets the tone well. The track picks up later on and blazes ahead full force. "Claustrophobia" is eight minutes of Timeless Haunt at their finest. The track takes you along the journey of what the true talent and range of the band perfectly. Metal heads will eat up this track for sure. "Hellion Witch" takes a bit to get going but once it erupts, it goes all out in its intensity. The melody is top notch and the track is hard and heavy in its delivery. "Sands of Agony" is a Metal ballad through and through and wears its heart on its sleeve quite well. The closer "Darkness Falls" has that crunch appeal and heaviness that closes things out in awesome fashion. The live crowd will surely be moshing and singing along. The EP is filled with potential and we can't wait to hear more from these promosing up and comers.
Verdict:
Timeless Haunt aims to leave their mark on the Metal scene with their dynamic EP.
-Interview- (8/13/20)
1. How did you get started with music and how did you develop your sound? Who thought of the name "Timeless Haunt" and is there any meaning behind it?
The band was named Timeless Haunt as we are a bunch of timeless individuals that write haunting music. In other words, old guys who won't go away - LOL. All of us are metal-influenced players that got together in Fall 2018 to write symphonic and melodic metal. The name of the band reflects the image and vibe of the band and songs.
2. What do you want people to take away from your music?
Even though the band is fully capable of shredding guitars, blazing fast drums, and soaring vocals, great songwriting is the goal of the band. That doesn't mean always playing over everyone's heads for the sake of competition or showing off. We're reserved on purpose. A great band isn't the one who can play the most notes, or sing the highest octaves all the time. It needs to be done tastefully and tactfully.
3. How would you describe your sound to the average listener?
Symphonic and melodic metal with a hint of old-school nostalgia. Well-crafted memorable songs performed by top-notch musicians.
4. Who are three bands you'd like to tour with?
Iron Maiden, Savatage, and Ozzy Osbourne.
5. What are your three desert island albums that you'd never get tired of listening to?
Too much good stuff to only pare it down to 3 :)
6. What's the current music scene like there in Pennsylvania?
With the coronavirus pandemic has substantially cut back on the local music scene but the lack of live shows offers more time and opportunity to write and record new material.
7. What's your take on the royalties that streaming services pay out to artists?
It could be better. Artists really don't make anything substantial from royalties from streaming services.
8. What's next for Timeless Haunt?
Recording our next CD titled Dark For Life in early September with a planned late October release and hopefully the pandemic lifts and we can get to touring. Ideally.