Touch The Buffalo (Indie Rock/Grunge) - Arlington, Virginia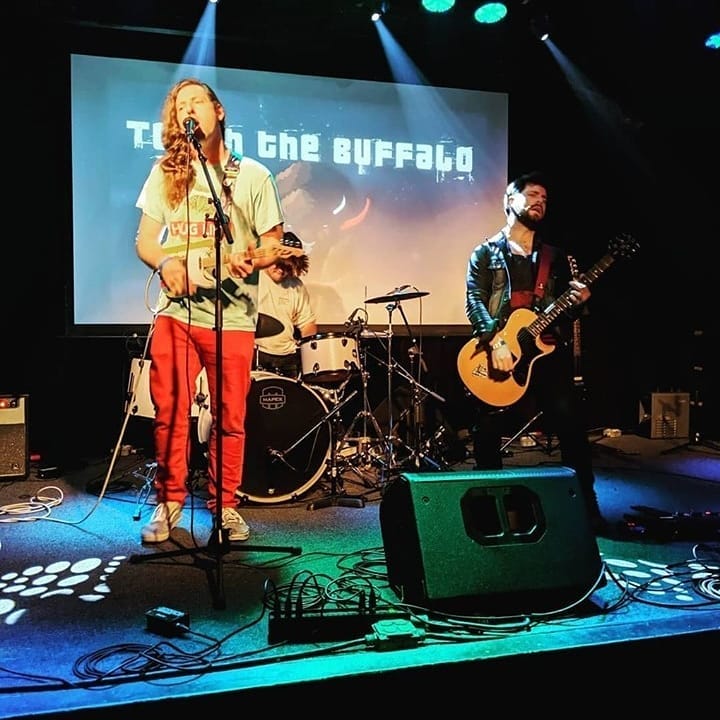 Upcoming Shows:
More shows coming soon.
"Jameson and the Angry Soul" Single Review
The track begins with a nice riff off the bat that takes hold of the listener right away. The steady melodic vocals kick in and adds a dynamic range as it glides along the first verse. The pacing cranks up a bit before the guitar work takes center stage. The second verse continues the moody Indie Rock vibes before another guitar solo takes the sound to greater heights. The bridge features soaring vocals along with background vocals that add plenty of depth. There's a guitar solo that closes out the track in style.
Verdict:
Touch the Buffalo fine tune their signature sound even further with their newest single.
"Heart Is For" Album Review
Touch The Buffalo are making waves in the Rock music scene and with their newly released album, they intend to keep that momentum going. Let's take a listen in our newest review. The opener and title track "Heart Is For" starts off with with a little diddy of a guitar riff before gliding into the first verse. The infectious grooves are on full display as the sound extends into the more Indie Rock soundscape. There's a slight Shun vibe as well as a touch of Portugal The Man. The two minute to two and a half minute mark go all out and caps off with a tremendous guitar solo. The track is incredibly easy to get into and should quench the thirst for fans looking for that new Indie Rock track to cling onto. "Long Time" is slow and methodical. The track has that Grunge feel that fans of the genre will easily get sucked into. "Food Stamps" has a Train like feel to it. It's more timid but still packs a mighty punch. "Nerd Love" is an ode to all the anime/video game/Neil DeGrasse Tyson fans who want to find love without changing who they are. Let's dive on in and see how the new single fares. Right from the start, the track features a nice Indie Rock melodic riff before adding a flavor of Grunge. The vocals grooves are excellent, guitar work stellar and everything works wonderfully through its four minute length. "Voices" is super duper catchy. The riffs and melodies keep everything tight and on point through its run time. The chorus is just out of this world. "A Mile Away" is a track that brings to mind the stadium Rock sound of Imagine Dragons. The track works really well and should be a hut with fans in no time. "Man Behind The Curtain" pulls back the reins a bit.The track features a more throwback Rock sound that is just so smooth to just jam out to. The closer "Tortured And Beautiful" is five and a half minutes of pure Rock bliss. The track just takes off and doesn't hold anything back. This album has a lot to like as a fan of Rock music and anyone who's looking for a new Rock album to cling to, check these guys out!
Verdict:
Touch The Buffalo's new album transcends the Rock music spectrum.
-Interview- (4/16/19)
1. How did you get started with music and how did you develop your sound? Who thought of the name "Touch The Buffalo" and is there any meaning behind it?
It's a different story for all of us. Tyler, Manny and Jonathan all knew each in highschool, and were in a band called "Purple Isn't 6". Manny has been playing bass since his dad handed him one when he was four years old. Tyler went to a Rock N Roll camp when he was in middle school, and came back as a guitar shredder. And I think they forced Jonathan to play drums in their band in highschool.
I got into music in 2015 and started playing cover songs at open mics around Arlington, VA. Then eventually started jamming with people in basements and garages. Then I found Manny and a drummer, and we started gigging around DC in 2017 as Touch the Buffalo. We've had a few band member changes to get to our current lineup.
Touch the Buffalo was a dream name I had for a band, years before I ever started playing music. I found myself in a situation where I was approached by a buffalo, and it was a little terrifying because they're massive and powerful, and could easily run me over and kill me. But it came right up to me and let me pet it, and it was pretty incredible. I thought the experience was a great metaphor for chasing your dreams, because I think a lot of people get run over by their dreams when they're not cautious or respectful of the environment they're in. And I think a lot of people are so afraid of their dreams because of all the people they've seen get run over, that they don't even try.
2. What do you want people to take away from your music?
We're chasing a feeling. All of us remember how we felt when we heard "Smells like Teen Spirit" for the first time, or "Chop Suey" for the first time, and it was something like "Holy $#!%. What the f#@k was that?" Not that we've done that yet, but it's what we're shooting for. In the meantime, if anyone feels like jumping around and screaming along with the lyrics, we'll take that too.
3. How would you describe your sound to the average listener?
Energetic, fun, and different. We take a lot of left turns in our song writing, but as far as we're aware it's working.
4. Who are three bands you'd like to tour with?
July Talk, Iron Tom, and Elvis Presley.
5. What are your three desert island albums that you'd never get tired of listening to?
An Awesome Wave by Alt-J, Flower Boy by Tyler the Creator, and American Idiot by Green Day.
6. What's your take on the current state of Rock?
I am not seeing a lot of innovation in Rock music. I think a lot of the bands that are making it in rock are not adding to the genre. There are bands that are shaking stuff up, that are seeing some success, but unless these bands get as big as Twenty One Pilots, most people aren't going to be aware that Rock has changed at all in the past 20 years. Twenty One Pilots and Awolnation are that last rock innovators I'm aware of. I'm keeping an eye on July Talk, and another band Mother Mother, they're doing cool stuff and have been putting the work in.
7. What's the current music scene like there in Virginia both locally and state wide?
Locally, Metal, Punk and Funk are pretty big. And then there is a big Americana, Folk scene. We don't fit in with most lineups we're in. Statewide is totally different, there is a band in Leesburg called Kid Brother, they sound like early Arctic Monkeys. Richmond is a huge music hub. Virginia Beach is a big rap hip/hop scene, that's where Pharell Williams is from.
8. What's your take on legal/illegal music downloading?
I used to download a bunch of stuff illegally. I don't know if it matters anymore. No one buys songs, they all stream now, and bands don't really get paid for streams. Go to shows!
9. What's next for Touch The Buffalo?
We are releasing our first full length album this summer as well as our first music video this June.
10. Any shoutouts?
Check out Company Calls, Kid Brother, Justina Beth-El, Purple Isn't 6, Red Medicine and Finding Bob!