Twelve Hour Day (Alternative Rock) - Minneapolis, Minnesota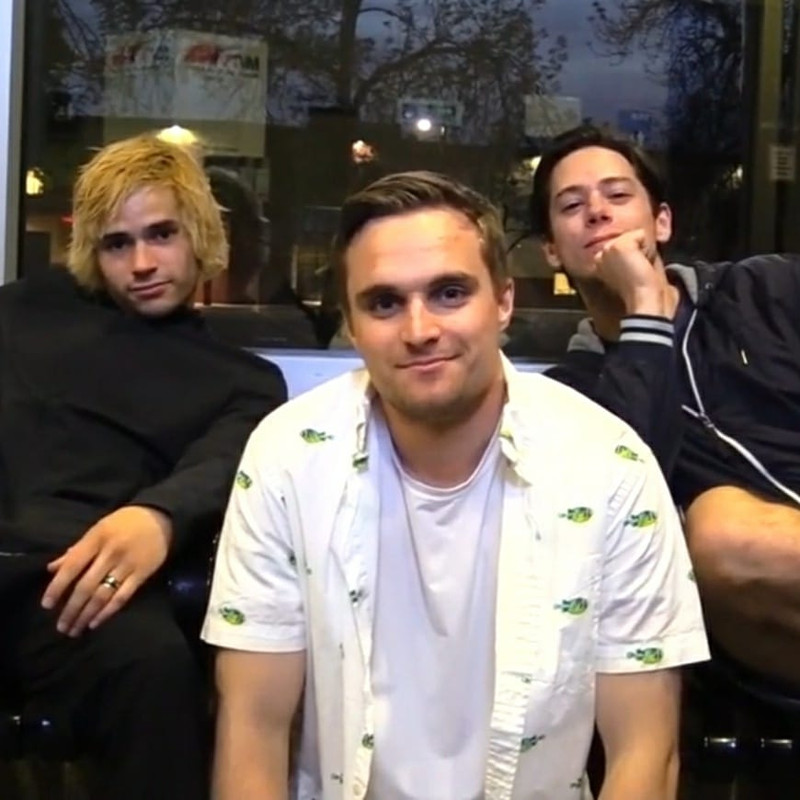 Twelve Hour Day is an american alternative rock band from the suburbs of Minneapolis, Minnesota, formed in the spring of 2017. The trio consists of childhood friends Aidan James on lead guitar/lead vocals, Zane Wagner on bass guitar and Jake Bringgold on drums. The three have been playing and making music since their early teens, having been influenced by the grunge, punk and alternative rock scene from the 1990s. They offer a unique and modern sound to the music landscape. They are dedicated and committed to the art of music and hope to disseminate their sound to the masses. They released their debut EP 'EL SARCASMO!' in November 2018 and released their debut album 'Hollywood' on June 6th, 2019.
Upcoming Shows:
More shows coming soon.
"Hollywood" Album Review
Twelve Hour Day are some hot up and comers that are looking to make a name for themselves with their unique take on the Rock/Pop Punk genre. Let's dive in and see what they're all about with their newest "Hollywood" album. The opener "Paper Planes" (no it's not a cover of the M.I.A track) feels like it should be on the Scott Pilgrim soundtrack. The track has that fuzzy Rock/Punk sound that'll draw in listener from the first note to the last. "Anchors" has a bit of Mudhoney sound to it. The track is just catchy at its core and its chorus is a true testament to that. "Living Waste" picks up the energy level a bit. The riffs are easy to cling on to and can definitely appeal to a wide crowd set. "Divide" has a Foo Fighters feel to it as it cranks out more of a Rock vibe. In fact, just the instrumentation is most of the tracks run time. It should be a nice intro for a live set for sure. "Hanging On To Yesterday" has melody for days. The melodic vocals grab hold from the start and don't let go. The instrumentation has a bit of bite to it. The single "Minneapolis Kids" is next and it has a Mewithoutyou vibe to it. The track shows off its style effortlessly and has that radio appeal. "Some People" continues the crunchy riffage. The track brings to mind Weezer and their catchiness. The track is a nice pace shift from the previous track. "Angry Faces" goes all out with its hard bite. The track has riffs that really soar and the vocals do a nice job of keeping up with it. The closer "We're All Actors" builds and explodes with some spectacular riffs. The track has a more Grunge vibe as it takes its time and is more methodical in its approach. By the end of the track, you'll be reaching for that repeat button. With each track clocking in around two-three minutes, it's a quick hitting album that keeps the catchy tunes coming at a steady clip and should gain repeated listens with ease.
Verdict:
Twelve Hour Day have an album here that covers a lot of ground with its ultra catchy sound.
-Interview- (7/11/19)
1. How did you get started with music and how did you develop your sound? Who thought of the name "Twelve Hour Day" and is there any meaning behind it?
We stumbled upon on a wizard in the forest one day when we were wee-lads. He smacked us twice with his magic wand and bam, we were Twelve Hour Day. We developed our sound by eating Corn Flakes everyday. Spoon fed. Meditation, and good nutrition. Twelve Hour Day is more than a band. It is a lifestyle. It represents all those trying to work harder to achieve success and the American Dream. Be true to thyself, and don't try to fill somebody else's mold. That's us. Twelve Hour Day!
2. How would you describe your sound to the average listener?
Extremely catchy, sing-along rock music.
3. Who are three bands you'd like to tour with?
Basement, Remo Drive, ExactlyNo
4. What are your three desert island albums that you'd never get tired of listening to?
Promise Everything, Blood Sugar Sex Magik, Nevermind.
5. What's your take on the current state of Rock?
The current scene is going to hell. It's going to hell. We are sick of hearing indie. We are sick of your gimmicks. Get better singers. None of that soft, wannabe-indie crap. Imagine Dragons is trash. And we have to do something folks. We need to do something. Another band has to come along to save the scene, or we are all screwed.
6. What's the current music scene like there in Minnesota both locally and state wide?
Honestly, everyone in the Minnesota music scene is very friendly and positive. We have yet to find a band we do not like...as people.
7. What's your take on legal/illegal music downloading?
We don't have a problem with illegal streaming/downloading.
8. What's next for Twelve Hour Day?
Festivals, fundraisers, touring, more music.
9. Any shoutouts?
We would like give a shout out and big thanks to the following individuals/bands of the Minnesota music scene that have been so friendly and have helped us get where we are today: Austin Willette (12th Avenue/A Willz), Atomic Cafe, Ethan Teel (The Owl Eyes), ExactlyNo, Bryce Kalal, The Aftergreens, Remo Drive, Peter Lewandowski of Fast Guitar Recording studio, who helped record our EP and first album; Jack Shirley of The Atomic Garden Recording Studios, who mixed and mastered our EP and first album.