Unravel (Alternative Rock) - Ravenna, Italy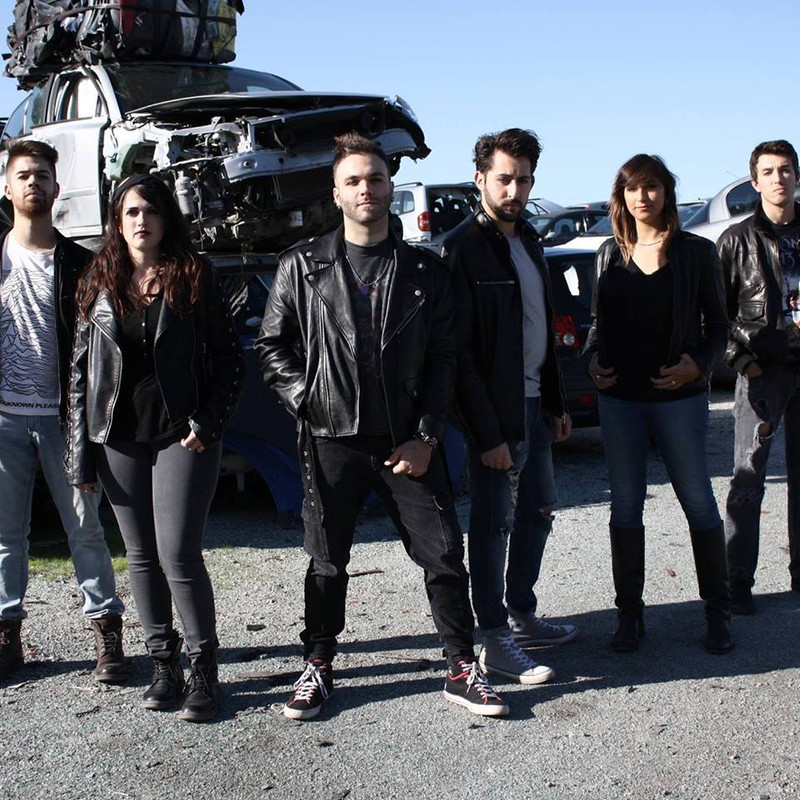 Unravel is an Italian rock band from Ravenna. The former band members started the project in 2014 and since then the group has experienced a vast range of genres. From Alternative and hard rock to a more conceptual and theatrical kind of music which truly represents the soul and aim of the band. What they look for is a deep connection with people. Their aim is to convey their passion for telling stories through the music and be able to reach and affect people with fierce lyrics and a dynamic, thunderous and emotionally rich sound. Their influences extend from bands as Foo Fighters, Queen, Led Zeppelin to Avenged Sevenfold, Alter Bridge and even Tears for Fears, Depeche Mode and Pink Floyd.
The current formation includes lead vocalist Stefano Tarroni, lead guitarists and backing vocalists Sara Correale and Manuel Bersani, bassist Chiara Pirazzini, drummer Luca Petrini and keyboard player and backing vocalist Giona Collinelli. The six have brought different styles and influences to the band throughout the years and contributed to the unique and refined sound which characterizes Unravel. Collaboration with a theatre company, along with a meticulous attention to the instrumental and visual part of their music has helped the group to give a transporting and thrilling atmosphere to their shows which are always striking. Many artists contributed to their first and self-published EP "Skyline" (actors, musicians, dancers, athletes...) and the band is currently working on a full album with an enriched and more various sonority.
Upcoming Shows:
More shows coming soon.
"Hey!" Single Review
Unravel are back and are as explosive as ever with their new Rock anthem "Hey!". Let's take a listen and explain to you why you need to listen to this high quality single right now. The track starts off with a dirty guitar riff and building drums before erupting into a high energy Rock sound. The vocals kick in and chugs along with an accessibility that make it very easy to sing along to. Once the chorus kicks in, you'll be chanting along to the "hey's". The instrumentation on the track has a ton of depth. The track eventually dips down and the guitar work is featured. It builds itself back up with its super catchy chorus to end the track on a high note. Rock fans will eat this track up as soon as they hear it.
Verdict:
Unravel churn out a Rock anthem for the ages via their new "Hey!" single.
"Skyline" EP Review
The country of Italy has become a hotbed for some incredible Rock music over the years. Unravel are a band who's ready to come up through the ranks of the local scene and expand their Rock sound out around the world with their newest "Skyline" EP. The opener "Moonbeam" relies heavily on piano as it helps set the tone for the cinematic Rock sound that's about to be conjured up by the rest of the tracks. "Anyway" opens with a melodic riff before blasting off into the stratosphere. The uplifting sound brings to mind Muse or Alter Bridge. It's a tremendous track and the added dual vocals and oustanding guitar solo take things to an entirely different level. "Wish" is Alternative Rock to its core. The track is filled to the brim with melody, guitar riffs that are incredibly catchy and vocals that it all the right notes. "Reach" is the lead single and it's a hit in the making. The track is more of a ballad at times but still soars when the timing is right. Thee's so much passion and emotion on the track and that helps it become as powerful as it is. "M.I.n.E. (Falling Skies) closes out the EP in epic, seven minute fashion The track is everything Unravel has to offer and then some. It's cinematic, beautiful and something every music fan should listen to. There's so much to like on the EP and do yourself a favor and check it out as soon as you can.
Verdict:
Unravel take Rock music to new heights with their "Skyline" EP.
-Interview- (1/15/18)
1. How did you get started with music and how did you develop your sound? Who thought of the name "Unravel" and is there any meaning behind it?
We all started playing when we were very young, some of us were children when they started. We grew up listening to many different genres and that's why each one of us has developed their own sound. From pop and electronic to metal or rock with grunge and ambient influences. Unravel started as a project of the lead singer (stefano) who, after playing in different environments, decided to create something new. Something that could somehow mix and put together six people with six completely different music styles. We wanted to create something to share our musical influences and express our passion as well us our demons. Before we knew it we had found each other as musicians and friends. We had found a place to expose ourselves without fear or inhibition. There were only three of us at the beginning, but we knew exactly what we were missing. That's why finding the other members wasn't very hard. It was like we were meant to play together from the start, encouraging and completing each other. As far as the name is concerned, we have always been Unravel, since the very beginning of our story. We were thinking about our dreams and our personal experiences, we wanted to be seen for who we were, to be true and really expose ourselves through our music. That's how we came up with the name.
2. What do you want people to take away from your music?
We'd like people to feel the energy in our music and inspire them to change whatever they don't like about their lives. What we would really like is for people to feel our passion, to appreciate our meticulous work, which includes telling stories, emotions, but mostly the need to be free, the resilience, endurance and the eternal fight with ourselves. So they could understand the weight we give our songs and the impact they have on us.
3. How would you describe your sound to the average listener?
Our sound is like a continuous stream. Every song should completely surround the listener, take his mind to new and old places, memories, stories. We like the song to flow everywhere it wants, form the beginning to the end. We'd like to call It cinematic rock, from hard powerful rock to the nostalgic sounds of the 80s. A sound of research, little experimentalism, an equilibrium of our different styles. Each of us is so different from the other!
4. Who are three bands you'd like to tour with?
How hard It is choose! Muse, Avenged Sevenfold, and Queen maybe.
5. What are your three desert island albums that you'd never get tired of listening to?
The 2nd law (Muse), Nightmare (Avenged sevenfold), and every album of Pink Floyd!
6. What's your take on the current state of Rock?
Rock is a genre that still influences people all over the world. It's alive,it's rebellion and it's always been so. But today it's very hard to get rid of the stereotypes and misjudgment created by time. People from the outside think that rock is stuck, is dead, they think it has no future. But in the rock environment throughout the years there has been a continuous evolution in terms of sound,new technologies etc...rock it's something that unites different people and styles. Its most powerful aspect is its variety,the presence of a huge amount of sub genres to be heard and discovered. It's almost impossible not to like at least some of them. Rock is definitely still here,in the hearts of the nostalgic people and in the need for rebellion of the youngsters. Anyways we don't deny that the music world has changed and that today the genres that prevail are pop and commercial music although we don't share the values and ideas behind the current process of "becoming famous". We love playing live and writing our own music and that's why we don't particularly like talent shows as a way of succeeding in the music world.
7. What's the current music scene like there in Italy both locally and country wide?
The rock scene in Italy is quite underrated, our country is full of great emerging rock bands especially in the"underground" environment. Unfortunately many bands don't have an original sound, they just try to emulate what they like. We think that getting your inspiration from the music you like is very important, but in the end it's all about YOUR OWN sound, your own music. We would like our country to be more open to rock bands since the music scene at the moment is dominated by pop and electronic music and there are not many opportunities for people who play different genres, expecially if you don't sing in Italian. But LET'S CHANGE THIS SH*T!!
8. What's your take on legal/illegal music downloading?
You know, nowadays the music market is in continuous evolution. In our opinion music should be available for free to listen, but we don't support illegal download. You can listen to an album for free but then, if you really liked it and want to support the artist you should buy it. It's a matter of honesty and respect. Illegal downloading is like spitting on the artist's effort. Buying CDs or Vinyls allows you to physically touch music, to live it and to appreciate the work behind it, it's beautiful. One one hand being able to download music for free helps people to expand their culture in an easy way, on the other it really is a pity for the people who worked to create that piece. Everyone has their won ideas on this subject, this is ours.
9. What's next for Unravel?
We are working for a new big DEMO, and we're ready to launch the first single of It. It will blow your minds! New sound, new artworks! 2018 will be a year of change! We promise! Stay tuned, you'll see!!
10. Any shoutouts?
Our next single will be out soon. Again: It will blow your minds! "We are the one, we are the lost, we're here to say: HEY! HEY! HEY! HEY!".