Unwired Society (Punk) - United Kingdom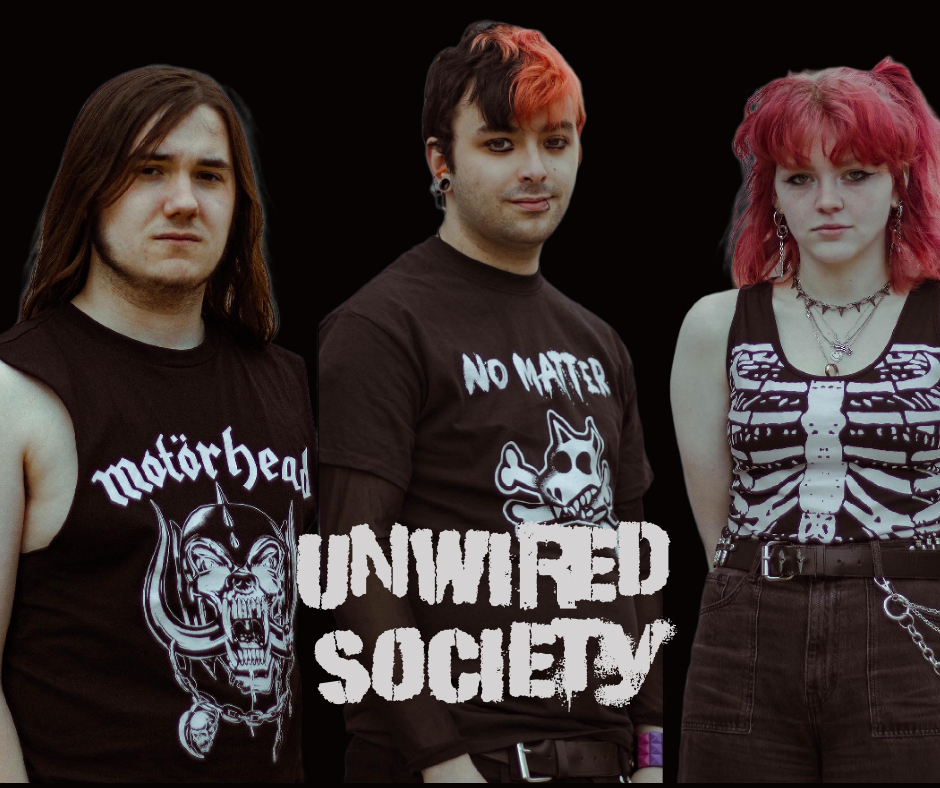 Wall of Noise is the band's politically charged debut single in the vein of pre Dookie Green Day/Rancid, described as having a 70's London/UK Punk feel to it. The song details frustration with the current state of the UK and the ongoing paranoia, distrust and chaos that affects us all. The Wall of Noise is the outcry, anger, lies, deception and contradiction that consumes the media. With a catchy melody, a bassline that shows what bassist Lydia Sioux is capable of and Max firing on all cylinders with blistering drumming and a guitar solo that sounds like something from the 90's; this is the perfect introduction to Unwired Society.
Formed in 2018, Unwired Society was started and then reinvented in 2020 and now consists of Dylan, Lydia and Max. Wall of Noise was recorded at Unit 45 Recordings, a new recording studio located in Hull City Centre and was produced by Dylan Burton. The original line up made their debut appearance at Humber Street Sesh 2018 (3rd August) with a short 3 song set on the Youth Stage to which then Ty was made an official member of the band. The band would set out to play venues in Hull such as Jaz Bar, Off The Road Live Lounge, O'Rileys and Adelphi for which the band made their first headline slot with a gig there organised by a youth project called 9Volt. 2019 saw the band perform festivals such as the Hull Youth Music Festival down Humber Street, Tribfest at Sledmere and Humber Street Sesh to which the band performed on the youth stage and was the bands best show audience wise with a big crowd and mosh pits, people jumping around and a very positive response.
Late 2019/Early 2020 saw the new additions of Lydia and Max and the band began to focus on originals only after the original line-up had done a mix of covers and originals. This was a welcome change for Dylan who had always wanted to just focus on originals as the bands he was seeing in the Hull scene and wanting to play gigs all did that and he was getting fed up on playing other peoples song; preferring to focus on writing his own.
The band take a DIY approach and have had guidance from friends of other bands. Frontman Dylan cites Lydia Palmeira (LIFE), Sam Sanders (Serial Chiller), Casey Stead and Ian Bolton (Freedom Road Creative Arts) as people that have helped him be able to take the band further than what it initially was at the time. He also heavily credits band members Lydia Sioux and Max James for helping bring the band back to life and completing the lineup permanently.
Upcoming Shows:
More shows coming soon.
"Loss of Unity" Single Review
The track begins with a nice crunch and almost Rage Against The Machine like riffs. The pace steadies out during the first verse but picks back up shortly after with its instrumentation. The chorus is easy to sing along with and gets the adrenaline flowing. There's a guitar solo towards the end that adds tremendous depth to help close things out.
Verdict:
Unwired Society's newest single is two minutes of their signature Punk sound.
"Blackout" Single Review
The track kicks right in with some high energy riffs to get things going. The punk vibes are at full effect as it barrels full speed ahead with its instrumentation for the first thirty seconds before the vocals kick in. The vocals match the high intensity Punk style along with its gang chant vocals that add some depth. Around the halfway mark the track takes off to an even higher level as it cranks even heavier and faster. There's an awesome guitar solo in there as well. The track ends with its magnificent instrumentation to close things out.
Verdict:
Unwired Society let their emotions out with their newest single.
"Wall of Noise" Single Review
The track wastes no time in barreling full speed ahead with its upbeat Punk sound. The early Green Day like vocals kick in with a passion that few Punk bands have nowadays. The instrumentation drives the track forward as the vocals takes you along for the ride perfectly. The chorus is easy to sing along to and brings back that old school Punk sing along. The track goes off the rails for a bit around the two minute mark and lets loose with a guitar solo later on to help close things out along with the chorus.
Verdict:
Unwired Society hits a serious chord with their explosive single.
-Interview- (2/19/21)
1. How did you get started with music and how did you develop your sound? Who thought of the name "Unwired Society" and is there any meaning behind it?
D: I got into music properly when I was 12, I found that I had Green Day songs on my phone and became obsessed, immediately I wanted to start playing Guitar and my dad showed me a few chords but from there I learnt myself. Green Day introduced to all the other punk bands such as Dead Kennedys, Ramones, Buzzcocks etc. My first guitar was a Fender Bullet Stratocaster Squier. I started Unwired Society in 2018, there was an old line up from 2014-2017 but after that version broke up I restarted, when Max and Lydia joined that made it official for me that we are an actual band. The band name came from an old bassist I had after I was talking about what I wanted the meaning behind it to be which was to be basically that we are our own individuals and don't conform to any society standards and just do our own thing. The best way I look at it is that the Wired Society is where everyone fits in with one another and all look the same and then Unwired is the opposite. Sound wise I started off with a tiny Marshall amp which then upgraded to a Fender Champion 100 then I moved to VOX AC30. Last year I bought a Marshall JCM2000 Head and decided to combine that together with the VOX and I use guitars such as Fender Telecaster, Epiphone Les Paul/Les Paul Junior and I'll be starting to use my Squier again. I have another band that I'm with Lydia which started out as just her solo project but then developed into kinda a duo. It was a really fun process seeing her songs develop from the first demos and getting to play drums which I don't do often and getting to add some cool guitar riffs.
L: I got into music by first picking up a ukulele and starting small and learning that, then I thought I should pick up a bass because bass is my favourite instrument! I met Dylan and he gave me the courage to try, he introduced me to a music college and I started a music course (on my second year now) and I started picking it up really quickly, just at that point I started learning and becoming decent- I wanted to make my own little band but it didn't go anywhere (Violet Descendents) but should soon enough hopefully! I then joined Unwired Society.. My sound has developed from I guess 'bubble-gum alternative electronic' to more rock/alternative and heavier.. I quite like to combine the two though.
M: I've been a musician for years. In and out of various projects, notably my consistent solo act 'Alfonso Conspiracy'. I'd known about Unwired Society through friends and fellow musicians around Hull and when given the opportunity to be the drummer it was a no brainier. I've grown up loving the punk sound, being born into a family that loved The Offspring, and Sum 41 etc. When American Idiot came out it really cemented my love for it. Now years on, I incorporate not only my love for all those bands, and newer pop punk bands such as The Story so Far and Knuckle Puck, but the heavier hardcore sound from the mid 2000s with bands like Parkway Drive and Lamb of God. I've really brought the fast hard hitting and complex drumming to the already super punk sound, and it spawned what we are today.
2. What do you want people to take away from your music?
D: That's a tough one to put into words, I'd say I want people to take a few things away from the music. I want them to feel like we're directly speaking to them in some way and to feel encouraged, inspired, less alone. Whatever topic we write about I want it to resonate with people in a way that they will remember it even when they aren't listening to the music. With songs like Wall of Noise I really wanted to vent my frustration with the current state of the UK and I want people who maybe don't think about politics that much to maybe rethink because in my opinion you can't just ignore it due to the fact that these things affect us in the long run.
3. How would you describe your sound to the average listener?
I would describe us as pre Dookie Green Day/Rancid with a 70's UK Punk feel.
4. Who are three bands you'd like to tour with?
D: Green Day, LIFE and Serial Chiller. Touring with Green Day would be a dream come true and Serial Chiller are a band I'm friends with and super cool dudes. I know the dudes in LIFE too and they're also really cool.
L: Siouxsie, LIFE and Aerial Salad.
M: There are so many...I'd love to tour with friends like Smiling Assassin, Nour and Bloodsport. But to tour with a band like Neck Deep or Good Charlotte would be amazing.
5. How has Covid affected what you do as a band?
D: First Lockdown we were getting demos done with Max programming drums as he doesn't have a kit at home and then we started rehearsing when restrictions had eased down and once the second lockdown hit we took a break but during this third lockdown it's much like the first where we are getting so much done and writing a lot of new songs. With regards to releases we still have plans for music videos and are finding ways to make it work. I would hope that we'd be able to gig once our planned EP drops but for our next few singles we're more than happy to release them during lockdown and potentially do some livestreams alongside them so we can at least play to people even if they aren't there in person.
6. What's your take on the current state of Punk?
D: Mainstream wise it's not as huge as it used to be but that happens with any genre of music, it has its highs and lows. Pop Punk has obviously had a bit of a resurgence at the moment but when it comes to the unsigned/independent scene punk is so good at the moment. There's all kinds of different punk bands from the hardcore to post punk. I try to consume as much from all angles or punk and it seems like there's so many fantastic bands that deserve more attention. There are bad sides to it such as the genre elitists but that's pretty much the case with all styles in rock and alternative.
7. What's the current music scene like there in the UK?
D: It's fantastic for the most part, it feels really united and full of cool people and it can really feel like one big family, especially the scene we have in our hometown. I personally haven't had any bad experiences in the scene but I am aware that there are some people that ruin the fun and like to stir drama.
8. What's your take on the royalties that streaming services pay out to artists?
D: It certainly could be improved, streaming services like Spotify are great and still have potential but it can be very unfair with how it works royalties wise and I feel like if they worked out a more fair system, then the platform could reach its full potential. Bandcamp for example is a great platform that is fair with its artists, having a specific day of Friday where bands get 100% of their royalties.
9. What's next for Unwired Society?
D: We have two more stand-alone singles to release this year, all keeping in the political themes lyrically and then the plan is to release an EP which is more about myself lyrically. We have material written for beyond the EP too. We are going to be doing some livestreams too to make up for the fact that we can't gig currently. We have a gig booked for August which will hopefully happen.
10. Any shoutouts?
Shoutouts to Unit 45 Recordings and bands such as: Aerial Salad, LIFE, Serial Chiller, Alice's Ants, Smiling Assassin, Faux Pas, Low Hummer, Bloodhound, Slackrr, Stay Out, Burning Flag, Whipper Snapper, Swan Prince, No Matter, Filthy Filthy, Brosnan, Low Hummer, King Orange, 6:17, Dividium, Fly the Train, The Matchbox, Modern Mood Swings, The Menstural Cramps and The Avenues.