Vermont (Indie Rock/Punk) - Cincinnati, Ohio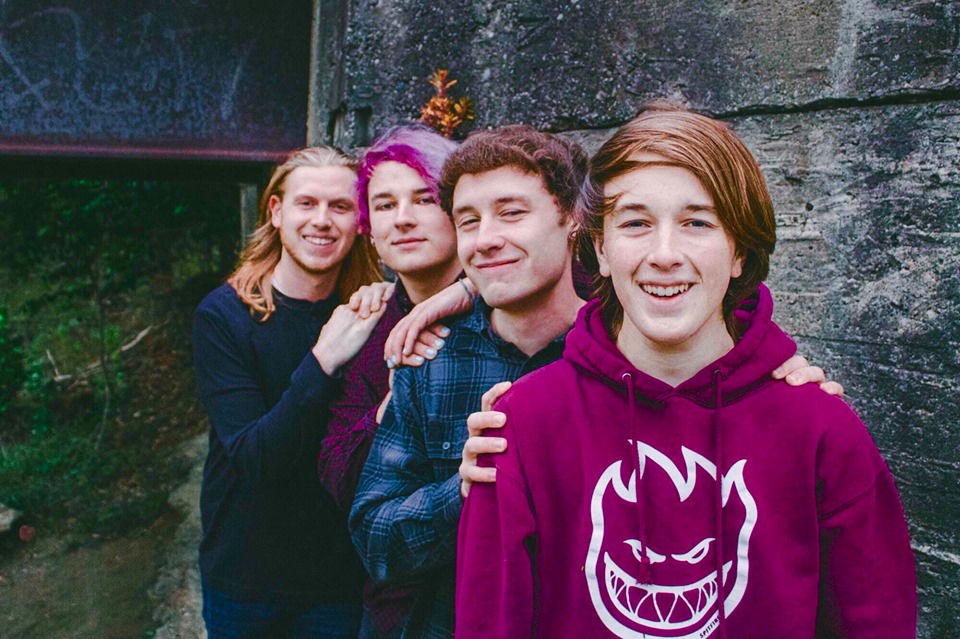 Upcoming Shows:
11/15/19 - 25 Circle Dr. - Florence, KY
"Swimming Pools" EP Review
Vermont's newest EP is a small taste of what the band are up to at the moment. Let's take a listen and see if they take their sound to even greater heights with their new EP. "Friendship" immediately kicks things off with a groovy riff that pulls you in from the get go. The upbeat energy along with the smooth rockin' vocals keep things tight and polished throughout its length. There's a slight Death Cab For Cutie vibe on the track. "Treeshrew" begins with a wall of explosive instrumentation before the vocals eventually kick in near the one minute mark. The track is more high energy than the previous track but dips down with melodic sections at times. Towards the end of the track is a bit chaotic in all the right ways with instrumentation and melody that sinks its teeth in and doesn't let go. Two track isn't nearly enough but gives a good appetizer for hopefully more music from this young upstart group.
Verdict:
Short, sweet and to the point, Vermont's new EP will leave a long lasting impression on you.
"I Didn't Think We'd Make It This Far" EP Review
For a few years now, the Pop Punk scene in Ohio has been churning out more and more high quality acts for it to be a hotbed for the genre. Vermont is a band that wants to take that genre, twist it up and put their Indie Rock and other variations of Rock spin on it and create a sound that's truly special. Let's see how it fares in our review of their latest EP. The opening track "Not "Summer Freshman"" is upbeat right from the get go. There's almost a Rockabilly flair to the track as it sways to and fro with a high energy that pulls in the listeners with ease. "Flat Earth" takes things on a more Indie Rock route by way of a Death Cab For Cutie type sound. The melodies are top notch and it's a wonderful track just to lose yourself in. "Anime Bible Joint" has some Emo and Screamo vibes to it. The instrumentation is spazzy at times but it keeps things interesting throughout. "Cannibal" is catchy as hell. The driving riffs and melodic vocals make it a stand out track with ease. It should be real easy for it to garner radio play. "Death Note" is an acoustic track that'll pull at the heartstrings with its passion. The closing track "5forty" has a controlled chaos factor to it until it explodes with ferocity that'll get the live crowd moving along. It's a nice closer that sums up their sound nicely.
Verdict:
Vermont has a signature Indie Rock/Punk sound that yearns to be listened to as loud as possible.
-Interview- (12/27/18)
1. How did you get started with music and how did you develop your sound? Who thought of the name "Vermont" and is there any meaning behind it?
All the members of Vermont have known each other from playing in old bands together. Ryan and Ben (our two singers/guitarists) formed Vermont in late 2017 with similar interest in how they wanted Vermont to sound. Eventually, Sawyer joined on bass and Kenton on drums. We thought of the name Vermont together, we saw "Vermont Avenue" on a Monopoly game board, and decided we liked the aesthetic of "Vermont." It's a name that's easy to remember!
2. What do you want people to take away from your music?
Nearly every song that we write proceeds a literal discourse in Ryan's life. We want listeners to be able to relate our lyrics to experiences in their life, and to have the same realizations about themes in their own relationships. We hope listeners are able to resolve altercations in their life through listening to our music and understanding the underlying themes of ego, spite, and escaping stagnation.
3. How would you describe your sound to the average listener?
Our sound is a blend of Modern Alternative, Emo, Indie, and Punk music.
4. Who are three bands you'd like to tour with?
Prince Daddy and the Hyena, The Sonder Bombs, and Cage the Elephant.
5. What are your three desert island albums that you'd never get tired of listening to?
Arctic Monkeys - "Whatever People Say I am, That's What I'm Not", Modern Baseball - "Sports", and The Front Bottoms - "Talon of the Hawk".
6. What's your take on the current state of Alternative Rock/Punk?
All of the bands we listen to are underground, and the underground scene is great. Most Radio Rock is trash.
7. What's the current music scene like there in Ohio both locally and state wide?
Southern Ohio is mostly a Metal scene, which isn't suited for us. However, Central and Northern Ohio (Columbus/Akron/Cleveland) have a great Indie/Punk scene. We always have great shows in Northern Ohio.
8. What's your take on legal/illegal music downloading?
We think it's inevitable at this point. Once the internet came it changed music forever. We don't condone it, but we accept people are going to do it.
9. What's next for Vermont?
We are releasing two new songs in February of 2019! We are also in the process of writing our first full length LP. We plan to tour as much as possible in 2019.
10. Any shoutouts?
Shout out to our friends in Vandalia, another local Cincinnati band. They have really great music.