Weight Of Emptiness (Avant-garde Death Metal) - Santiago, Chile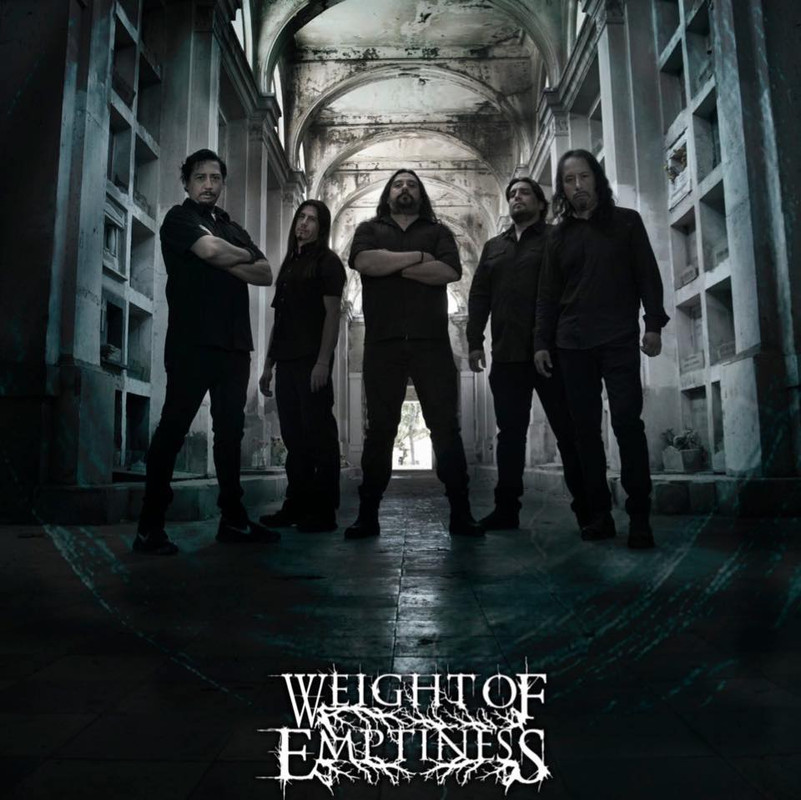 Weight Of Emptiness es una banda de metal que cultiva una mixtura de estilos entre los cuales se distinguen el death, black, progressive y doom metal. Se formó el año 2015 por los ex miembros de la desaparecida banda Twilight Mist, Juan Acevedo y Alejandro Bravo en guitarras y Alejandro Ruiz (Homicide) en voz. Completan la formación Manuel Villarroel en bajo y Mauricio Basso (Letargo) en batería. Cabe destacar la participación en los inicios de la banda del bajista David Hernández, actualmente miembro de la banda Morver. El 4 marzo de 2017 lanzan su LP debut llamado "Anfractuous Moments For Redemption".
Upcoming Shows:
More shows coming soon.
"Anfractuous Moments For Redemption" Album Review
r Weight Of Emptiness are a self described Avant-garde Death Metal band from Santiago, Chile. What's "Avant-garde Death Metal" you ask? Let's dive in their newest full length album and find out. "Anfactuous" is an instrumental opener that helps set the atmospheric tone for the upcoming onslaught of Metal. "Behind The Masks" stomps in with an immediate tough as nails breakdown. The track features some haunting melodies as it sweeps through the landscape of Death Metal with a tinge of Progressive Metal to it. The guitar solo on the track is absolute bonkers! "Unbreakable" is filled to the brim with Death Metal tendencies. It's a dark track that Death Metal fans will surely eat up right away. The guitar solo on the track is subtle but powerful. "The Silence" is slow and deliberate with its delivery. It pushes and pulls the listener in all directions as it sometimes gets fast and brutal and other times slow and melodic. It's quite the schizophrenic track in all the right ways. "Holy Death" features some tremendous guitar work. The track shines bright as it brings to the table a lot more than just a typical Metal sound. "Cancer" has that signature Doom Metal sound to it. The melody on the track adds great depth and the guitar solos, as always, are always sick. "Weight Of Emptiness" is a great Metal track that needs to be heard as soon as possible. Everything works perfectly on the track and it really transcends what the Metal genre typically consists of. "Inner Chaos" is a nine minute epic track that showcases everything about the band perfectly. If you need to know what the band is capable of, listen to this track. It's nine minutes of Metal awesomeness. "Redemption" is an instrumental closer. The track is a fine example of the awesome talent of the band and really closes the album out on a high note.
Verdict:
Weight Of Emptiness smash down the walls of Metal to bring their outstanding form of Metal to the forefront.
-Interview- (9/8/17)
1. How did you get started with music and how did you develop your sound? Who thought of the name "Weight of Emptiness" and is there any meaning behind it?
Well, that is more general since each member of this band has its own musical trajectory, but it is clear that each one leaned towards the metal and its different branches. Due to this individual mix, they came together in the creation of our music, a mixture of different styles (death, black, doom, prog). Regarding the name, that started in a meeting between Juan and Alejandro (guitar players) when the band was not yet created. Several options were named and Weight of Emptiness was the winner. This is because the name better interprets what music expresses, the internal emptiness of each person in the day to day, of each one inserted in this life system imposed, as also in the existentialist ambit, that space that each one have to think about what we have made of our lives (who we are and where we are going).
2. What do you want people to take away from your "Anfractuous Moments for Redemption" album?
Have in your hands a work done with the heart and talent of each of the band members, in which they can hear an aggressive musical style but with many harmonies and sonority in conjunction with the lyrics which go according to the music, expressing that discontent and existential emptiness of life.
3. What's your favorite track to play live?
For my part, I love "Unbreakable" and "Cancer". The energy that is left on the stage is great, and the people who receive it do so with the same intensity that we deliver.
4. Who are three bands you'd like to tour with?
Mmmm ... hard to choose only three.... But I would like to go on tour with Sylosis, Alkaloid and Der Weg Einer Freiheit.
5. What are your three desert island albums that you'd never get tired of listening to?
Same as above, difficult to choose only three! haha ... But I lean for albums that I've listened to all my life and I never tire of listening: Death - "Individual Thought Patterns"; In Flames - "The Jester Race" and Fiskales Ad-Hok - "Anthology" (Chilean punk).
6. What's your take on the current state of Metal?
I like bands wich are already classical and consecrated and they keep playing live and releasing records. I started listening metal music in the 90's and bands that in those years I was astonished, continue doing it today after 20 or 25 years, seems incredible. The new bands are also spectacular, both the Death Tech and the new Black Metal.
7. What's the current music scene like there in Chile both locally and country wide?
In Chile we have a very good scene, high level bands all over Chile. We have been on stage with bands from other places far from capital city, and have a very high level. It is equally difficult for Chilean bands to become known internationally, however Chilean metal is ranked among the best in Latin America. Good death metal bands and doom too.
8. What's your take on legal/illegal music downloading?
I always download music and it has helped me to meet bands that are not very heard in our country and that is good. I try whenever possible to buy the original if the album I liked. Also, that in pages is available our album for download, is good for the same reason, we reach at countries that only could know us through that way.
9. What's next for Weight of Emptiness?
As a band we will have a mini tour through Mexico (6 dates) in October and a few more shows in our country to close this year that has been spectacular. We are also in the process of composing new songs, in fact, we are working on 4 songs ... so that is a very moved year. Even if someone invite us to play, let's go hahaha.
10. Any shoutouts?
Thanks to all the people who support us, those who accompany us to each show and to the people that sending greetings from different parts. It is gratifying for us to feel the affection towards us. Hail WoE !!!