Brake Loose talks about their formation, the Ireland music scene and much more.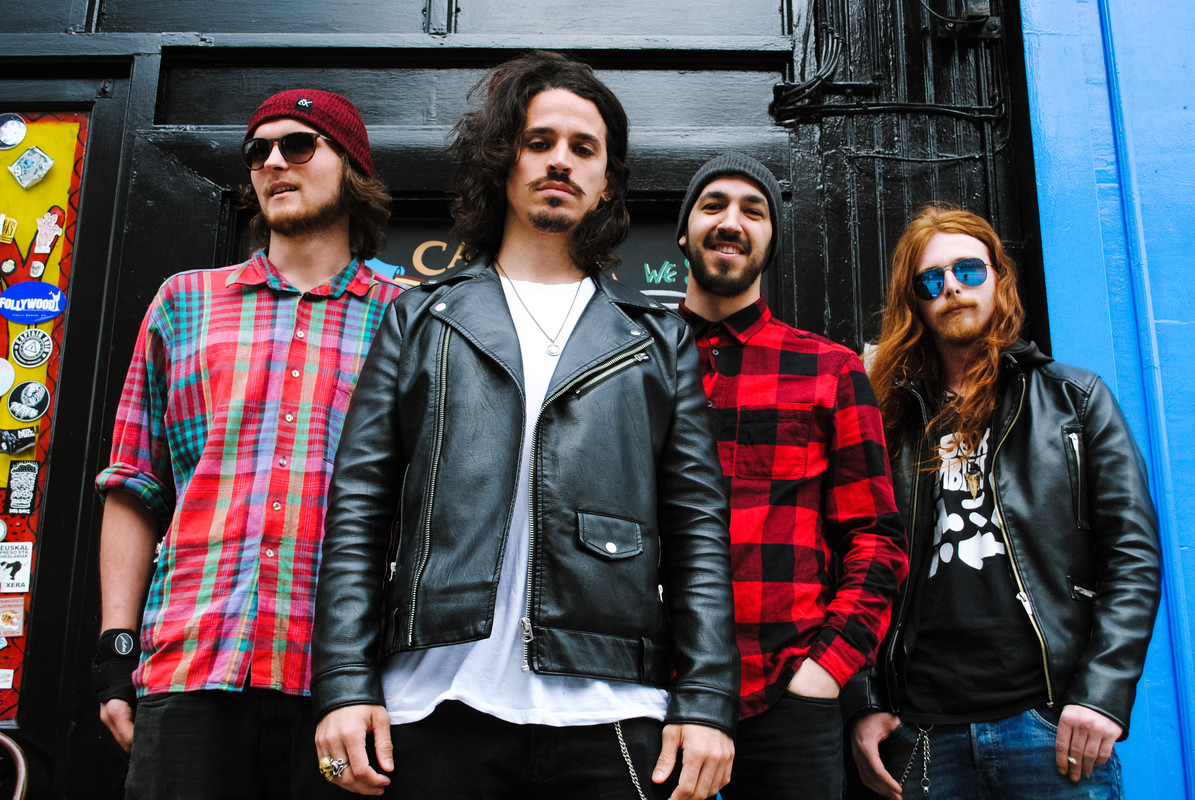 www.facebook.com/brakelooseofficial
From: Dublin, Ireland
Sounds like: Rock
1. How did you get started with music and how did you develop your sound? Who thought of the name "Brake Loose" and is there any meaning behind it?
Our story begins a few years ago, when Alex and Jack emigrated from Venezuela. Both met back in Caracas in 2010 through a mutual friend that Alex raced motocross with. Jack was playing in various underground bands at the time. And, coincidentally, eight years later they both found themselves in Dublin. Alex started jamming some blues in Jack's house near East Wall for few months in early 2018. Jamming became a weekend routine and then that led them on a journey to starting a band. Later that year, Alex met Rob in "Fibber Magees" a well-known Rock & Roll bar in Dublin. At that point, two became three and with their mutual deep-rooted love of heavy rock, they formed the band. The next few months were filled with rehearsing, jamming, writing, playing some covers and looking for a bassist and drummer. In September, Dougie joined the band as bassist, now ex-bassist, shortly followed by Alessandro Siqueira our ex-drummer. Adrian Puppo is our brand-new killer drummer from brazil as well as Val Entas experienced bass player from Lithuania. We played our first gig in "SinÉ", a live music venue on the quays of the river Liffey in late November 2018, followed by "Fibber Magee's last December supporting "The Jailbirds". From that point It's been an electrifying, crazy, mad and beautiful few months for us with back-to-back gigs all over Dublin, supporting ASLAN and the pinnacle for us so far - our first release this August "Midnight Train".
2. What do you want people to take away from your music?
A lot of our earlier lyrics were written by our frontman, Alex, on an acid-fuelled trip with friends to Mérida, Venezuela, which lies at the foot of the Andes Mountains. This proved to be a very productive time as Alex's creative juices were flowing, but more importantly, this experience and the poetry he wrote during this time, led us to our distinct style of adding spoken word poetry into our music. In more recent times, we've written a lot of our music while jamming and rehearsing in the studio. We think, especially in a band, that everyone brings their own taste for things. So, we say it's a compilation of each members individual experiences, emotions, stories. But essentially our biggest influence is life, as our message is awareness. When we say awareness, we mean awareness of life's preciousness and its intensity. We say intensity since we are a Heavy Rock band. So, we encourage others through our message to live a life without fear, with no fear. Live a life knowing that there is no tomorrow, that what really matters is today (to act today). A life of uncertainty, of excitement, of embracing life's thin red line, its roughness, madness and fragility. Basically, a life of self-discovery through Rock (Brake! the boundaries, brake your ego, brake conformity, brake reality!get out of your comfort zone and get loose! Through our spoken word and poetry, we encourage others to avoid being content with living a quiet, well mannered, orderly life when so many injustices are going on. To get more involved with our reality and merge ourselves in self-expression, so we can avoid being sleepwalking individuals.
3. How would you describe your sound to the average listener?
Our music is unique, but we would say that! Put simply, our music is energised RocknRoll that's full of attention-grabbing catchy badass riffs, electrifying guitar solos, all complimented by passionate performances with spoken word poetry and powerful lyrics. In a sentence, we would describe our sound, our music as dirty, mischievous and fearless. But we always love to hear how people interpret our sound, so, if you give it a listen, let us know on Instagram @brakelooseofficial what you think!
4. Who are three bands you'd like to tour with?
We would have loved to Tour back then in the 1980's with Ozzy & Motley Crue or Guns & Roses. Nowadays, will be great to Tour with Volbeat, The Black Keys, Slash Ft. Myles Kennedy & The Conspirator, Black Stone Cherry, Tyler Bryant & The Shakedown, Kaleo, The Temperance Movement, Highly Suspect, Rob Zombie.
5. What are your three desert island albums that you'd never get tired of listening to?
The Doors - "Waiting for The Sun"/"The Soft Parade"/"Morrison Hotel", Guns & Roses - "Appetite for Destruction", and Black Sabbath - "Paranoid".
6. What's your take on the current state of Rock?
Rock Music in 2019 has had a huge boom. In comparison to other recent years. Look at Tool, Slipknot, Rival Sons, Greta Van Fleet. We understand that some of those are huge acts that have been around quite a few years and with album sales seeing a steady decline in recent years, and bands/artists trying to hit those streaming apps as much as possible, it's a difficult business for Rockers. But, we can say in the live arena that rock music still reigns supreme. We are live rock n roll band, gotta see us perform live, we are mad. This is one of the main reasons why we exist as a band. Also we think that at the end of it all, rock is music's greatest survivor. Rock music lives on in spite of cultural trends.
7. What's the current music scene like there in Ireland both locally and countrywide?
Mad, absolutely mad, we love it! We are proud of it and love this country for it. Just to put it this way. Every single town in Ireland, doesn't matter how small it is, has at least 20 pubs. Every City has at least 120 pubs. Dublin has thousands of pubs, and every pub, almost every pub, doesn't matter how small it is, has live music. From Rock/Metal, Folk, Indie, Jazz, HipHop, you name it. So music in ireland is like butter spread over to much bread, delicious!!!
8. What's your take on legal/illegal music downloading?
All in for the legal side of it, we do not support illegal music downloading. No one should. As we said all in for the artist. We do have, in 2019, more control over our music, our art, but still "it's long way to the top if you wanna rock n roll". Conquer your fears.
9. What's next for Brake Loose?
Before the year is out, we will be playing two more gigs in Dublin at Fibber Magee's. Saturday the 14th of December & New Year's Eve! New Years we will be playing with other big known Irish rock/metal acts! it is going to be savage! We have our second single "Through the West" coming out soon (Friday the 13th of December). It will be available on every streaming platform (Spotify, Apple Music, iTunes, Deezer, YouTube, etc), same as "Midnight Train"(which we didn't expect such a good response since we release it). And, we have a very tasty Rammstein like song due to its main guitar riff with spoken word that talks about Dublin called "Dublin Games" that we will be releasing by early 2020. For 2020 will be partaking some Festivals around Europe (yet to be announced) as that is our main goal for next year, so we can expose ourselves to bigger crowds, as we feed from them. Also, we have been chosen as one of the 35 bands that will be taking part in Metal 2 The Masses Ireland 2020, which is the most important showcase for Irish Rock/Metal next year!
10. Any shoutouts?
Big shout to our mad and tunneled vision Frontman/Vocalist - Alex Murillo - as he is the man who manages the band. He is an absolutely amazing performer and human being. We absolutely love him. We know we are going to make it huge because of him. Also a thanks to Lloyd Barber from LOR Productions for his overall support around Dublin this year and also a shout to Fibber Magee's, the number 1 Rock n Roll Venue in Dublin. To all the staff and promoters who work there, they are all absolutely amazing.