A Villains Neverland delivers a powerful Metalcore punch with their new album.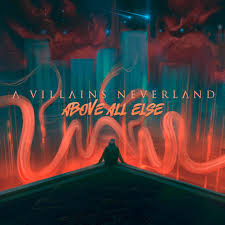 www.facebook.com/avillainsneverland
From: Saskatoon, Canada
Sounds like: Metalcore
The album opens up with a tremendous breakdown to get things going in a chaotic way. The first half of "Lucid Feelings" is more Deathcore like and barrels full speed ahead with its aggression. The track really doesn't vary its sound much until around the 2:20 mark when clean vocals arrive and brings shades of Sea of Treachery with it. The end of the track feels incomplete and could've been more than it is. Overall, it's an extremely heavy single that packs a ton of punch. "Insecure" continues the flow laid forth by the opener. It has a touch of clean sung vocals but not too much. It's mostly straight Metalcore with some dynamic riffs here and there. "When Broken Is Damaged Again" is more atmospheric than the previous tracks. The atmosphere helps create more of a surround sound over along with its aggressive nature. "I Felt It Too" is a nice follow up to the previous track. The tracks share similar qualities overall. "Keep Me Alive" has much more melody. The track is oustanding and shows off the true range of the band. "Faint of Heart" has riffs for days from the get go. The track is heavy and unrelenting with its melodic Metalcore style. "Forever After" continues the onslaught. The breakdowns and vocals are fierce and pack that extra bite throughout. "A Place to Rest" has a bit of early Every Time I Die to it. The track goes off the rails early and often in good ways with its chaos. "Wasted Youth" is just crazy. The track goes all out with its intensity and is better off for it. The closer "Skin & Bones" opens with a nice build before breaking into a bit of melody before all chaos breaks out. The Metalcore sound has shades of Sea of Treachery in its ferocity. There's a slight dip before the clean sung chorus. The harsh vocals then take over along with a tremendous breakdown. The emotion of the vocals are passionate and make the track come out swinging with its heaviness. The end of the track goes off the rails and ends on a Dillinger Escape Plan like whirlwind of sound.
Verdict:
A Villains Neverland delivers a powerful Metalcore punch with their new album.