The Fear Within talks about their new music, upcoming plans and much more.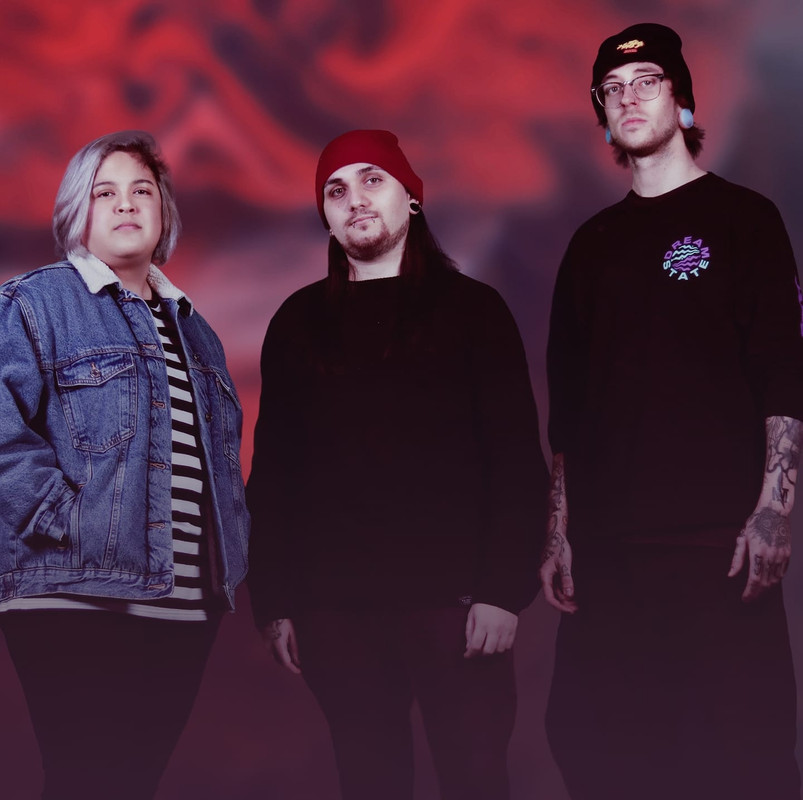 www.facebook.com/thefearwithin.music
Sounds like: Post Hardcore
From: Spain
1. How did you get started with music and how did you develop your sound? Who thought of the name "The Fear Within" and is there any meaning behind it?
I (Lina) was in a pop-punk band a few years ago, but it was a way of having fun and getting some experience on stage. I left Spain for a couple of years and on my return I wanted to start something new that was fitting with my state of mind. Then 2020 came and lockdown came and I developed anxiety and depression, and I started to be in touch with music again, playing the guitar at home and that¡s when I decided it was time to start a band. Our former bassist and our producer were enthusiastic about it and we started working together on the first song of the EP, which is 'Quarantine'. Then I looked for other musicians to join the project and that's how Ferran (lead guitarist) and Elgan (drummer) came along. We came with a few options for the name, and I came across with The Fear Within, to reflect the idea of the project directly, to bring awareness on mental health issues. The Fear Within is all us in deep point of view.
2. What do you want people to take away from your music?
We have put a lot of effort to try to give a message about mental health battles and we want people to know that they are not alone on this, there a lot us facing this battles every single day of our lives and also we want people to know that from something that negative, something nice can come from it. In this case, this band.
3. How would you describe your sound to the average listener?
We have different bands as our main influences and I think that can be reflected on the songs from our EP. You can see some glimpse of my previous pop-punk experience but also new sounds influenced by bands like Sleeping With Sirens or Bring Me The Horizon. That is the path we want to follow in future music.
4. Who are three bands you'd like to tour with?
Sleeping With Sirens!! Point North is another one that has been with us this year and I think Tonight Alive, the frontwoman is a huge role model.
5. How has Covid affected what you do as a band?
It has been a challenge because we basically recorded this EP online at Avalanche Studio Barcelona. We sent our ideas to our producer Andy Navas through emails or even trough video calls and then he did the magic to take those ideas and demos into a song. Then I was travelling a few times to the studio to record the vocals. And as we had lockdown and also restrictions to move around, it has been a miracle that this is finally going to see the light. We are really proud of all the work involved.
6. What's your take on the current state of Post Hardcore?
We're aware of the evolution that post-hardcore has taken since 'That's The Spirit' from Bring Me The Horizon came out. It changed the genre completely. You can see how bands like Architects are taking those steps as well, leaving a bit behind the screams and giving more space to experiment with synths and clean vocals. It's something that we want to try.
7. What's the current music scene like there in Spain?
Right now Spain is the most affected country by covid-19 in Europe. The culture has been put aside totally. There hasn't been any concert since lockdown started, the small venues have closed and there is no hope for recovery. There has been an attempt to perform via streaming but it hasn't been a success. Barcelona is famous because all the venues the city has such as Apolo, Razzmatazz, Salamandra, BeCool, etc.. But none of them has been opened since lockdown. For us and for the rest of the music community is a shame because the government considers that culture is not safe, but then you see during Christmas every single mall is full 100%, people queueing to get presents and clothes, and for us that is not safe.
8. What's your take on the royalties that streaming services pay out to artists?
At this point we all know how streaming services work, they're definitely not a tool to earn money, they're a tool to get heard by people around the world, to see your music out.
9. What's next for The Fear Within?
Right now we're awaiting for our debut EP to be out in January 2021. We hope people like it and that they understand the message we want to send and that they can get in touch with us. If the circumstances change a bit in Spain, we hope to perform live as soon as we can. But for the moment we will keep writing, we want to achieve a full length album for next year.
10. Any shoutouts?
Shout out to the bands that have released new material this year, we appreciate that people even though all the bad things and everything against us, is releasing music and content for the people. We have to adapt ourselves to the new normal.