Doll Circus talks about their formation, the current Rock music scene and much more.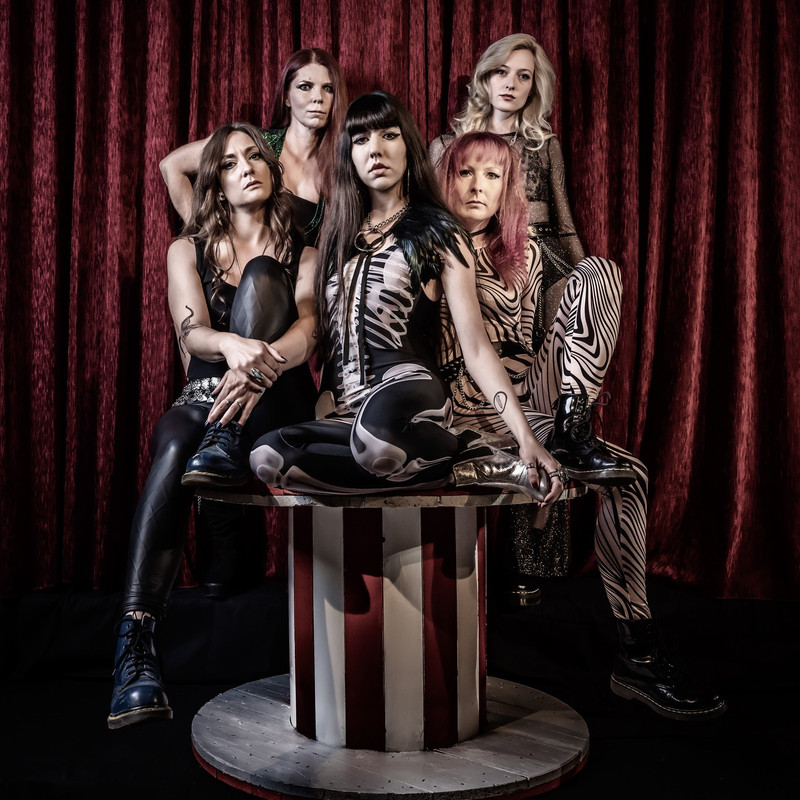 www.facebook.com/dollcircus2020
From: Germany
Sounds like: Rock
1. How did you get started with music and how did you develop your sound? Who thought of the name "Doll Circus" and is there any meaning behind it?
We have all known each other for a long time and have the same circle of friends. Before Doll Circus Vero Pistolero, Terry Lee and Mini Vanilli played together in a cover band, which every now and then did a cover number or two on a friend's birthday. At a certain point Mini was fed up with covers and wanted to start a proper band. The only thing missing was a singer and since Vero and Mini had heard that I was always beautifully warbling in the shower, they asked me if I wanted to try to be the front woman. I got to the job like a virgin to a child. In October 2019 we had our first band rehearsal,in January 2020 we went public and shortly afterwards we released our first demos. Thanks to the pandemi we had our first gig in July 2020. In December 2020 our dearest Katharella joined the band. Since then we operate in our five-piece-constellation and started working on our first album in april 2021.
2. What do you want people to take away from your music?
We offer our audience a colorful mix of emotions. First and foremost, we are a party band, if you see us live, it will be difficult to keep your feet still, that's because of our way of using catchy melodies, hooks and choruses. Doll Circus is a total package that consists of our music, our aesthetics, our look and stage outfits, the fun and the lyrics. Lyrically we deal with many different topics, we maintain a balance that oscillates between ironic nonsense and socially critical topics. For example, the song "Frontporch" tells in a funny way what can happen on your own doorstep, while "Twenty Twenty" deals with the power of digital data and "Stop Destruction" talks about the climate crisis and environmental destruction. (I loved one of the comments on youtube: "The only thing missing is Greta Thunberg on the keyboard.") In songs like "Eat This!" I sing lines that seem sexually charged, such as "come taste a little bit of my whipped cream", but in essence I talk about the issue of eating disorders. In addition, we also repeatedly spread feminist messages, e.g. in "Masturbator" or "M-A-Nsplanation", because that's very important to me and from my point of viewe a long overdue vaccination that needs to be infused into Rock'n'Roll. This balanced alternation between joke and seriousness has developed into our Doll Circus trademark. We want to celebrate with our fans, make them laugh, but also make them think.
3. How would you describe your sound to the average listener?
We call the rather catchy genre we`ve created with this band spice'n'roll. It connects Rock'n'Roll with the Spice Girls and is therefore a short and a bit tongue-in-cheek description for a sound that fuses our very own take on Hard Rock with Punk, Power Pop, Jabberwocky, Glam and a dash of Metal to create a spicy soup that penetrates the ears with ecstasy and cuts deep into the synapses. Our music is definitely peppered with different borrowings – from AC/DC, the Ramones, the Runaways, Girlschool, The Offspring and more – but very coherent and unique in its entirety. Each of us has her own musical taste, her own preferences, her very own mind and own visions. Doll Circus is at the intersection of all these visions, right in the middle of this lively field of tension. And then there is that other thing about us what people probably see first: we are five women. Actually we should have reached a point where gender no longer plays a role and yet it's obvious that women are still underrepresented in rock'n'roll. So we play tough rock'n'roll, a rather masculine genre, and colour it with our very own – what others would maybe stereotypically call "feminine" – way of looking at things.
4. Who are three bands you'd like to tour with?
Probably each of us would answer this question completely differently. Even if I am the biggest AC/DC-fan on earth I would probably go with bands that suit us. I really would love to tour with The Darkness, because they are not only a great rock'n'roll band, but also funny lads and Justin Hawkins and I could share our stage-onesies. I think we'd also be a great opening act for Joan Jett and – let's think really big this one time – maybe for Aerosmith.
5. How has Covid affected what you do as a band?
You can say that as a band we formed at a very bad time. April 2020 would have been our first gig, the first lockdown started a month earlier. So we've been in covid-mode since the band was founded, we were repeatedly not allowed to rehearse due to various lockdowns, and concerts still get postponed or cancelled. In short: We haven't been able to experience what it feels like to have a band in a "normal" world. In October 2021 we had our first concert where people were allowed to stand and dance without masks. The atmosphere was incredible, everyone was in a good mood, danced and moshed. We almost couldn't believe what was happening in front of our eye – we were completely overwhelmed by the power of our spice'n'roll and we hope that we'll be able to unleash the beast again soon.
6. What's your take on the current state of Rock?
Even if Gene Simmons doesn't get tired of claiming that rock'n'roll is dead, of course that's bullshit. Rock'n'Roll is not dead, it is changing. This also includes the fact that rock music is currently not flowing in the mainstream, but rather is overshadowed by huge genres such as hip hop and pop. In addition, the all-powerful rock star type that prevailed from the 60s to the 80s is dying out. I don't think that a new band will regain a status these days like Led Zeppelin, AC / DC or the Stones did back then. For this, the business has changed too much with components such as the Internet - where suddenly everyone can make their band visible themselves, even without a label or promo agency - and streaming. There is simply not enough time and money left for the rock god of the 70s. One can regret that, but still rock music is far from dead. Streaming, technology and social media are a curse and a blessing at the same time: on the one hand, the rock music landscape has democratized because everyone can work on its visibility, today everyone can produce music in their home studio, upload it to Spotify and advertise it on Instagram, but of course factors such as algorithms and, in the end, of course, money also influence the biz here. The situation is dynamic, it is different than it used to be, the pressure of competition has increased, and the financial prospects for an average band are more than bad. But in the end, rock'n'roll shouldn't be about the money. Rockers are the authentic underdogs who love their music against all odds. If you want to make money, you have to write a pop hit.
7. What's the current music scene like locally there in Germany?
It is difficult to give a general answer to this question. In the small town where we come from, there has always been a small, lively music scene - our circle of friends. Actually, every one of our buddies makes music or plays in a band and has always done so. The first shows took place in the youth club. Alone in our rehearsal room complex there are a total of six bands, all of which belong to our circle of friends. So we grew up here in an absolutely alternative and musical way, even if we are far away from alternative strongholds and big cities like Berlin or Leipzig. One problem, however, is that there are few cool locations on site where you can play live. The next big city from us is Munich, there are a few smaller clubs for concerts there. There are currently a lot of great rock bands across Germany that really have something to offer. Especially in the area of punk, post grunge, doom and stoner rock, there are a fewer in classic genres like hard rock (as we play it), I'd say they are less popular across the board, especially among young people. With social media it is much easier today to network with other bands, to build a network and to support each other. It's a great feeling that there's no competitiveness but rather a feeling of solidarity.
8. What's your take on the royalties that streaming services pay out to artists?
We as a band don't really talk about royalties paid by streaming services, we do not calculate at all with money from streaming services because for a small band like us it's basically not existent. I personally do not use spotify because I know that it is too good. If you start using it you've crossed the point of no return, you won't be able to live without it again. It's useful, fast, everything is available at any time so I get why everybody is using it. Still I think that streaming services are not fair, they do not pay enough and they help destroying the art of listening to a whole record from back to front. It is a bit like fast food in musical form. I see why streaming services these days are important for every band, still I am happier if people buy our record on CD or Vinyl.
9. What's next for Doll Circus?
We want to play a lot of gigs and carry our album out into the world. In addition, the quasi-lockdown gave us a lot of time again, so we've started songwriting in the last few weeks and have already put some great ideas together. The framework for three songs is already in place and we are all very motivated because it is now much easier for us to come up with new ideas, to implement them, to play through and to rearrange them. So maybe a new album is gleaming on the horizon. Also we will probably keep on releasing music videos, since we can do it on our own and our fans really love to watch them. We've already released two videos in the last two months, one for our titletrack 'Eat This!' and one for the single 'Stop Destruction'. Our song 'Boozarino' will probably be the next clip-candidate.