Arknsaw (Metal) - United Kingdom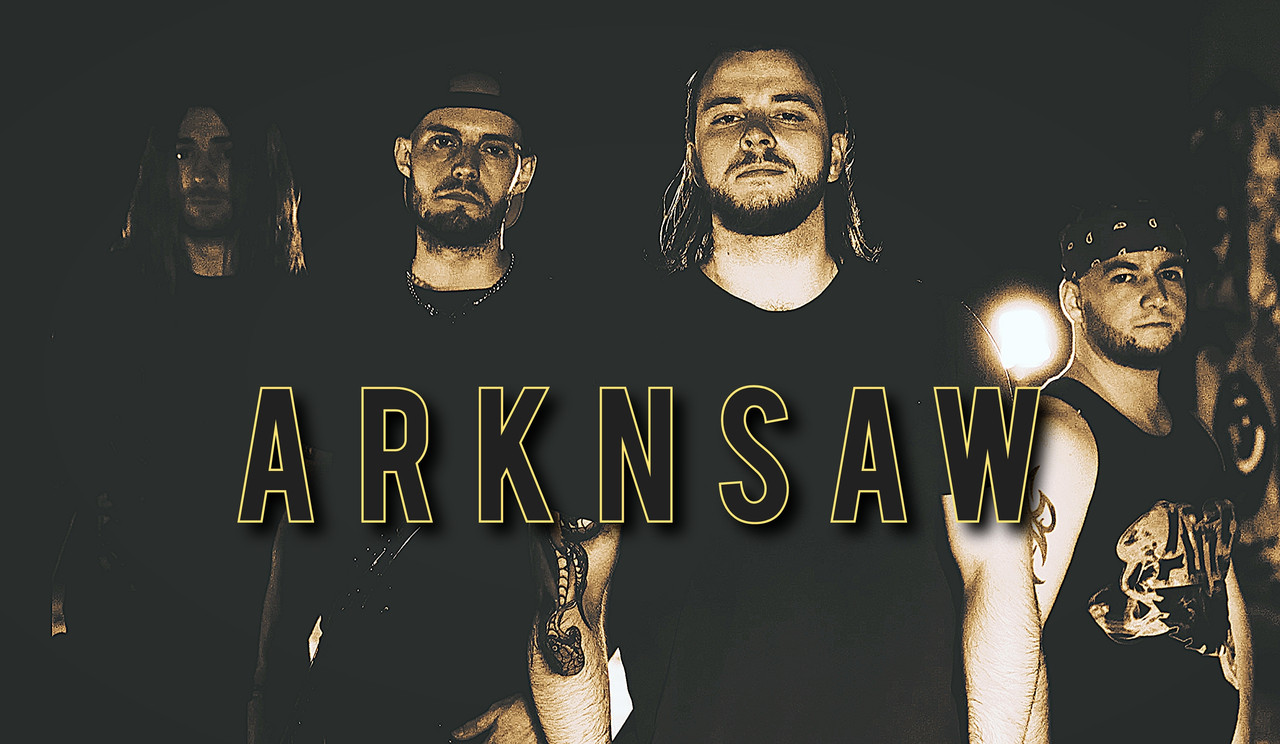 Formed & based in the heart of Lincolnshire, UK - Arknsaw! Fresh out of the East Midlands, Arknsaw look to grace stages anywhere and everywhere. Filled with balls to the wall grooves, straight to the point riffs, whilst packing a solid balance of high energy, aggression and melodic essence!
"Venomous" Single Review
The track hits the ground running right away with its high driving riffs and aggression. The breakdown that opens things up is short and sweet and sets the heavy tone. The Melodic Metal vibes shine through with its clean sung chorus that brings with it early 00's Melodic Metalcore vibes. The chorus is catchy enough to sing along to while the hard hitting edge is still present. The halfway mark of the track slows things down a bit to conjure up a more devastating breakdown as the bridge to take it closer to the four minute mark. The last minute or so sees the track bring the chorus back to the forefront to close things out.
Verdict:
The newest single from Arknsaw is a blistering display of Melodic Metalcore.
-Interview- (4/17/23)
1. How did you get started with music and how did you develop your sound? Who thought of the name "Arknsaw" and is there any meaning behind it?
Musically, we could say all of us as individuals found inspiration through music as kids, decided to make the leap into trying it out for ourselves. All 4 of us have only been in 1 band prior to Arknsaw, and we can only assume our common interests, goals and passion inside and outside of music brought us together. This band is definitely that of a brotherhood to us.
As for the name? Our drummer RJ is the man behind the birth of Arknsaw, starting out as a solo project and in time deciding to make it a full band line-up. The name itself just sprung to his mind one day on the road and had a charming ring to it he felt. FUN FACT: He had no idea the US state "Arknsas" was pronounced the same way! Nonetheless, we owe it all to him for having this opportunity in the first place.
2. What do you want people to take away from your music?
A good time! We just want to inspire or help our fans any way we can, be it to encourage them to pick up an instrument, pursue any musical or non musical goals, help them through tough times or simply give them a memorable show!
3. How would you describe your sound to the average listener?
"It kinda sounds like the four corners of Nu, Death, Thrash and Metalcore were combined and created some strange 5th element that is Arknsaw" - Somebody else once said! Truth be told, we just hope heavy music fans take to it!
4. Who are three bands you'd like to tour with?
Straight out the hat? Trivium - Great attitude towards small unsigned bands! Still a driving force in the modern metal era, putting on amazing shows. Bury Tomorrow - Great guys! They make their huge shows still feel like intimate shows, they've been a huge inspiration over the years on breaking the mould! Malevolence - An amazing example of breaking the mould whilst remaining true to musical roots! Amazing presence and engagement with the fans, masters of their craft! That's just 3 out of many we'd love to share a stage with someday.
5. How has Covid affected what you do?
It's only made us want this even more. Having what we love to do taken from us made us appreciate the advantages of the digital age! We established right at the start of Covid, so 2 years being held back from hitting the stage was pretty painful!
6. What's your take on the current state of Metal?
Thriving in some areas, struggling in others. The loss of venues have made it hard for original bands to grow, let alone metal bands. Over-saturation isn't out of the question, however this is best used as a motivator to drive ourselves harder to break through, whilst doing it our way, establishing our own identity and aiming to put on a memorable show wherever we can!
7. What's the current music scene like there in the UK?
Thriving in certain areas, non existent in others. Like anywhere, you can struggle to begin with being noticed, but you can only keep fighting the snub. That being said, some areas are most definitely thriving with music lovers and gig-goers that make playing those places that much more exciting and memorable, not to mention everyone you meet in the industry is always a pleasure to meet and work with! We're firm believers of local artists working together to forge alliances and help each other climb the ladder and break through! We're all in the same boat.
8. What's your take on the royalties that streaming services pay out to artists?
Royalties? Artist? Pay? Just kidding, we know it's abysmal.
9. What's next for Arknsaw?
More gigs, more music, hopefully more traction! We want to keep raising the bar for ourselves on every corner-turn!
10. Any shoutouts?
Mangata Music and Bloodstock's Metal 2 The Masses for helping us land our first show as a band. Our one man road crew Kenny Kruszelnicki! Shoutout for our friend Jacob Brookes from Future Theory! He's been a big helping hand in pushing our promo. Our fellow hometown chums 'Now Disconnect' for helping us land our first hometown show! 'Loki Films'(Shaun Hodgson) for his incredible work at helping us land our Debut music video for "Ground Zero"! 'B-Raw Media'(Kieron Bhamra) for doing incredible work on all our media & promo projects, and making our music video for 'Silence The Darkness' a reality! Couldn't have asked for better! Our local studio Playing Aloud for cracking studio and rehearsal space, great guys, always able to accommodate and help the local scene out, as well as the bigger artists passing through the area! And finally, to our closest friends who attended our first ever show as a band and have continued to support us ever since and help us grow!