Dexoflex (Alternative) - California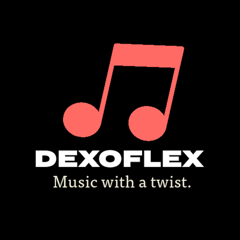 Dexoflex is progressive-music collective headed by Dex Graham. Styles include rock/pop, lo-fi, jazz-rock fusion, EDM, demented children's songs, and experimental soundscapes. Influences include such diverse artists as Raspberries, Frank Zappa, The Weather Station, and Dave Brubeck. Dexoflex' tagline is "Music with a twist," as most songs are couched in atmospheric contexts. All releases (whether they sound live or not) are produced in-studio.
DEX GRAHAM is a writer, story-teller, guitarist, bassist, keyboard player, vocalist, foley artist, composer, and arranger. He is a proudly older, queer, atheist, vegetarian, and trouble-maker, if only to antagonize as many "conformists" as possible. Dex is based in Palm Springs, CA, USA.
DIEGO ZAPATERO is a frequent collaborator and keyboard extraordinaire based in Zaragoza, Spain. His skills and styles encompass rock, prog-metal, jazz, and more.
-Interview- (5/26/23)
1. How did you get started with music and how did you develop your sound? Who thought of the name "Dexoflex" and is there any meaning behind it?
I started guitar lessons at age 8 after watching the Dave Clark Five perform "Bits and Pieces" on TV. That was what I was meant to do! My parents had been in show business before I was born and were happy to see me playing. Appeared in cover bands and gigged a lot for a long time. Moved on to writing and performing original material. Had some success as a songwriter before taking a long break from music and trying my hand at everything from leading yoga retreats to improv comedy in LA. Now writing and recording music under the name Dexoflex, which is based on my name, Dex. People seem to remember that name.
2. What do you want people to take away from your music?
Music should be about breaking down musical boundaries and constraints. If I've done my job correctly, the listener will hear something totally new and fresh. Hopefully, they connect with the music on both an intellectual and visceral level. Knowing the "story" of each song before writing it is key. In most cases, I believe the experience of the music is enhanced 10x by the videos. I strongly encourage anyone to check out the Dexoflex YouTube channel to see if you agree.
https://www.youtube.com/@dexoflex
3. How would you describe your sound to the average listener?
Dexoflex' tagline is "Music with a Twist." Spanning rock, pop, lo-fi, jazz and ambient soundscapes, our music often includes unexpected environmental sounds as context to the notes. In this way, a thunderstorm, an alarm clock, animal noises, or crowd sounds can all become integral musical elements of the finished songs.
4. Who are three bands you'd like to tour with?
a) The Weather Station (love them!)
b) The Chills
c) Pilots (the UK band)
d) why not? Arcade Fire
5. How has Covid affected what you do?
I moved to the California desert just before the pandemic hit. So I couldn't make connections with other musicians locally. Being forced indoors let me digitally "meet up" with great musicians, singers, and videographers from all over the world who encourage me in so many, many ways. So far, I've collaborated with or directed musicians, engineers, videographers, and singers from all over the US, Canada, Spain, Poland, England, South Africa, and Nigeria. Covid made that happen and I have no complaints at all. Now that things have settled down a bit, I can catch up on the many jazz clubs and Latino clubs out here in the desert. So that's cool, too.
6. What's your take on the current state of Alternative music?
Sometimes I feel like Alternative music has lost its mojo and vitality. Then I hear up-and-coming groups like so many of the acts in the FTDE roster, and my hopes for the future of music come roaring back.
7. What's the current music scene like there in California?
California's music scene is dominated by LA, of course. I never found much of an underground scene there for a city of its size. Nobody wants to play local bars and clubs like in other locales. If you're a musician in LA, you're there to "make it" or move on a job at the drive-thru window at Starbuck's. Great place to catch touring acts or festivals, such as Coachella, though.
8. What's your take on the royalties that streaming services pay out to artists?
"Dear Sir, may we have another spot of gruel, please?"
9. What's next for Dexoflex?
Just finishing up a remake of a remake we did for David Bowie's Rebel Rebel. It will be a fundraiser for Trans youth, who are currently under attack in this country. We cannot let bigotry win. Separately, we have quite a few songs in various stages of development that span Lo-Fi jazz, pop/rock, demented children's classics, and ambient soundscapes. Can't wait to get them released!
10. Any shoutouts?
Thanks to my old Letters from Camp bandmates: Chris Burgess, Rick Christyson, and Thomas Anonymous for their encouragement, feedback, and advice. I hope every band member out there makes musical friends for life like these.