Weight Of Emptiness talks about their new music, their explosive live show and much more.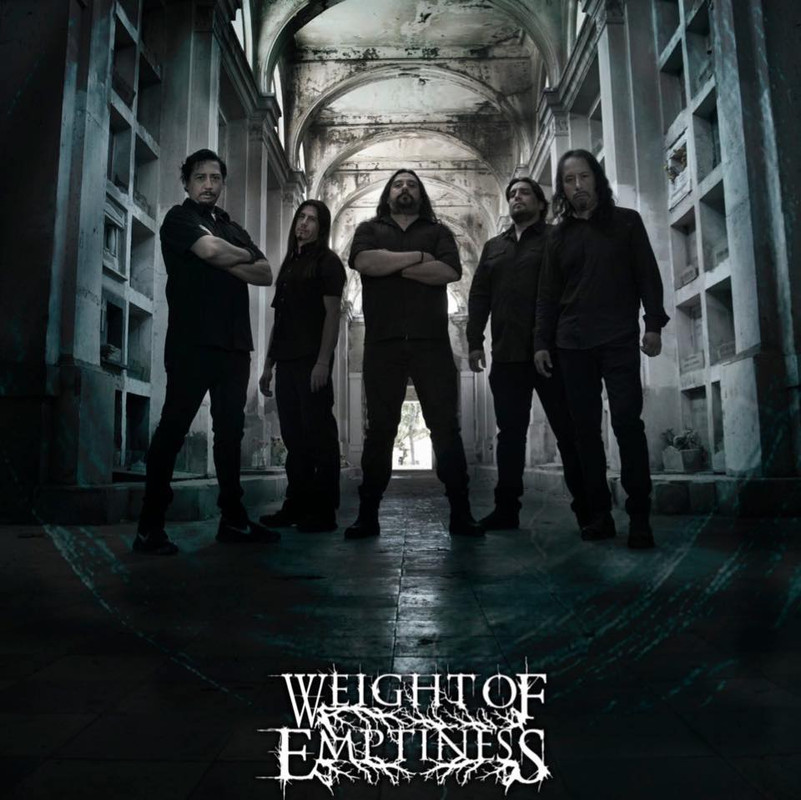 www.facebook.com/weightofemptiness
From: Santiago, Chile
Sounds like: Avant-garde Death Metal
Interview answered by guitarist Alejandro Bravo.
1. First off, what's new with Weight Of Emptiness?
Hi guys from From The Depths Entertainment, thank you very much for this interview. Well, at the moment with Weight of Emptiness, we are in a new process of composition, while at the same time we coordinate the time with some dates of events within our country. This new process of production of songs is focused on releasing an upcoming album with darker themes in both lyrics and music, compared to the previous album "Anfractuous Moments For Redemption".
2. What's the word on new music? New music videos?
As for new music, as I mentioned before, we are directing the album to a more intense theme, with lyrics that border on the darkness of feelings, such as pain and anger. As we are still in that process, we only have structures and demos with the exception of "The Flame", already finished song that will go on this new album and that is already included in the repertory of our shows.
3. What were some highlights in the past year for Weight Of Emptiness?
Mmmm ... uuufff ... Highlights of 2017. For me many, listing them would be worthy of a novel, but I prefer to summarize in two major events. The release of the album "Anfractuous Moments For Redemption" and the tour of this same album to Mexico. In short, great!
4. What do you want people to take away from your live show?
I think that the band in general, and I hope to be interpreting my bandmates, think that the audience that sees us in our presentations, expects from us a great show, a great performance on stage and that the songs sound with the same intensity as the album. For the same reason, we owe ourselves to those expectations, surrendering ourselves on the stage so that not only the audience that already knows us will continue to be motivated, but rather that public that sees us for the first time, gets involved and wants to know more about us.
5. If someone listens to just one of your tracks, which one best represents you?
Woo! Very good question. I know that each member should interpret different songs on this album, but personally to me, "Inner Chaos" represents me 100%, song of which I must confess would be called "In my inner chaos", since the lyrics was written by me and tells a tragic experience that I had to endure and that almost cost me my life. This song goes through many musical nuances, in which we participate in the composition, Juan Acevedo, my guitar partner and me. It's a song that excites me a lot.
6. What's something you'd change about the current Metal scene?
What would change in the scene, both nationally and internationally? I think nothing. The metal has undergone many mutations since the 70's, if not further back to reach the extreme and progressive metal that is now, with all its variants and trends. The metal scene is and always will be, both in the auditor and in the one who interprets the music, a reflection of what each person feels and wants to capture. Therefore to be clearer, the metal and its scene is a feedback of who composes music and who feels identified with that music and that will last over time.
7. What are some acts from the Chilean music scene that people should check out?
I think that in Chile there are many references of excellent quality, both musically and in their staging. I can name you some: Poema Arcanus (doom metal); Criminal (death metal), Homicide (brutal death metal), Nuclear (thrash metal), Human Vestige (brutal death metal) these last great friends, who are now on tour in Europe. They are some of my taste, but in Chile there is a huge wealth of bands that make metal music.
8. What's next for Weight Of Emptiness?
Much work remains for Weight of Emptiness. Compose new songs, keeping in mind that there are already some with their structures defined and many others in the folder. We also need to continue focusing on the visual part of our upcoming productions such as: video clips, lyric videos, etc. In short, a lot of work, the idea is to be able to leave Chile and take our music and culture to new frontiers and because not U.S.A.
9. What do you want to accomplish in the next year?
Next year we want to have as our goal the new album in our hands, new tours and try to make our band known to everyone.