Black Box Recovery talks about their signature sound, upcoming new music and much more.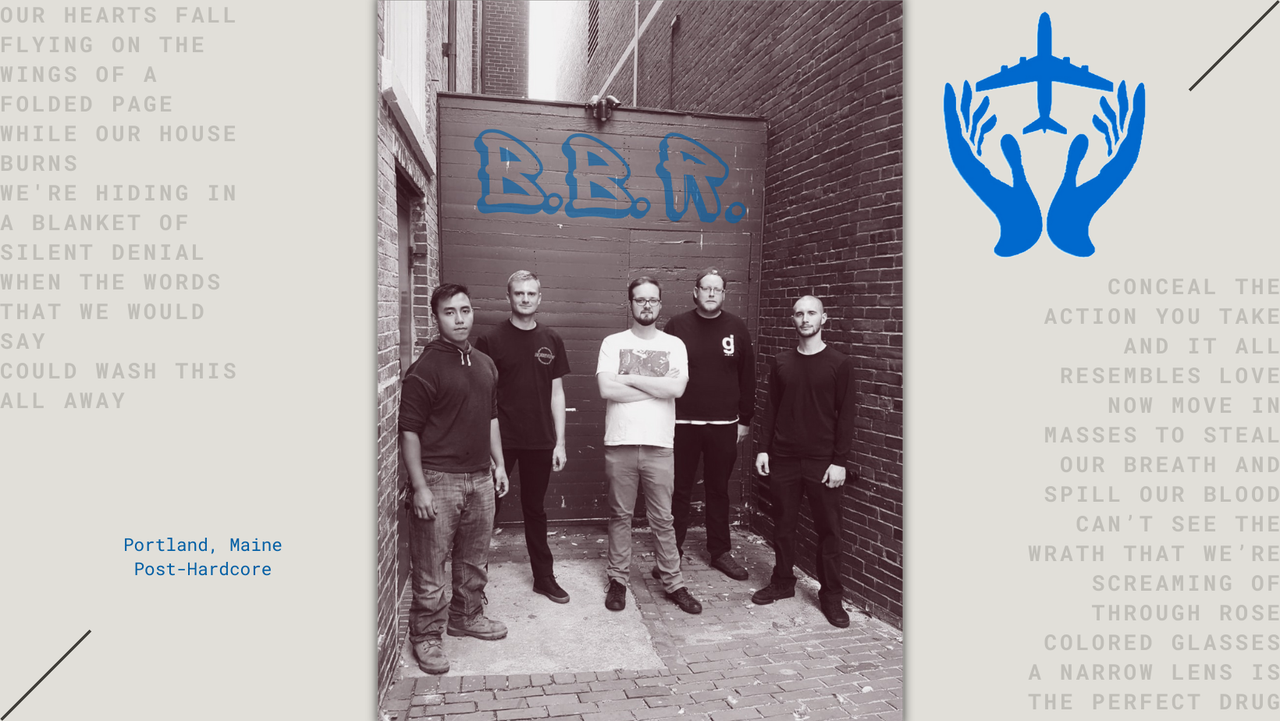 www.facebook.com/BlackBoxRecovery
Sounds like: Post Hardcore
From: Maine
1. How did you get started with music and how did you develop your sound? Who thought of the name "Black Box Recovery" and is there any meaning behind it?
Best friend in Middle school wanted to start a band so Adam Kinney started playing guitar. As one of the bands biggest fans, Nate Atienza was learning guitar concurrently. Eventually, the lineup changed and Nate was in. College hit so Adam K. and Nate were all that was left. They threw up some flyers and nabbed Dylan Burrows. After about 15 members, they finally landed Blaine Sawyer and Turner Kelsey. Our sound has come from the medley of our influences coalescing. The name, Black Box Recovery, was thought up by Adam's cousin. Dylan Russo. We thought it just sounded cool and like the juxtaposition of despair and hope. Recovering after something terrible has happened.
2. What do you want people to take away from your music?
Whatever they want, truly. There's plenty of sociopolitical lyrics and rich imagery touching on personal matters all told over high energy tunes. Whether it's to enjoy, get through, or think about life, I'd like people to know they're not alone and hope our music can provide comfort and entertainment.
3. How would you describe your sound to the average listener?
"Oh. So you're Screamo?" I'd say we're heavy punk with some metal wrapped up in it. Usually, pretty quick tempo with plenty of melodies and heavy hitting riffs.
4. Who are three bands you'd like to tour with?
Rise Against, Thrive, and Coheed and Cambria.
5. How has Covid affected what you do?
In the beginning, quarantine was a thing, but after a few months we started sharpening our teeth again. Took about two years, but live music has made a comeback.
6. What's your take on the current state of Post Hardcore?
Strong as ever. We just hope to prove its power and worth by adding to the genre.
7. What's the current music scene like there in Maine?
Things are great. Plenty of venues, even for non-cover, heavier bands. And most of them have been very enjoyable to work with.
8. What's your take on the royalties that streaming services pay out to artists?
I don't think too much about the money so much as sharing material, but it does take a lot of time and effort to create music. I think it makes sense to compensate artists. I dont know much about the specifics on dollars and percents, but I hope it's fair, or at least perceived to be. If one were to try and make a living, streaming doesn't seem like it would be enough to make creating more of a passion project. Merchandising and performing shows seem to be the way to get that cheddar.
9. What's next for Black Box Recovery?
Headed to record a single with Zachery Primrose in Vermont, in early November. Going to continue to work on our EP with Jay Maas in Massachusetts. We're about 2/6 of the way there. And we're just going to keep grinding the shows, meeting new people, and sharing our sound. We'll see you there.
10. Any shoutouts?
All the friends and family and significant others, naturally. Specifically, Dylan Russo for all his help and opinions and Giovan Corsetti for being an OG music buddy and strongest supporter of the group. We're very fortunate to have so many loyal and generous people that want to help us do what we do.