H27 (Rock) - Wisconsin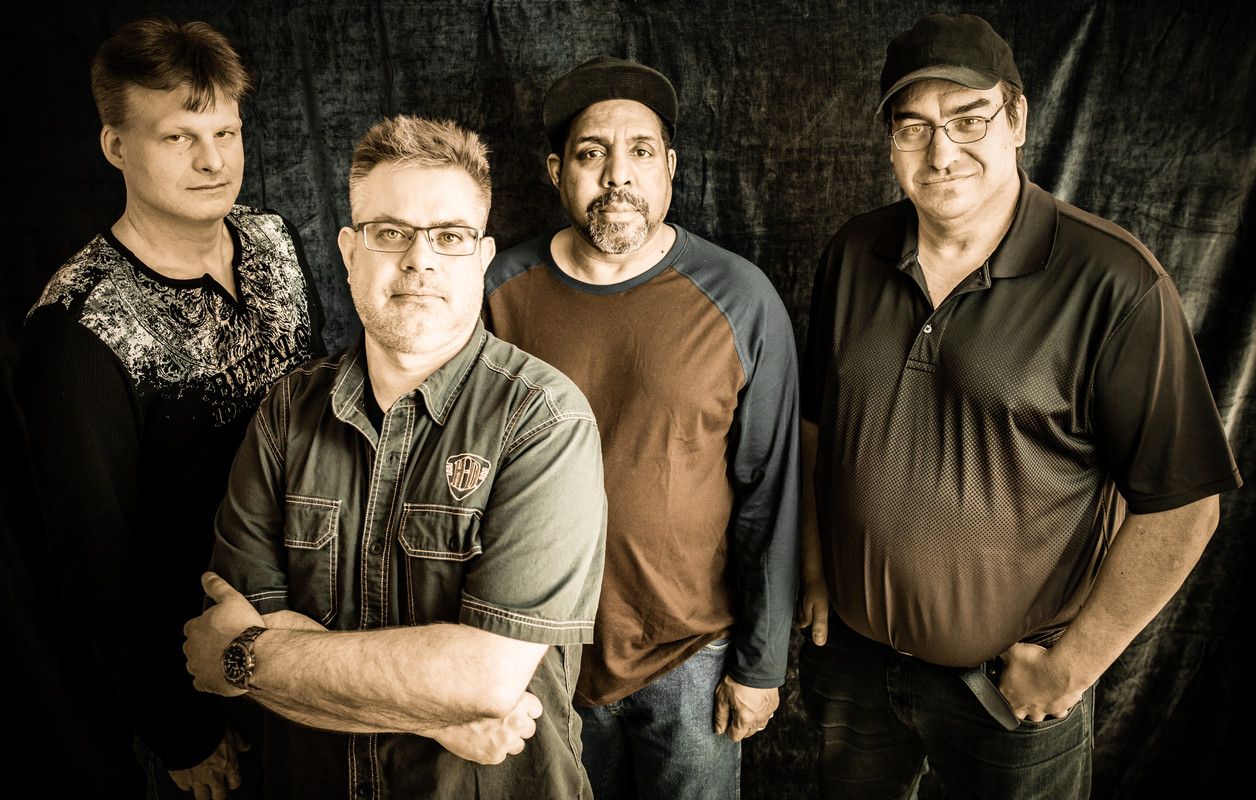 H27 is an octane rock band that hails from Milwaukee, Wisconsin. The band consists of Steve Statler on vocals & guitar, Schack on guitars & backing vocals, Bobby Farr on vocals & drums and Ken Boggs on bass & backing vocals. The origins of H27 can be traced back in early 2008, but the lineup didn't solidify until 2017, when Ken became a member the band. In December of 2017, H27 entered Cherry Pit Studios to record their EP "Verboten" and the full-length album "The Road to Nowhere". They worked with Ryan Kutz and finished recording in February 2018. The tracks were mastered by Joel Wanasek. H27's debut EP "Verboten" was released in June of 2018. Their album "The Road to Nowhere" was released shortly after and received many positive reviews and worldwide exposure. H27 played several shows to support their new album. Everything came to a halt in 2020 due to covid, but song writing for a new album did begin. The new material demonstrated H27's growth since their last releases. In 2021, H27 enter Cherry Pit Studio again to work with Ryan Kutz. The new album was recorded in just 11 days. Mastering was once again done by Joel Wanasek. The album "Dark Skies Filled With Lies" was released on April 29, 2022 to critical acclaim. Be on the lookout for H27 and their unique brand of sonic indulgence.
"Dark Skies Filled with Lies" Album Review
The opener "Wicked Girl" takes a bit to hit its stride, but once it does, it goes all out in its audio assault. The pacing drives forward with its Hard Rock riffs and highly accessible vocals that are incredibly easy to sing along with. "Fighting Time" brings a one two punch of crunch with it. There's a lot to like with the track as it shifts gears between Hard Rock and Modern Rock in its delivery. "Sinderella" doesn't hold back. The track is incredible in its approach and really lets loose with its riffs and melodies. "Deceiver/Cries for Redemption" continue the path they set before it. The hard and heavy sound is perfect for Hard Rock lovers. The track barrels down its path like a runaway freight train of Hard Rock chaos. "Coming Home" is just waiting to be a live show hit. The track twists and turns with melodies, riffs and tempo perfectly. "Black Widow" has shades of Alice Cooper to it. The slower, methodical, darker tone is the overall theme. The track has a nice crunch and riffage all around to it. "Severed Anus & the Stuffed Rat" is purely instrumental. The track is an awesome showcase and an overall sound and pacing you can just get lost into during its runtime. "Iron Will" picks up the tempo. The high octane sound, soaring melodies and stellar riffs are sure to be a fan favorite in no time. "Just a Freak" features instrumentation during the verses that brings to mind Heart's "Barracuda". The chorus shifts gears and brings with it a more Kiss melodic chorus. "10,000 Stones" is a journey into the deep wilderness of the H27 sound. The Progressive vibes and melodies are slowed down and has more of a ballad feel to it. "The Darkest Lie" cranks in right away with a heavy crunch. The track will induce some serious moshing as well as sing alongs. The track screams single and has a full arena Hard Rock sound to it. "Tsunami" is a six and a half minute closer that sums up everything that H27 have to offer. The hard hitting riffs, melodies and overall talents are on full display and wraps up everything perfectly.
Verdict:
H27 conjure up the Hard Rock thunder with their newest album.
-Interview- (5/23/22)
1. How did you get started with music and how did you develop your sound? Who thought of the name "H27" and is there any meaning behind it?
We all had different musical influences and experiences prior to coming together as a band. From gospel and R&B to Heavy Metal. It is one of the reasons H27 has such a unique sound.
H27's origins start back in early 2008 when the guys in the original lineup were all working at a hospital in different departments. We became friends and eventually decided to get together to jam after discovering that we all played. It only took one practice to spawn original material. We decided to go in the direction of writing our own music. Our original bass player quit in 2010 and we (the writing core of the band) continued to write music. Fast forward to 2017, when Ken joined the band and solidified the lineup. We went into the studio and recorded our EP – "Verboten" and the album "The Road to Nowhere" and they were released in 2018. We feel that they document where we were at that time. We continued to hone our sound and grew as song writers and musicians after those releases. With current 2022 release "Dark Skies Filled with Lies", we truly feel that you hear what H27's sound has developed into.
When we decided that we need a name for our band, we all come up with ideas. We put a list together and ended up choosing H27. It was one of Schack's suggestions. H27 was the room number for the post mortem suite at the hospital we were working at the time. It was part of Schack's job responsibilities to move bodies in and out of H27. It had ring to him from hearing the room number over the radio. Also, we usually bumped into each other in the corridor where H27 was located.
2. What do you want people to take away from your music?
We hope that people with connect with it both musically and lyrically. That our music conveys a message to them or strikes an emotion. We do tackle some serious topics, but also have some just for fun type tunes. Most importantly we hope they enjoy listening to it as much as we enjoy creating and playing it.
3. How would you describe your sound to the average listener?
We have a unique sound. We strive to be ourselves and not to sound like other bands. H27 has a hard rock backbone flavored with other influences. It is guitar driven and contains relatable lyrics. Lyrically, we cover serious topics along with some more humorous lyrics. We have diversity within our sound and no one song sounds the same.
4. Who are three bands you'd like to tour with?
That is a hard question. If this has no realistic limits, we would have to say Metallica, Godsmack and Shinedown. There so many bands that touring with would be a dream come true and having to choose just three doesn't do justice to the other artists that we love and have influenced us.
5. How has Covid affected what you do?
Covid has effect H27 quite a bit. Between lockdowns and members contracting it, the machine that is H27 shut down way more than we would have liked. Live shows stopped. It definitely slowed down the release our new album. It just released on April 29, 2022. We originally planned on a 2021 release, but we believe the album is stronger because it took more time to make it.
6. What's your take on the current state of Rock?
We believe Rock is alive and well. When it is broken down into sub-genres, it seems to water it down. Even though we prefer a heavier spectrum music, the rock genre as a whole seems to be strong. In spite of the fact that Rock is not the most popular genre presently, it is here to stay and is continually getting stronger.
7. What's the current music scene like locally there in Wisconsin?
In our area it is great for cover bands, but less than desirable for original bands. It is not due to lack of talent and great original music. We have had the pleasure of seeing and playing with awesome local bands. It appeared that the original music scene was gaining more traction prior to the 2020 covid outbreak and hopefully now it will continue to grow.
8. What's your take on the royalties that streaming services pay out to artists?
Although we believe the most important thing is to get the music out there for people to hear, it is a shame that artists are paid only fractions of pennies in royalties from streaming services. The only way to truly make money is with merch and touring.
9. What's next for H27?
We plan to start playing out to support our new album. We also plan on reaching out to grow our fanbase via the internet. We plan making videos for music from the new album. We also started hinting to ourselves about making another album, but that will be a bit further down the road.
10. Any shoutouts?
Obviously, we would like to thank our families. Huge shoutout to our producer/engineer Ryan Kutz. Eric Labrosse – owner of Cherry Pit Studios. Joel Wanasek, who mastered all our releases. Bob & Liz from Dream River Photography.