Reaction Jacket talks new music, upcoming plans and much more.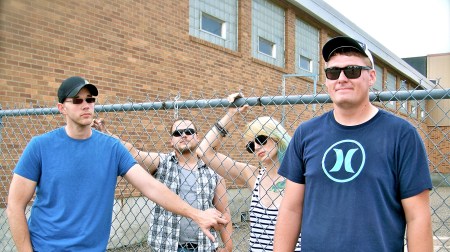 www.facebook.com/reactionjacket
From: Glendive, MT
Sounds like: Alternative Rock
1. What's new with Reaction Jacket?
We've acquired more Jakes and some better equipment.
2. What's the word on new music?
We're competing with Tool to see who's album can come out last.
3. What are some highlights within the past year that you guys had?
We got an underwater dog calendar for the studio.
4. If someone listens to just one of your tracks, which one would it be and why?
"Disease", because it showcases our vast musical influences.
5. What would you like to change about your current local music scene?
We wish there was more of a music scene locally, and more support for local musicians.
6. What are you currently listening to?
Papa Roach's new album. And Hey, Simple Creatures is a cool thing....and Taylor Swift. Always Taylor Swift.
7.If you could play one place, anywhere in the world, where would it be and why?
Pretty much any outdoor festival. We really dig playing outside.
8. Do you have any pre-show rituals? If so, what are they?
We drink the whiskey drink,
We drink the vodka drink,
We drink the lager drink,
We drink the cider drink.
We sing the songs that remind us of the good times.
We sing the songs that remind us of the better times.
9. What's next for Reaction Jacket?
Lot's of gigs. Lot's of drinks. Lot's of new equipment.