Grenon talks about the theme of their upcoming EP, the New Hampshire music scene and much more.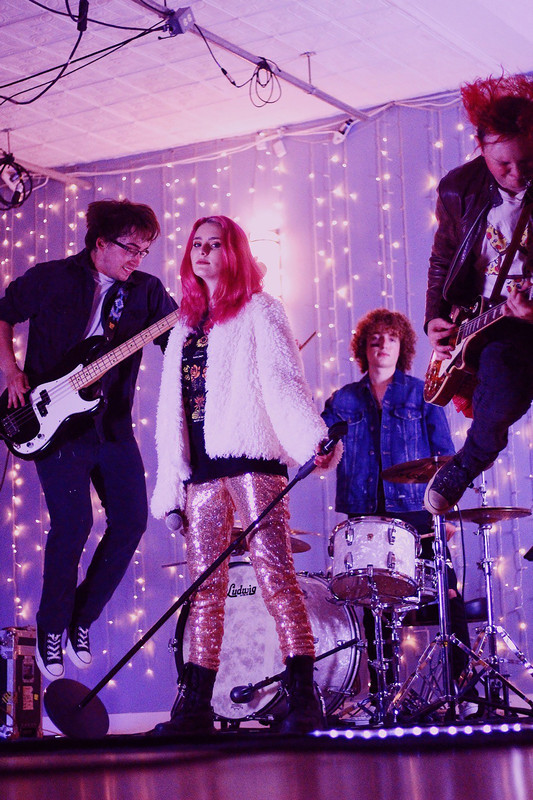 www.facebook.com/grenontheband
From: New Hampshire
Sounds like: Punk/Rock
Questions answered by Kacie Grenon (lead vocals).
1. How did you get started with music and how did you develop your sound? Who thought of the name "Grenon" and is there any meaning behind it?
Grenon is actually my last name! It used to just be me and my acoustic guitar when I was around 12 years old (I did a lot of Taylor Swift covers those days). At some point along the road I was approached by a friend to start a band as a side project to my solo career, but it eventually became something I felt more invested and passionate about, so it became the main project. Our name when we first started out was Last Reach, then when we decided to be more serious as a band it turned into Kacie Grenon Band, but then that was a little meh so now it's Grenon.
2. What do you want people to take away from your music?
Our music is very autobiographical in the sense that it's extremely personal and all about what we go through and our own mental health struggles. Our upcoming EP is literally called "mental hell[th]." My goal when people listen to our music is that they take away a sense of comfort. That it's okay to be anxious, sad, lonely, or anything that makes us all human. Chances are, if someone resonates with our music, they're probably going through the same things we were going through when we wrote those songs. So in a way it connects all of us.
3. How would you describe your sound to the average listener?
Honestly everyone interprets our music differently, so that's up to the listener. I personally think we've got an indie, punk-inspired pop/rock vibe, but to some people we're just pop or we're all rock. Sometimes we're punk/rock. Some people have even labeled us as a country band? Which makes no sense to me, but whatever works for you :)
4. Who are three bands you'd like to tour with?
That's a really hard question to answer. I know that if Covid didn't cancel all of the tours coming up, my dream would have been to be added to the North American leg of the 5 Seconds of Summer/The Band CAMINO tour. We would also love to tour with The Wrecks, Beach Bunny, Badflower, or if we're ever lucky enough, T-Swift.
5. How has Covid affected what you do as a band?
Well if Covid never happened, we would most likely be coming home from being on tour right now. It really sucks not being able to play shows and physically connect with our fans the way we used to. On the bright side though, we got to find new ways to connect. We've also been creating a lot of new music.
6. What's your take on the current state of Punk/Rock?
For me, "punk" is more a lifestyle than a specific type of music. As far as the current state of punk/rock goes, it's weirdly the best time to be in the genre. The scene (and honestly the entire music industry) right now is very collaborative, which has allowed for elements of hip-hop and edm to blend in. With the current political landscape and with more options to pull from creatively, there is so much more we can say with punk/rock music.
7. What's the current music scene like there in New Hampshire?
The current music scene in New Hampshire is very big and very underrated. There are a lot of really cool venues here, but Covid has made our chances to play out very slim. This summer we had a few opportunities to safely play outside. With colder weather settling in, venues like the Bank of NH Stage and Rochester Opera House were giving local bands the opportunity to play at around 1/4 the capacity to allow social distancing. But the more Covid numbers rise, the less people are wanting to attend indoor events.
8. What's your take on the royalties that streaming services pay out to artists?
Oh man. I truly think that streaming services could, and should, redistribute their resources and pay artists more, especially smaller artists. Until you factor in all the sales revenues that streaming has effectively made obsolete, it seems like all artists are paid equally. In general, some services aren't too far off the mark with how much they pay out. However, since streaming services have caused the decline of physical album sales as well as digital distribution, the payout feels like a slap in the face to any smaller artists forced to use its services to compete with their heroes.
9. What's next for Grenon?
We just released a new song called "Sick" that you can now listen to wherever you stream your music! Everyone in the band (except RJ, who lives in Brooklyn) has moved into an apartment together under one roof so that we can hunker down in New Hampshire until it's safe to tour. In the meantime, we're gonna start up our Pity Party livestreams again so that we can (safely) keep in touch with everyone. The "mental hell[th]" EP we intended to release this year might turn into a full album the longer we have to stay home. Everything is so unpredictable right now, so all I can truly say is to stay tuned.
10. Any shoutouts?
Just to our fans who continue to support us and like our music. Hi!