Hands of Attrition talks about their formation, their Metal sound and much more.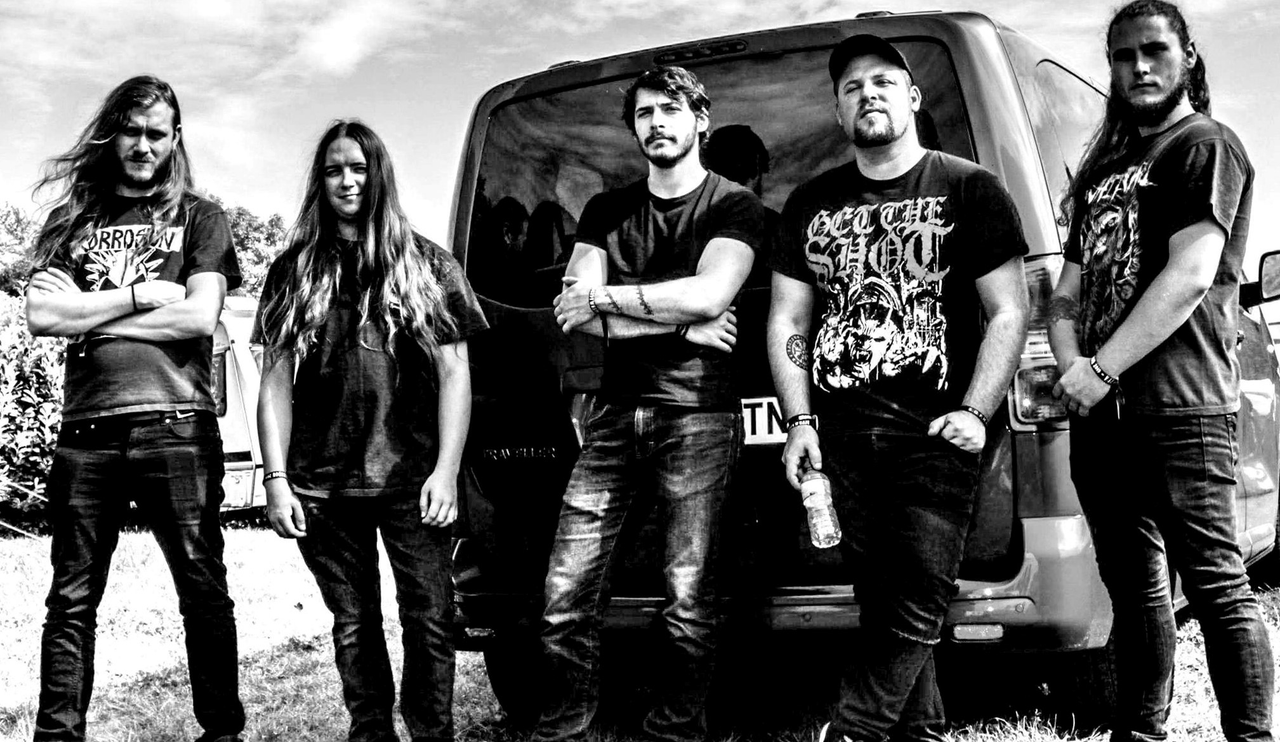 www.facebook.com/handsofattrition
From: West Midlands, UK
Sounds like: Metal
1. How did you get started with music and how did you develop your sound? Who thought of the name "Hands of Attrition" and is there any meaning behind it?
Back in 2018, 3 of the members Tom, Ant and Dale all put ads up on a website called Join My Band… After only a small time of searching through the lists of musicians we all came across each other at the same time. Tom messaged Dale asking if he had already listened to Ant's SoundCloud as it was full of fantastic riffs, almost complete songs and just an abundance of groove/metal. The other Members Chris and Jay were good friends of Ant's and Dales, so they soon joined in. As for our sound it just automatically happened, we all agreed that Groove and Melodic Metal was the way forward so the sound came very easily. The riffs, melodies and the way each song forms is just an extension of how we all want the songs to sound, collectively we all sit in a very similar bracket when it comes to what we like for a song. The name hahaha, what a tireless journey that was, we have a group chat where all band names were thrown in and then back out again, we just could not decide on something as we knew there was always something better. Tom said Hands of Attrition one day out of the blue, and that was it, that name just stuck like none of the previous had. It was us. Hands of Attrition - The constant attack and relentless fight on…
2. What do you want people to take away from your music?
We would love for people to enjoy our music firstly as without getting that right the rest does not matter what we want our music to say, but all in all we speak of mental health, struggles each and every person may face in they life, families friends, strangers it does not matter who you are or where you are, Hands of Attrition is behind you every step of the way through recovery and fighting on.
3. How would you describe your sound to the average listener?
We have always joked with each other saying we are somewhat of a Groove core band… Groove metal like Lamb of God and Pantera all the way to the melodic side of metalcore and even some hardcore influences keep coming back round. We are Groove, Melodic and Heavy Hitting Metal.
4. Who are three bands you'd like to tour with?
We would of course like to tour with as many bands as possible but as a top tier list we would love a tour with Thy Art is Murder, Lamb of God and Killer Be Killed.
5. How has Covid affected what you do as a band?
COVID 19 has affected us just like every other band, no gigs, no shows, no way to get in front of people face to face and that's hard, we were really starting to get out there in terms of gigs we were getting booked up and down the country… What more is there to say it's a horrible situation for all of Music and Arts and we hope it ends soon. In-spite of all of this we are lucky as we were able to secure a lockup where we can record, write and play until our hearts are content. Between the 2 lockdowns in the UK we were able to record our whole album from start to finish in that lockup. A small ray of light that has helped keep us sane through these tough and uncertain times.
6. What's your take on the current state of Metalcore?
We will mainly touch on the underground scene as that is where we sit and its hard, so many fantastic bands trying to grab the same gigs and opportunities. Metalcore is everywhere now and rightly so it's a fantastic subgenre (without getting too technical haha) but one that isn't going anywhere fast. Its progressing quickly with more and more underground bands gravitating towards it as it tends to be more lose in its approach, freedom to write what you like and come back into a melodic chorus really helps bring out the heavy parts when they hit.
7. What's the current music scene like there in the UK?
The music scene in the UK was booming, there were gigs almost every weekend and even some weekdays were holding up. Bands coming out left right and centre and that's healthy. Since COVID19 we cannot really say, we still see bands pushing for exposure and pushing their music much like we are but the scene is demotivated right now as we all want to play and reach out to people in the same room. The only way surely is up.
8. What's your take on the royalties that streaming services pay out to artists?
Well, some sites are better than others, we are sure you all know which ones you think are fair and unfair but as for how we see it, streaming is the way that most people find music or at least lean towards when they want to listen to music now. The streaming sites do need to pay more but on what grounds can that happen we don't know. There are some real top tier artists in metal pulling huge numbers but if you ask them, I am sure they are unhappy also… When it finally trickles down to bands like us who are also paying for everything out of our own pockets, streaming doesn't tend to return the favour even though we are producing the content to keep the platforms alive.
9. What's next for Hands of Attrition?
Our debut album is out in just a few weeks' time (late December) so we are doing everything we can to make that happen and get it out there for people to find and hopefully enjoy! Thereafter we already have a few riffs lined up that can be worked on… The meaning of Attrition comes to mind "the process of reducing something's strength or effectiveness through sustained attack or pressure" so sustained attack and pressure it is then… onwards we go.
10. Any shoutouts?
Yeah of course, there are loads of fantastic bands local to us, please show some support to them if you haven't already heard of them. As The World Dies, Memorium, Recall The Remains, Callous Hands and Master's Call.