Ending Empires talks about their sound development, upcoming plans and much more.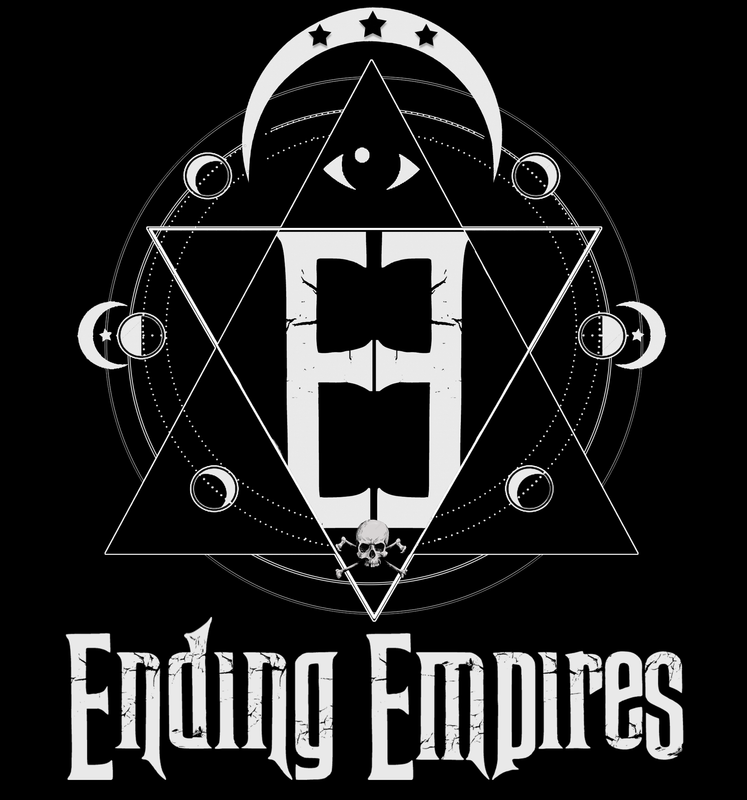 www.facebook.com/endingempiresband
From: Vancouver, Canada
Sounds like: Rock
1. How did you get started with music and how did you develop your sound? Who thought of the name "Ending Empires" and is there any meaning behind it?
KK - There was always music playing in my house.. Elvis, Cash, Waylon Jennings. I Started playing at 7, then I discovered Led Zeppelin at 13 and it was clear to me what I wanted.
Troy - My parents have pictures of me with a Cowboy hat and toy guitar at about 4 years old because I wanted to be Ian Tyson (a Canadian Country Star from my local small town area that made it quite big across North America. His wife became a famous singer too and they had a TV show on once a week). For a few years I begged for a real guitar and I finally got one at about 7 years old. I was signed up for lessons but the only person in town who taught took me in for 1 day and said I was too young and that my hands were still too small to play the guitar. I was devastated and my parents signed me up for Piano lessons with her. I didn't enjoy it and it was an on and off again thing for years. I also grew up singing in the Church and School choirs, sometimes competing Solo. Music always mesmerized me. Its always been a completely otherworldly kind of experience for me.
KK - Our sound was developed by our song writing. It just happened… it was very organic.
Troy - Like KK said, developing our sound was just a super easy and natural thing. We come from similar backgrounds and experiences and have both honed our styles over the years in different bands and projects. We are both very open to each other's ideas and suggestions; but we seem to combine to make something we both really enjoy. It's just a lot easier to get the sound in our heads down to tape than I've experienced before.
Troy - Phew, choosing a name… We pitched a couple thousand ideas around for weeks until this one just presented itself in the lyric of our debut single. I think I was a little shocked that it was that simple all along; so fitting, and right in front of us the whole time.
2. What do you want people to take away from your music?
Troy – We just want people to enjoy the songs. To sing along, to play air guitar, All the cliché stuff that I grew up doing (and may still do when nobody is looking), but fun, stuff.. But hopefully the lyrics are a little left of centre and make people explore their own ideas and opinions if they choose to. When the world of Live music returns I think that we really want to establish our reputation as a great live band as well.
KK - Music is so deeply personal. Troy's lyrics leave a lot of room for the listener to take what matters to them from the songs. We talk about what's happening in the world, love, anger, fun, hope... It's up to the listener to take what they feel from the songs.
3. How would you describe your sound to the average listener?
KK - We're a Rock n Roll Band! We have many influences, all of which we wear on our sleeves. We're not trying to re-invent the wheel, we just want to be a great Rock n Roll band!
Troy - I hope people can pick their own references here. There are a lot of ROCK influences in there, but I'm proud to believe that we are coming up with our own little signature within the immense ocean of Bands.
4. Who are three bands you'd like to tour with?
KK - Slash and The Conspirators, definitely! I played with Slash's bass player Todd Kerns, that would be a blast. Alterbridge. One of my favourite bands out there. Motley Crue.
Troy - Oh, that's a cool question. I would totally be in for the ones KK mentioned... But the ultimate for me would probably be GnR, Janes Addiction, Michael Monroe, Alice in Chains, Aerosmith, or the Cult. Geeeez, there are a lot.
5. How has Covid affected what you do as a band?
KK - It's affected everything! Troy and I have been in the same room once in the last 9 months. Thankfully technology allows us to continue writing and recording. The biggest thing would be no touring. It's strange that we're not out there playing live.
Troy - Not doing shows or a bunch of rehearsing is different, but at the same time its allowed us to really focus on writing, pre-production, recording, learning, being creative etc. It's not all bad.
6. What's your take on the current state of Rock?
KK - I'll let Troy take that one, lol
Troy - Who me? ? ? ? Hahah, I actually think its on the comeback trail. There are good bands coming out but you have to look for them. You really have to dig because everyone and their dog is making music on the internet, we're overloaded to a point where a lot of people just won't bother exploring anymore. But I believe you only find treasure by digging.
7. What's the current music scene like there in the Canada?
Troy - It's funny, because the Talent in Canada is 2nd to none (well except maybe Sweden). The thing is, our Country is Gigantic and it can be hundreds (sometimes nearer a thousand) kilometres between one tour stop and the next. It makes things really expensive for bands trying to establish a fan base. So yes, working on other markets is just as important. I love the scene in the UK and a lot of Europe. Fans are so much more committed and exciting. I think they are more 'open' to new things as well, but that's just a natural side effect of cities with such large populations. More people, more art, more culture, more everything… and I think that inspires people which in turn leads them to being more open and curious about new bands and sounds.
KK – Troy summed it up perfectly!
8. What's your take on the royalties that streaming services pay out to artists?
Troy - Everybody knows that alot of things in our Western Society's are simply not just or fair. This is one of many. Obviously when an artists earnings are chopped by hundreds of percentiles over 10 or 15 years, something is wrong. But you know, the 1%, they are strong and change is harder and harder to come by organically in a 'by the people' kind of way.
9. What's next for Ending Empires?
KK - We have to take advantage of the time that the pandemic has given us. It takes a lot every day to be working the phones, sending out press releases, managing our social media exposure, and of course writing and recording. Normally we'd be out touring as the normal part of spreading the word, now we can continue writing and recording, so that we'll have a lot of material ready to go.
Troy - We're just going to keep creating and trying to grow our little machine into a big ol' monster. Things take time, but you gotta be consistent and just keep knocking on doors too. That's what touring is all about as well.
10. Any shoutouts?
KK - Ya... Dave Lettinga! Our good friend that made the great video for Deceiver. He did such a great job, we look forwatd to working with him again. Mike Bohn and the team at FTD for seeing something in us and getting us out there.
Troy - Dave rules, check out his band Brutiful. There are some great rock bands working hard in Canada right now so props to them, check them out. One Bad Son, In Vertigo, Big Wreck, The Wild!, Danko Jones, Monster Truck…. oh… and my dog "Hunter". He's the boss! Can't believe I almost forget him.