Direlands talks about their Metal sound, dealing with COVID and much more.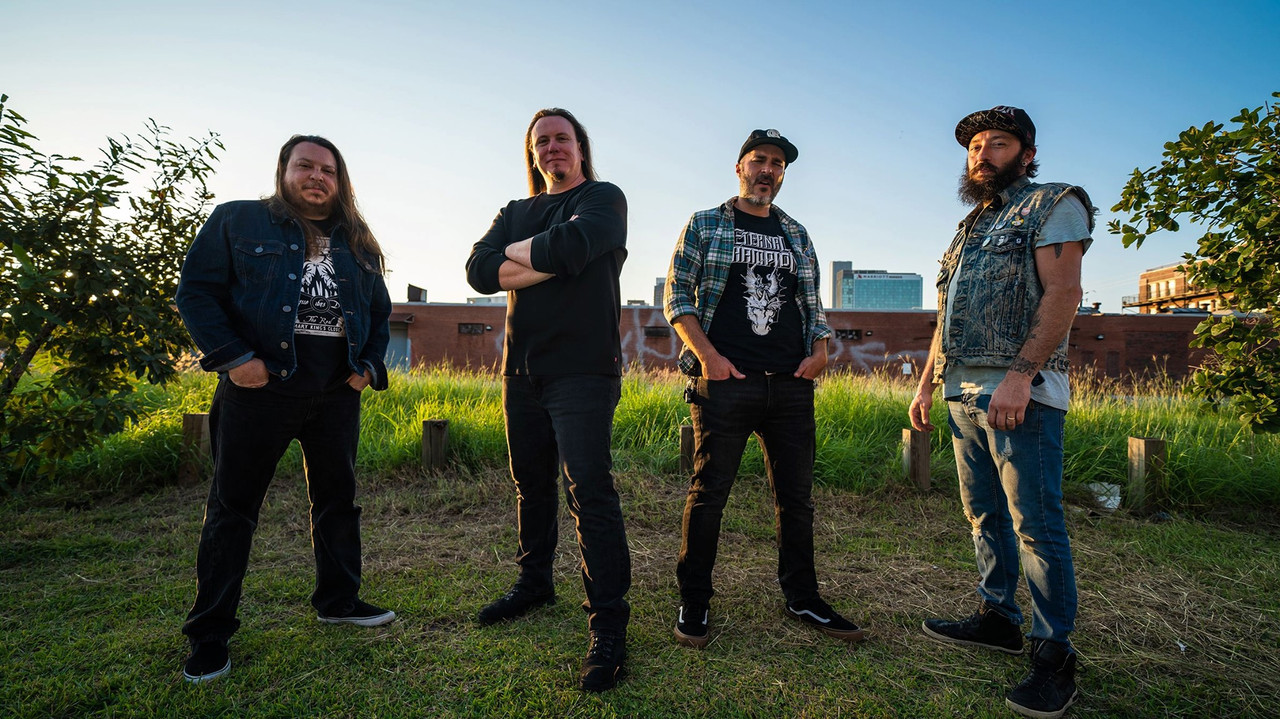 www.facebook.com/direlands
From: Houston, TX
Sounds like: Metal
1. How did you get started with music and how did you develop your sound? Who thought of the name "Direlands" and is there any meaning behind it?
Troy (lead guitar) started to put together a band with Dan (drums) and Scott (Bass). They found common ground with many similar influences and really started to write some unique and interesting stuff. We heard what bands like Pallbearer and Khemmis were doing, mixing it up and we thought that we could do that too. We struggled to find a singer for a while, and nothing seemed to work out. JD (vocals) responded to a Craigslist add from Troy, and went in to audition. I really loved what they sent me. I couldn't believe it to be honest. These guys were making some powerful music and I could hear it right away. They asked me to write lyrics and melody and sing on one of their songs for the audition. What would become 'Burn Brighter'.
While we started gelling as a band, names started to get tossed around. We were almost called LURKER, and we started to notice that all these other names were also taken by other bands. Scott, came in one day what do you think of DIRELANDS? Bet! We thought it was a cool name, unique, and represent a metaphorical existence that people could understand.
2. What do you want people to take away from your music?
Our sound is epic, most of our songs are over 4 ½ to 6 minutes long. We want our music to be the soundtrack to our listeners lives. We know everyone is dealing with demons, struggles, day to day BS, and we want them to be empowered to kick ass, move forward, overcome, and conquer. We've all been down in the dumps this year, with so many things reaching the breaking point, our music is the release you need.
3. How would you describe your sound to the average listener?
A mix of timeless tone and modern vibe. Troy puts his Orange Rockerverb 100 to work and really knows what he's doing to dial in crushing riffs and sizzling leads. Scotts Orange Thunderverb 200 is an absolute beast that hammers that riff into your chest. Dan lays it all out on his Mapex drum set for all to see and drives the energy the whole time. JD has a lot of lung, and throws his voice through the ringer making each lyric stand out.
4. Who are three bands you'd like to tour with?
We have so many hero's and influences that we have a list as long as your arm. Mastodon, High on Fire and Pallbearer.
5. How has Covid affected what you do as a band?
It has been a terrible year for everyone. At the beginning of the 2020 we were so excited to have put together enough material to finally hit the stage, and then (clank) Lock down in March. This changed our plans, and as we found out, changed the game in the music world. So, we hit the studio! Scott is also our producer and we started laying down tracks and dialing it in. If anything, its great for writing and recording, your attention can be focused that much easier and there aren't as many distractions to daily life as there used to be.
We have also been a part of some shows in the Houston area. As our town has opened back up, venues are trying to stay in business and find a way to make the "new normal" work. We have played shows that feature social distancing, face masks, and seated patrons. It's a good start to find a way live music can still exist. But it is strange playing a concert with face melting metal, while your sweating gallons, and whipping your head around like a maniac and the whole place is seated like a jazz venue. LMAO! You just have to work harder to bring your audience into the show, make sure they get it.
6. What's your take on the current state of Metal?
We think we are at another metal renaissance. Tech has made it easer to access pro level gear and software. Anyone who has some ability can put something together that sounds great. If anything, the avenues are wide open, you have new bands breaking into all genres and innovation everywhere. We are excited to hear where it all leads.
7. What's the current music scene like there in Texas?
Tremendous! Houston in particular is such a big city that our music scene gets overshadowed by Austin, but the bands here are so talented! Check out WARLUNG, FOSTERMOTHER, KILL THE LIZARD, to name a few. But the list goes on.
8. What's your take on the royalties that streaming services pay out to artists?
'What royalties!?" LMAO. New bands like us make more from a single shirt than all the streams we have so far. It is what it is, I remember the first days of Napster, and other download programs where you just 'downloaded' whatever music without paying for it. That's not right, and this way at least you get something for that stream. But the downside of the music renaissance is that so many people have access to making music… that saturates the market. Supply and demand, you know. I do think there will be more evolution in the future, now that we see more bands streaming live, big concerts canceled, etc.
9. What's next for Direlands?
2021 is going to be a great year for us. We are jumping back into the studio for another EP that we hope to release soon. The new songs are so fun and just as epic as our last album, so we hope this will be a continuation of all the good stuff we packed into The Cave You Fear, with some evolution in our sound and some interesting surprises for our listeners.
10. Any shoutouts?
Absolutely! BAYOU SAINTS, Steamboat Amplifiers, WARLUNG, FOSTERMOTHER, and KILL THE LIZARD are absolutely killing it! Great dudes, great bands, great music! They helped us put on some great shows that were safe and fun. Also, Rockefeller's Houston, has been a great venue supporting local bands and keeping the music going.