Rockin' Engine talks about their development, dealing with COVID and much more.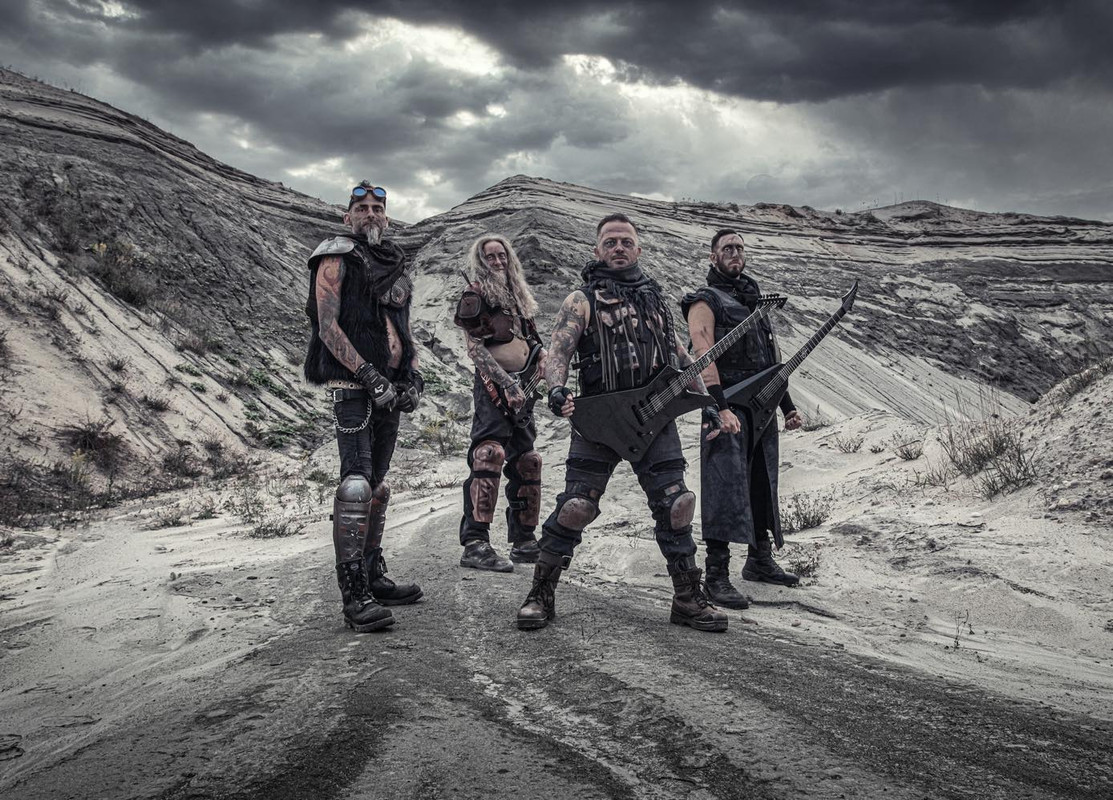 www.facebook.com/rockinengineofficial
From: Canada
Sounds like: Metal
Questions answered by: Steve O Leff.
1. How did you get started with music and how did you develop your sound? Who thought of the name "Rockin' Engine", and is there any meaning behind it?
Ste Vy Leff, our lead guitarist, and I, started playing together in a cover band about 7 years ago with three other members at the time. Eventually, the band split up and we were left wondering if we should join other bands or create our own. Then Joel Bilodeau, our drummer, came in the picture. The chemistry was perfect and we were able to move forward with our new cover band. In 2015, we formed Rockin' Engine and we covered a range of songs from Motley Crüe, Kiss, Pantera, and so on. After a while, we decided to write our own music and the adventure started. JP Buzzard, our latest bassist, later teamed up with us, that's when we knew the band was complete. When we started as a cover band, we wanted the band name to reflect what we love most… Rock, Metal, and anything with wheels and an engine!
We ended up with Rockin' Engine for our cover band. After a while, I was wondering if we should change our band name since we were no longer in the cover scene, but since we already started branding our name and logo, we just decided to stick with it, it's catchy anyway haha! I think it's safe to say that we all have different personal influences. However, we certainly all agree on where we want to go in terms of sound and image. For that, Jinjer and Lamb Of God have definitely helped us focus on developing riffs with punch and clarity, which makes our new album a lot heavier and refined than our previous release. We also wanted to develop our own look, our brand. So we decided create a post apocalyptic theme for not only our music but our wardrobe as well.
2. What do you want people to take away from your music?
The lyrics and music of this album were inspired by the physical and social destruction evolving in this world in the past few years. The listeners will be able to relate these stories with personal experiences, creating a deeper emotional connection with the songs. We also worked on accentuating this emotional aspect throughout the music to really help the listeners grasp the meaning and importance of the presented messages. When playing live, people should expect great chemistry and very contagious energy from all of us. We're explosive in our playing and always go full throttle. We always try to connect with our audience and feed off of their energy as well. The focus is never only on one musician, we all have our time to shine during our live performances. The most amazing feeling for us is when new spectators see us for the first time and come to meet us after the show to chat about how they enjoyed our set and hope to see us again soon!
3. How would you describe your sound to the average listener?
Being highly influenced by the 80's and 90's hard rock and metal era, we always evolved around hard hitting and high paced music. When we started as a cover band, we focused mainly on hard rock since it was a fan favourite genre at the time in our surroundings. But the further our band progressed, the more we were compelled to our heavier influences and started integrating heavy music in our sets, which lead to a higher demand for us to perform. When we wrote our first album, Midnight Road Rage, we were still trying to find ourselves as a band, figuring out our brand and genre. But with our new EP, The Wretched And The Damned, it is quite obvious that we belong in the metal realm. So in five words… A punch in the face!
4. Who are the three bands you'd like to tour with?
Having previously shared the stage with Death Angel, we'd definitely love to tour with these guys. Amazing people and outstanding musicians! We had a chance to kick back and chat after the show and we definitely clicked. Also, touring with The Agonist would be absolutely amazing! We personally know their lead guitarist, he was our guitar coach for a while and a very good friend as well. Having seen their shows on several occasions, we got to hang out with them a lot and we just know we would have a blast with them. If we had the opportunity, touring with Rob Zombie would definitely be awesome! I'm a huge fan of horror movies and theatricals, and Rob's showmanship is flawless. Plus, John 5 is one of our guitar heroes, I mean, who wouldn't want to tour with John 5?
5. How has COVID affected you as a band?
The situation around the world has been difficult for a majority of people. As individuals, I think we are lucky for being able to work constantly, good health and have families that support us in our journey. During these tough times, mental health is a strong subject on the table. We're all faced with new challenges (financial, work, family, social) which have been affecting our lives. We strive to make it work the best we can by supporting each other. We were grateful to have our music and the ability to meet and play during this past summer (2020). We were able to finish our latest EP "The Wretched and the Damned", released on October 31st and proceeded with the video shoot of our single "Let it burn", that was released on October 23rd. Even though we can't hit the studio yet with all the remaining restrictions in our area, we're still working on new material and we can assure you that it'll be worth the wait!
6. What's your take on the current state of Metal?
Metal has always been and always will be a huge family. Regardless of trends or popularity, Metal will always continue to evolve and rise to the top. There's been so many new great releases lately. I spent a lot of time listening to Jinjer and Lamb Of God, they were a huge inspiration in the writing of our new album. I've also dug back into my roots with Testament, Slayer, Exodus, and Megadeth… the great stuff! That being said, I focused a lot more on my local music scene and made some great discoveries such as Sinful Ways, Lutharo, Fractures & Outlines, Colorsfade, Cynical Sons, and so much more. Ottawa Canada definitely has great bands to be discovered.
7. What's the current music scene like there in Canada?
The music scene here is amazingly supportive. Promoters, radio stations, venues, musicians and fans all work together when it comes to organizing events, and most of the time, it's a huge success. We consider ourselves privileged to have such amazing fans. We have nothing but love and respect for them. We always take the time to chat with them before, and after our shows. We want to connect with them as much as possible because let's face it, without them, performing would mean nothing.
8. What's your take on royalties that streaming services pay out to artists?
It's an absolute joke! If one million streams generates one or two thousand dollars, what's the point of investing all our time chasing playlists? Exposure? Nonsense. Of course it's great to acquire visibility throughout streaming platforms because it "helps" spread your music around the world. But that's the thing, it only helps! We definitely cannot rely on streaming platforms to thrive as a band. In today's market, people have access to everything and get bored quickly, so we, musicians, have to come up with original ways to promote our band and redirect our fans where they can actually support us financially. Right now, the only real source of income is performing and selling merchandise. Unfortunately, until people stop streaming for free, there is very little chance we'll ever see any significant royalty payouts that could actually allow us to make a real living from our passion.
9. What's next for Rockin' Engine?
Even though we didn't have the chance to properly release our latest album "The Wretched And The Damned" due to COVID, we're currently working on our next album and hoping to hit the studio in summer 2021. We plan on touring the East side of Canada and maybe hit the scene in the US and Europe as soon as shows are allowed again. We're also working on new ideas for our next music videos which should be very interesting!
10. Any shoutouts?
We would like to thank our amazing producer, Joe Lyko from "Dark Moon Productions", for his outstanding work on producing our latest album and three of our music videos. His work ethics, vision, drive and professionalism make him THE best guy to work with for any Metal band. Also, a huge thanks to Jon Asher from Asher Media Relations for promoting the hell out of our last album and making sure we had as much exposure as possible for a successful release. Shoutout to Solar Guitars for their endorsement to our lead guitarist Se Vy Leff. Thanks to "From The Depths Entertainment" for believing in our music! Together, we'll raise some hell for sure. And last but not least, THANK YOU to all our supporters who have been with us throughout the highs and the lows. Without you, nothing would be possible!