Pinn Dropp talks about their formation, the current Progressive Rock scene and much more.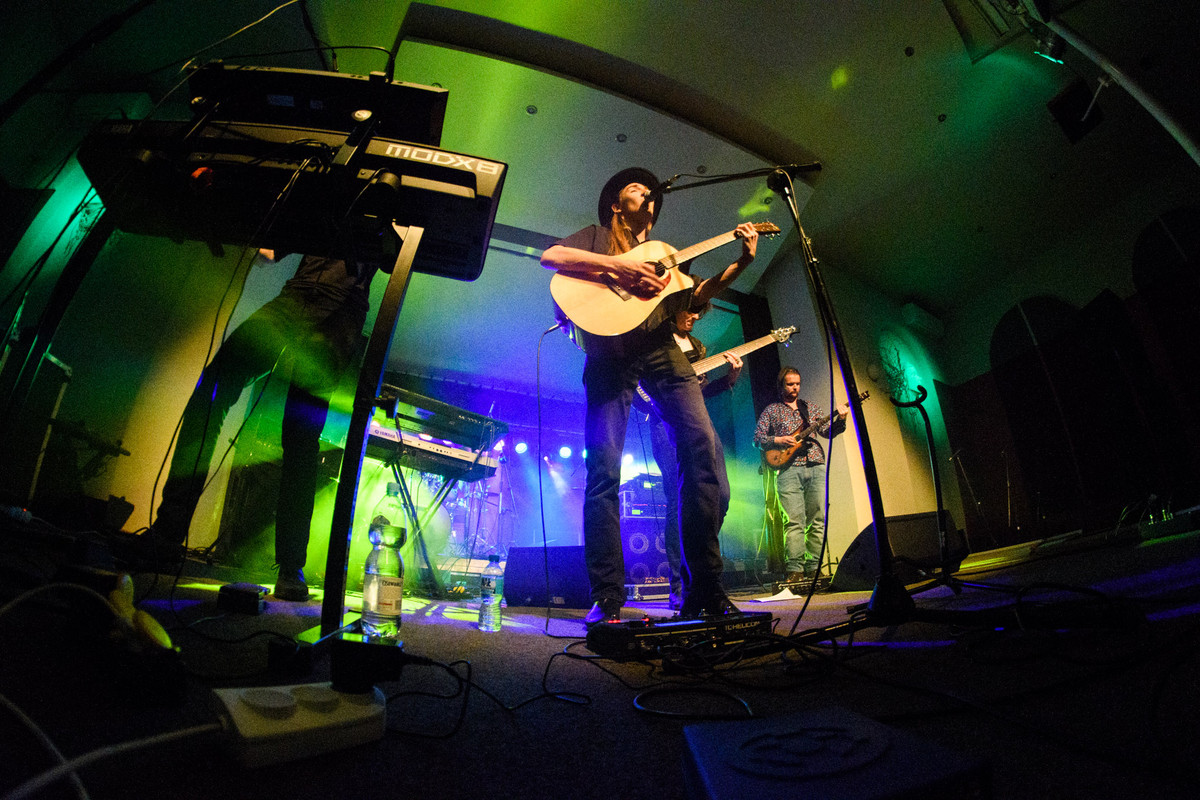 www.facebook.com/pinndroppofficial
From: Poland
Sounds like: Progressive Rock
1. How did you get started with music and how did you develop your sound? Who thought of the name "Pinn Dropp" and is there any meaning behind it?
Piotr Sym: A few years ago I started composing music for a "progressive" project that was born in my mind. It was just me and a lot of compositions. I wanted to record those tracks for real and turn this concept into a proper band. Darek Piwowarczyk, our ex-drummer came in first and did a lot of work with me, taking care of production and helping me with arrangements. Then came Mateusz, our vocalist and by then our project was slowly turning into a real band. I came up with the name Pinn Dropp quite early on when I was still writing on my own. No, there is no meaning behind it. I was just thinking about a name which you can remember easily, something like Pink Floyd maybe? I added double letters just for the sake of it. To make things more quirky I guess.
2. What do you want people to take away from your music?
Piotr Sym: Great memories, worthwhile experiences. I guess we want people to feel our music, immerse in our sounds. As an artist, you want to evoke emotions in people, and when you're successful at this, then it's a job done right!
3. How would you describe your sound to the average listener?
Piotr Sym: We create music which "takes you on a journey", "music which tells a story". It's epic, cinematic, lush, dramatic, uplifting, sometimes heavier, sometimes softer, sometimes even catchy. Diverse and hopefully engaging.
4. Who are three bands you'd like to tour with?
Piotr Sym: Tough question. I guess I can't name them. It's difficult to choose. Every musician dreams at one point of sharing the stage with his or her hero. I had of course mine and still have, but touring with them is out of the question. My teenage heroes like Rush or Black Sabbath are not around anymore, but It could be fun doing a show with Steven Wilson and perform "The Pin Drop" together. I'm of course a huge prog fan, so touring with such greats like Genesis, Yes, Steve Hackett, Marillion or Camel, would be awesome. Speaking more seriously I would go for any three decent bands that are willing to go out there and put the effort to make it a fun and enjoyable experience.
5. How has Covid affected what you do as a band?
Piotr Sym: Yes, it was hard and we slowed down a lot. We did our last show in Poland in February 2020 which was great, just before the outbreak of the Covid-19 pandemic. We had plans to tour more around Poland that summer but it didn't work out just like our show in Warsaw, where we supposed to play our "Perfectly Flawed" album in its entirety. Things tough improved and we are back on the track working on our new record.
6. What's your take on the current state of Progressive Rock?
Piotr Sym: Progressive rock is such a misunderstood term. Some people hate it, some people love it. Some people can't think of any progressive rock band than let's say Pink Floyd or assume that it's just something pretentious, dated, boring and not "progressive" at all. I think tough the perception of this kind of flavour of rock music changes, as well a the overall appeal of "prog". Now you put under the umbrella of "progressive rock" everything from psychedelia, jazz-rock, post-rock to avant-garde. "Prog" is everything from King Crimson, Yes, Gentle Giant, Dream Theater or Haken, to the Mars Volta, Radiohead, Archive, Jaga Jazzist or Mew. It's like metal, where you have so many sub-categories. "Prog" is diverse and the term itself is not a bad word anymore. The current state is great and there are a lot of exciting bands in that genre.
7. What's the current music scene like there in Poland?
Piotr Sym: I think it's great, like in the rest of the world. Everywhere are people creating amazing music, just for the sake of creating driven by sheer passion.
8. What's your take on the royalties that streaming services pay out to artists?
Piotr Sym: I could elaborate on that If I ever got paid from streaming services, but I don't. It's just how things are nowadays. You can't successfully create your fanbase when you are not on streaming apps. When you are new and obscure there is no chance of earning anything. If you are an established act with a steady fan base then you might earn something. Anyway, it's depressing when music is generally consumed in large quantities almost for free. I guess it must be really depressing for artists active in the music business for decades.
9. What's next for Pinn Dropp?
Piotr Sym: EP, new album and hopefully live gigs!
10. Any shoutouts?
Piotr Sym: Yes, I would like to thank everyone who supported us so far! There are some special people out there who are really into our music. Huge thanks to everyone who bought our CD's. Buying albums in a physical format it's something, especially when you buy records from a new band. It means that you are interested and you care.