Girl Cologne talks about their eclectic sound, the Ohio music scene and much more.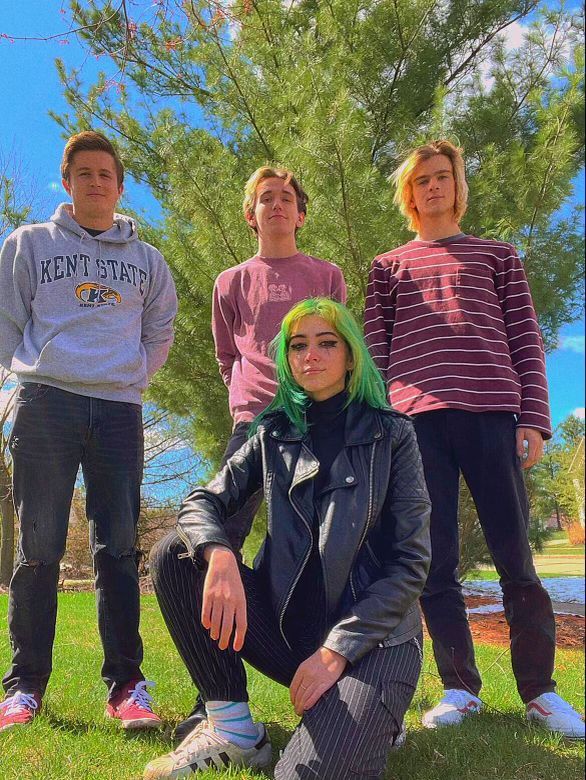 https://www.facebook.com/girlcologne
Sounds like: Indie Rock
From: Ohio
1. How did you get started with music and how did you develop your sound? Who thought of the name "Girl Cologne" and is there any meaning behind it?
Most of us met through school of rock, a music lesson program, when we were in high school. At that time we were playing a lot of punk, grunge, and classic rock so it definitely influenced us as young writers. We've all been in multiple bands before actually coming together. We met Reece after months of practicing and writing together as a trio and he just fit in perfectly. As for the name, it doesn't hold much deeper meaning. Cade and I were just hanging out writing one day and he was telling a story but forgot the word for perfume. We laughed really hard and I immediately said "girl cologne.. band name called it!"
2. What do you want people to take away from your music?
We really want people to relate to our music. I try to write about specific experiences I'm going through to help me process them. For example, I wrote the song Pity Please when I had a crush on one of my closest friends and couldn't bring myself to tell her. A lot of people know that feeling and I hope we captured it in that song. That's hopefully what we aim to do, make you feel that experience and relate it back to your own.
3. How would you describe your sound to the average listener?
We would describe our sound as a combination of each individual members music inspirations which creates a nice blend of punk, soft rock, and light grunge.
4. Who are three bands you'd like to tour with?
It's so hard to just pick three bands we would like to tour with, but we gotta go with The Front Bottoms, Weezer, and The Regretts.
5. How has Covid affected what you do as a band?
We actually formed during quarantine and started writing like crazy. We wrote about 20 songs during 2020 together and really took that time to find our sound. We are still evolving of course but it honestly really helped not having the pressure of having to play out right away. We had our first show a few weeks ago and we were incredibly tight, it was probably the best show I've ever played.
6. What's your take on the current state of Indie Rock?
The current state of indie rock is honestly stronger than ever. With bands like Mom Jeans and Peach Pit gaining popularity, it's been revitalized. Not only that but tiktok has been a great place to find new indie bands.
7. What's the current music scene like there in Ohio?
The current scene in Cleveland is really cool, as it usually is. We were immediately welcomed in with loving arms. Everyone is so excited to be getting back to live music.
8. What's your take on the royalties that streaming services pay out to artists?
We think some streaming platforms have a better royalties than others, but we think for local bands, and up and coming bands it's a huge disservice to them. It only seems to benefit bands that bring in millions of streams consistently who are at the tippy top, but it's clearly the future of music.
9. What's next for Girl Cologne?
We are so ready to keep playing around Ohio, hopefully play some shows out of state soon, and get back in the studio because we are always writing.
10. Any shoutouts?
Shoutout to all of our parents you're all the best!!!