Confined to Oblivion talks about their formation, the Canadian music scene and much more.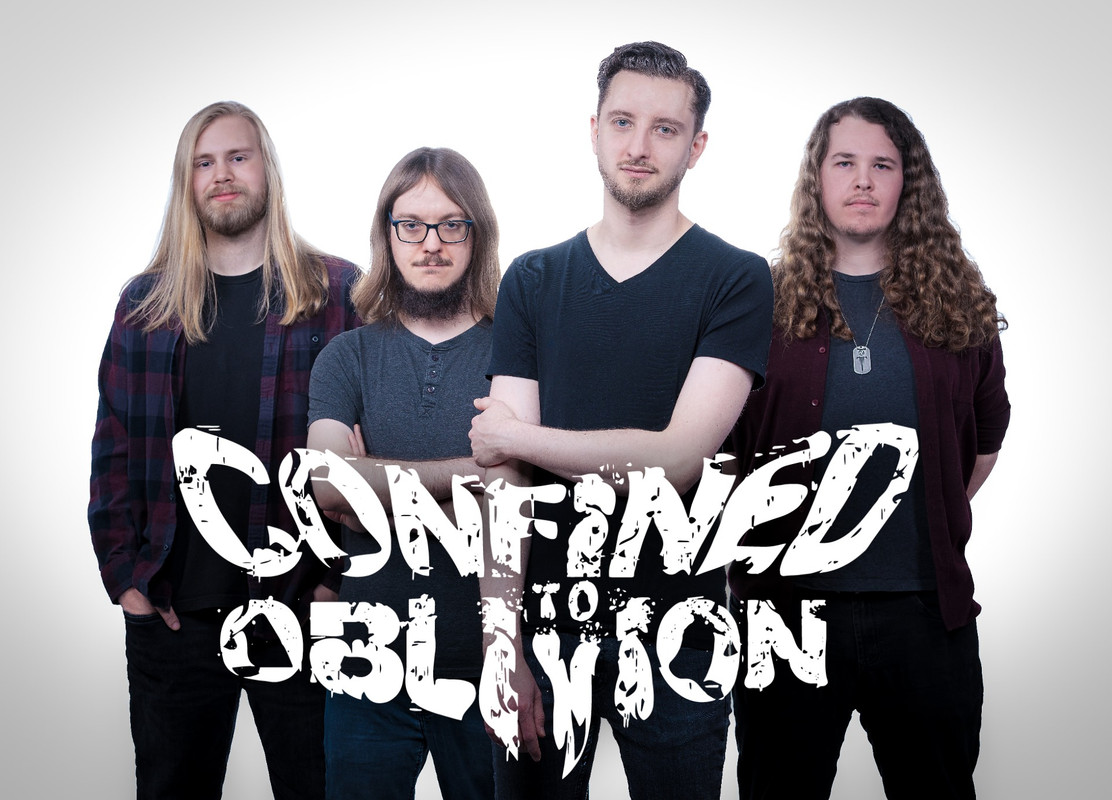 www.facebook.com/confinedtooblivion
From: Canada
Sounds like: Melodic Metalcore
1. How did you get started with music and how did you develop your sound? Who thought of the name "Confined to Oblivion" and is there any meaning behind it?
The band started in 2015 when Jeff (our first singer) and Yan (lead gtr) got together and decided to start a new project after their old band fell apart due to differences in vision and overall motivation to get to the next level. We wanted to surround ourselves with other hard-working and talented people with whom we could hope to build something bigger, better and that would last. This is when we met Simon (rhythm gtr). We instantly knew he had the same drive we had to create something special. Through Simon, we met David (drums) and Raph (bass) and that would be the lineup for the first few years of the band. With this lineup complete, we went from a logo and a single song to playing shows and recording our first EP (The Cycle - 2016) within months. The following two years were spent playing a lot of shows and making a name for ourselves in our underground scene. We came back to the studio in 2018 to record our second EP (When Did We Stop Listening? - 2018). Unfortunately shortly after releasing it we had to part ways with our original singer. After many tryouts, we luckily came across Jean-Charles who would take our music to a new level. We spent 2019 playing some of our biggest shows yet, including some festivals while also working on what would become our first full length album (Resumption - 2021). Around the end of the year, our bassist announced to us that he wanted to quit the band to work on his personal projects and businesses. Still, our main focus remained working on the album, even after the whole Covid situation happened. Down a member, we learned to adapt and pushed through to get the album done despite the lockdowns and other setbacks. These challenges definitely had an impact on our sound and our growth as a band. We released the album independently in July 2021.
Sound: At the beginning, we were focused on making a hybrid of 2008+ Metalcore and Classic Groove Metal (Parkway Drive and Lamb of God), but the more we wrote music we were slowly moving towards Melodic Death Metal. It's really with the arrival of Jean-Charles and when we started to focus more on Resumption that we allowed ourselves to experiment with Death Metal, Progressive Metal and even Black metal ideas.
CTO name: The name was actually inspired from a passage of Parkway Drive's Dark Days. We had a whole theme around the being or feeling "Confined" or "Forgotten". We were even referring to our fans as the "Forgotten Ones". The theme is now just part of history.
2. What do you want people to take away from your music?
Catchy melodies and headbanging grooves. A great "metal" experience with a positive message and inspiring melodies.
3. How would you describe your sound to the average listener?
A blend of metal that has a little bit of everything for everyone. Metalcore, Melodic Death, Prog, Groove, and a bit of Black Metal etc.
4. Who are three bands you'd like to tour with?
Gojira, Lamb of God, and Trivium.
5. How has Covid affected what you do as a band?
We had to create about half the album during the Covid lockdowns so we had to adapt and learn new ways of collaborating together and writing music. Every band member had to figure out the basics of home recording and production as we shared tracks online and worked on each other's material.
6. What's your take on the current state of Metal?
We are hoping for a metal boom when the Covid situation resolves. Awaiting for the next big "thing" or "revolution" of a genre.
7. What's the current music scene like there in Canada?
There is a strong underground DIY scene, but not a lot in terms of bigger opportunities. Touring in Canada is rough as there are only a few big cities and they are far apart. Most big bands or tour packages on their "North American" tours will only play like 2 or 3 Canadian cities.
8. What's your take on the royalties that streaming services pay out to artists?
Royal wat? We didn't experience the "old ways" to be able to compare and understand why older artists are so mad about all this. But we do know that we won't make a living out of those royalties in today's industry.
9. What's next for Confined to Oblivion?
Supporting our album as soon as we can go back on stage and have fun with people. We are definitely looking into touring opportunities outside of Canada.
10. Any shoutouts?
SJC Drums, Schecter guitars, Fractal audio, and Henrik Udd!