Somehow Sorry talks about their formation, their signature sound and much more.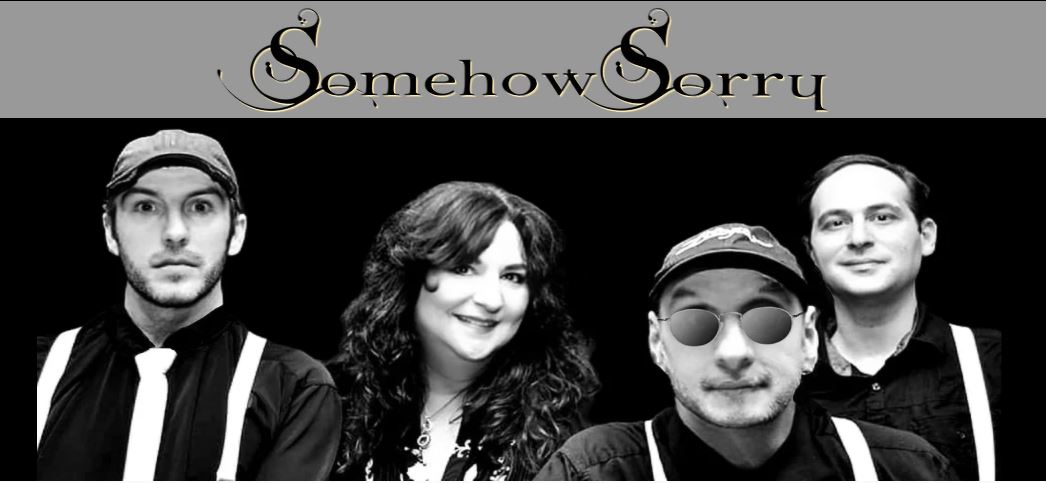 www.facebook.com/somehowsorry
From: New York
Sounds like: Rock/Swing/Rockabilly
1. How did you get started with music and how did you develop your sound? Who thought of the name "Somehow Sorry" and is there any meaning behind it?
Raine: I started singing in my church Folk Group. I lied and told them I new how to play guitar. My first practice I just watched every ones fingers and picked it up. A few years in I got the nerve to sing a solo. During my years there I sang solo at Madison Square Garden for the Pope's Inauguration. As a band John & I met in a Heavy Metal Project in the early 90's called D'Vine Ryte. That band ran for a good 7 to 8 years. Sadly our Bass Player passed away which ended the project. About a year after the bands demise John and I started dating. Lead to marriage and we then formed Somehow Sorry in 2006. We put the pieces together quickly as my eldest nephew Paul is a musician (Guitarist) and he wanted to play bass for us. We new a great drummer would be the hardest to find. So we made a call to Uncle Jim who was excited to jump on board.
The Name: Was honestly pulled out of a hat. We all agreed on a few names and this was the winner. Over the years we say if you don't like our sound… We are Somehow Sorry lol.
2. What do you want people to take away from your music?
The fact that we are different and have our own sound. John & I have an amazing harmonistic approach. I hope whoever does hear us says, wow those guys can sing.
3. How would you describe your sound to the average listener?
Our sound has energy. No matter what we do, even a ballad that bit of rock n roll comes out in us. I'd say we are a bit Rockabilly and a bit of Swing.
4. Who are three bands you'd like to tour with?
Me: The Parlotones
John & Jim: Paul McCartney
Paul: The Shins or Broken Bells.
5. How has Covid affected what you do as a band?
Covid just blows, no other way to describe it. Musically it has severely hampered touring and gigs.
6. What's your take on the current state of Rock?
Not enough exposure or gigs for original bands.
7. What's the current music scene like there in New York?
New York City is scary right now. Hoping the city gets back to being what is was pre-covid. We are from Long Island however, and the original music scene is dead. If you are not a tribute you don't play.
8. What's your take on the royalties that streaming services pay out to artists?
We don't look at it as a money maker, more of a sound mover.
9. What's next for Somehow Sorry?
The full album release of "Same Great Taste" hopefully mid October 2021. We were selected to play Recovery Fest in Connecticut on 9/18/21. Hoping to get started on the music video for Cruisin. Also Somehow Sorry on the Lite Side was just formed: I have always been a lover of Simon & Garfunkel, The Everly Brothers, Cat Stevens Etc. So we do an acoustic version of the band and we get to show off our vocal ability. Nothing like singing in the raw. Simply Pure Music.
10. Any shoutouts?
Always, Rob Henderson. Our lead guitarist from D'Vine Ryte Chris Warren our friend and Bass player who passed away. Scott Meuller for the Somehow Sorry car. (See Cruisin') The good lord for giving us the musical gift, my Sister Linore for always believing in my singing voice. And to our #1 Fan Megan McHugh who our song Miss Megan was written for.