Imajjin talks about their sound development, dealing with COVID and much more.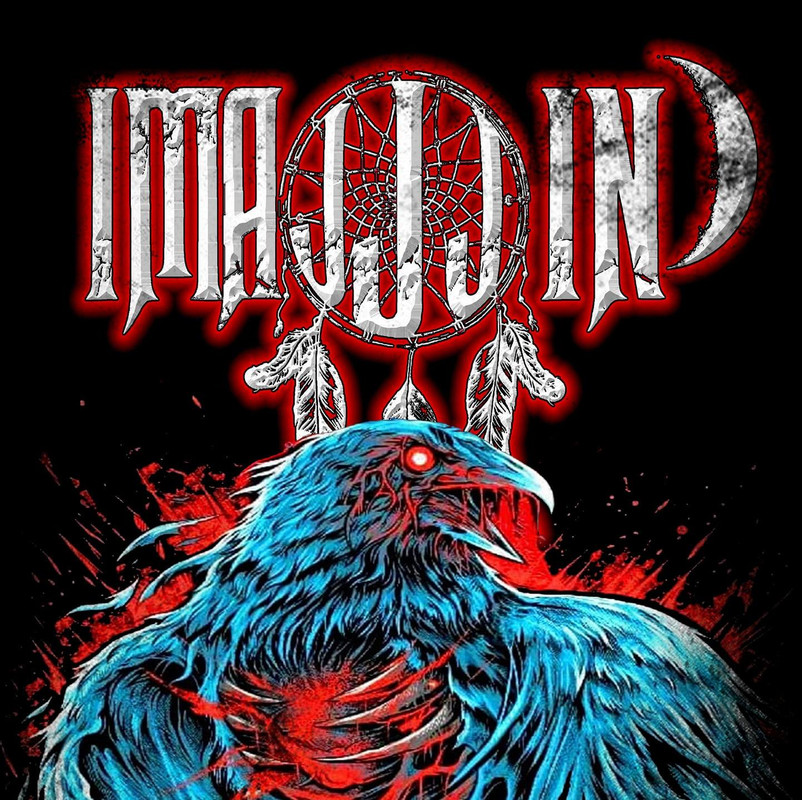 www.facebook.com/imajjjin
From: Kansas
Sounds like: Metal
1. How did you get started with music and how did you develop your sound? Who thought of the name "Imajjjin" and is there any meaning behind it?
We took as many of our influences as we could as individuals and mashed everything together in an unorganized manner, then took those ingredients and asked ourselves, "How can we make a truly good song out of this?" Then we made a decision on what direction we wanted our songwriting to sound like as a group and began crafting it. Jackson and Jessie have a unique chemistry when it comes to guitar writing and tone, and they are very responsible for the direction of the songwriting and the mix of tones. The other members contribute a lot as well in their own individual ways, which makes for a very free and open, yet supportive and fitting sounding background to the melodies, harmonies, and rise and fall of emotion.
We took the names of the original members, Ian, Matthew, Adrian, Jackson, Jessie and tried to come with up with something with the first letters of their names. IMAJJ. We then decided on Imajjin (two J's). After our close friend and supporter (Jackson's father) John passed away, we decided he should be in the name as well. Hence three J's. John was a huge part of Jackson and Jessie's musical upbringing, and they had been friends since the age of three. He was also very active in supporting their music in their younger days right up until his passing.
2. What do you want people to take away from your music?
We write our music like someone writes a book, or a story, or crafts a recipe. We try our best to put the right "ingredients" together to convey a message that describes a feeling, thought, story, or belief. Everyone will interpret these things in their own way, which we think is beautiful. We are simply trying to express what we cannot through words or actions. Music is our platform of inner communication.
3. How would you describe your sound to the average listener?
We would describe our sound as thrashy at times, but mainly very melodic and guitar driven. With a lot of harmonies and solos thrown where appropriate. Bouncy and emotionally heavy. A melodic thrash metal band you might call us.
4. Who are three bands you'd like to tour with?
So many come to mind! But here's three. King Shifter, Bleed the Victim, and Odds Against.
5. How has Covid affected what you do as a band?
Covid had us cancel about a year's worth of shows. But it helped us realize what opportunities we had at home to record demos and craft our new music that is to come.
6. What's your take on the current state of Metal?
We love how much metal music is out there and available for listening, but we find it very challenging to produce the right material at the right time on such a VAST platform. The metal scene on the other hand, has been an absolute trip. We have been so welcomed and embraced by the metal community in terms of shows, venues, and loving people in Kansas. Especially in the Wichita area.
7. What's the current music scene like locally there in Kansas?
Unbelievable. We, as stated before, have been so embraced and supported by the local bands, fans, promoters, and those alike.
8. What's your take on the royalties that streaming services pay out to artists?
Streaming services are so convenient. But the companies and platforms that offer them get so much more profit and credit for the music, heart, and soul of those who make the art. It has become the biggest corroding thread in music worldwide and its livelihood and profit.
9. What's next for Imajjjin?
We have been spending a lot of time writing and crafting our sound for our next record, which will be a full-length album. It will be our first full length album and will showcase a more old-school thrashy and diverse sound. We aim to make a concept album based on a planet that we are abusing and our hypothetical and fictional escape from it.
10. Any shoutouts?
Danielle Barlow at Dark Raven Productions.
Jared Vaughn at Dark Abyss Studio.
Michelle Tessaro at Michelle's Lens Photography.
Matt Bauler and ICT Live.
Justin Brown with Barleycorn's, The Shamrock, and Browntown Productions.
Our previous band members Matthew Meals, and Patrick Gambil.
Dotty Turner from Memories by Dotty, Metal Devastation Radio, and Mayhem Music Network.
Brian Chambers from The Legendary Boobie Trap.
Some of our favorite local bands to share the stage with as well! Sarkoptic, Bleed the Victim, Odds Against, Diabolical Orange Monkey, Hallow Point, Sinfool, Dreams in Peril, Into Existence, Fractvred, Suffocate the Skies, Ionos, John Woodson's Leg, and Eleven After.
Some of our influences as well, Pantera, Kiss, Slayer, Lamb of God, Pink Floyd, Trivium, Metallica, Megadeth, Fit for an Autopsy, Demon Hunter, Decapitated, Alice in Chains, Sylosis, As Blood Runs Black, and Death.
Of course, our families, friends, local and national support!