Sidewinder talks about their signature sound, the New Zealand music scene and much more.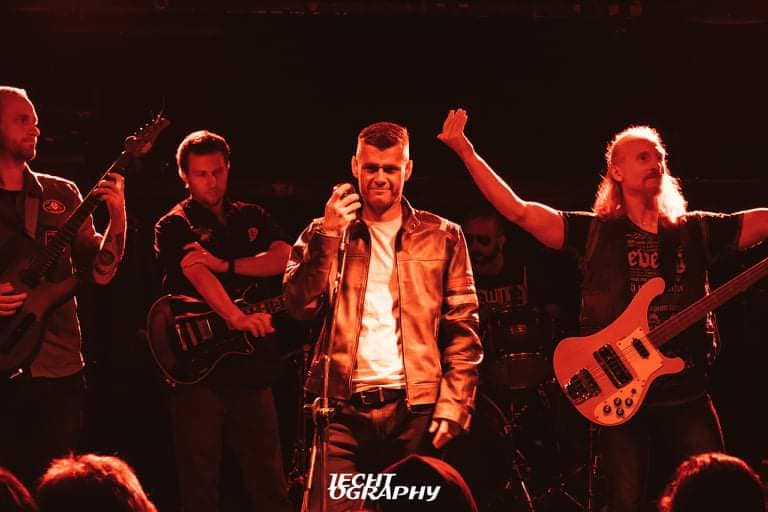 www.facebook.com/sidewinderbandnz
From: New Zealand
Sounds like: Rock
1. How did you get started with music and how did you develop your sound? Who thought of the name "Sidewinder" and is there any meaning behind it?
Ben and Tom, the two guitarists, used to flat together and started jamming with Corey, the original drummer who they knew through work. They advertised for a singer and Jason contacted them soon thereafter. Lastly Sean the bass player tracked them down and insisted on joining! The band did it's first show after just 6 weeks of forming and had a huge reception from the crowd. Early 2021 the band went into the studio to record the first four songs and went on a nationwide tour to promote their first single 'Sirens'. Shortly after the tour Corey decided to leave the band due to business commitments and Grant Lister took his place on the drums.
The name of the band was Ben's idea. A Sidewinder is a North American species of rattlesnake, as well as the nickname of the AIM9 heat seeking missile! The band felt it was evocative of the kind of edgy, bluesy, southern flavoured desert rock we play.
2. What do you want people to take away from your music?
A lot of our music tells a story. 'Ishi' is about a native American man who is the last survivor of his tribe. 'Badlands' is about a New Zealand soldier landing on the beach at Gallipoli in World War One. Other songs people can probably figure out for themselves! Hopefully people can see something of themselves in the music and it can give them what they need in their own lives.
3. How would you describe your sound to the average listener?
We go with 'a mash up of bluesy desert rock and southern rock with a grungy aftertaste'!
4. Who are three bands you'd like to tour with?
Musically we would be a great fit for a band like 'Hell Camino': a great bourbon-soaked slab of well-cooked southern rock! I think a band like 'King's X' would also be a great pick with their mix of groove and melody. On a personal level we would love to hit the road with fellow Wellingtonians 'Beastwars' – a cool bunch of guys, it would be a fun tour behind the scenes!
5. How has Covid affected what you do as a band?
Thankfully we have dodged most of the negative effects. The band formed after the nationwide lockdown here in NZ and since then we have mainly had to deal with various levels of restrictions on crowd sizes, vaccine passports and suchlike. They have been more an irritation than a hinderance – we have just pressed on with our release and performing schedule.
6. What's your take on the current state of Rock?
Worldwide rock is still one of the most popular music forms across many age groups. We see articles, reviews, blogs, playlists and so forth around the globe picking up on us and that's very encouraging.
7. What's the current music scene like locally there in New Zealand?
It has never been great and over the last two years has deteriorated. There are plenty of fantastic bands in NZ – the problem is the lack of places to play (not helped by all the Covid restrictions putting some out of business) and the general apathy much of the population has for the local music scene.
Added to this the music scene is dominated by a few 'gatekeepers' who have a very narrow definition of what 'real' Kiwi music is supposed to be – so if you don't play that (a kind of watered down, sugary, summertime barbeque reggae) they don't want to know. Rock and metal in particular get ignored in a highly targeted fashion! A melodic, groove-oriented rock band like ours has some radio potential so we have that going for us: one has to feel for the straight metal type bands though as they really up against it.
8. What's your take on the royalties that streaming services pay out to artists?
It is what it is. Music is your calling card these days, not your income source. Income comes from people developing an affinity with your band so that they pay directly for your album, LP, merch, concert ticket and so forth. Everyone knows the streamers pay next to nothing to artists, at the same time they enable artists to release to the whole world without winning over the A&R department of some big record label – so it is a two-edged sword. We all just need to make the most of the world as it is.
9. What's next for Sidewinder?
As I write this, we are 4 days away from the release of the 'Vines' album and the first date of the promotional tour in Hamilton. We have promotional videos in production as well. Once this tour is over, we already have studio time booked to start album number two! We have been writing material and have left overs form 'Vines' to dig into as well. It is all sounding brilliant already so we look forward to putting these on stage very soon.
10. Any shoutouts?
Our families and partners for their love, support and patience! James Goldsmith for recording and mixing. Mike Gibson and Will Borza for mastering the digital and CD/LP releases respectively. Carwyn Henigan of KAOS 88 FM and Lisa Jones at music.net.nz who have always supported us. Ben at Valhalla – the best rock venue in Wellington. The crew at Lovelands – the best underground venue in the country. All the brilliant bands we have shared a stage with. From The Depths for believing in us. Most of all the fans who have made it all worthwhile.