Obselite talks about the unique Industrial Metal sound, the Michigan music scene and much more.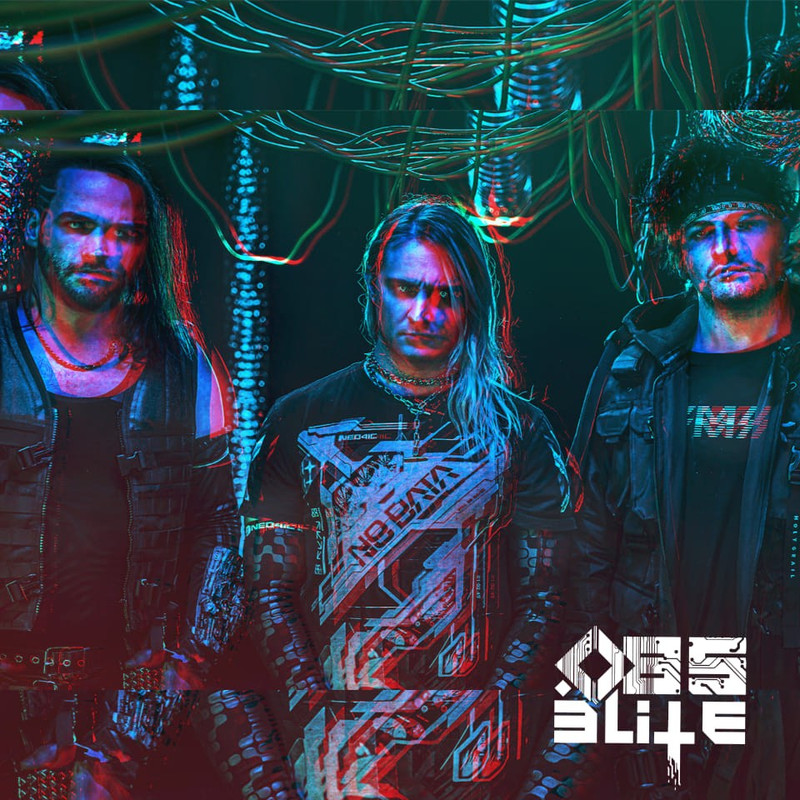 www.facebook.com/obs3lite
From: Michigan
Sounds like: Industrial Metal
1. How did you get started with music and how did you develop your sound? Who thought of the name "Obselite" and is there any meaning behind it?
Justin (me), Ryan, and Kiel, have all been involved in the music industry in one way or another, individually. Justin was in a touring Thrash Metal band called Euphoria for five years. Ryan and Kiel have both been in bands, and made electronic music/DJ. Justin also works stage hand for metal festivals 70k tons of Metal and does various jobs for Full Terror Assault. As far as the name goes, we were running through a bunch of ideas of names that were sci fi or cyberpunk related. One day we were talking about Fear Factory's album "Obsolete", and Kiel was like "how about ObsELITE? and we all looked at each other and were like "yeah thats the one".
2. What do you want people to take away from your music?
We make Cyberpunk themed Industrial Metal. We want people to listen to our music and feel like they are in an underground nightclub in the year 2077 in a world ruled by high tech megacorporations. hahaha!
3. How would you describe your sound to the average listener?
The way I describe our music to people is that we are like Fear factory, Ministry, Static X, mixed in with KMFDM, and hints of Death and Thrash Metal.
4. Who are three bands you'd like to tour with?
3teeth, Ministry, and Combichrist.
5. How has Covid affected what you do as a band?
So my old band (Justin) Euphoria, we broke up not too long after our first European tour and and a little after our second full length album dropped, which was right before Covid happened. I was pretty devastated because we were really starting to gain quite the following, especially overseas. So I honestly wanted to start making Industrial music more so than doing Thrash Metal and so I expressed that to my close friends (Ryan and Kiel) and we all just jumped in on this project and made something great come out of it.
6. What's your take on the current state of Industrial Metal?
I feel like in a way it's starting to come back. A lot of bands are starting to add Industrial elements to their music whether it's Industrial metal or Industrial Electro Pop. There's a few groups that do Industrial Electro Punk. It's pretty cool. It's a genre that with using electronics can open a lot of unopened doors in terms of creating a new sound or exploring different ways of how to do things. I think ObsElite is doing Industrial Metal in a unique way that can be branded as our own style. Our new debut album has been out for two months, along with our video, and its been highly praised by reviewers and people that enjoy what we do. I'm excited to see what comes of it in the near future.
7. What's the current music scene like locally there in Michigan?
There's a serious lack of Industrial music in Detroit. We have Goth clubs but not so much as a live Industrial scene. As far as Metal and Electronic music go, there's no shortage of great artists. I've been in the Metal scene for 12 years now and it's flourishing really well with bands like Perversion, Manic Outburst, SNAFU, Black Dahlia Murder, Battlecross, Nethergate, Carnis Immortalis, and many more.
8. What's your take on the royalties that streaming services pay out to artists?
I think streaming services kinda scam everyone out of their money unless you are a top star. I guess that's the way it goes in the modern climate of the music industry and there isn't much anyone can do about it and THEY KNOW THAT. I don't agree with it but that's the way it is.
9. What's next for Obselite?
We are doing more music videos this year inclduing a live one that will be shot during our debut show at a cyberpunk event I'm hosting in downtown Detroit. We should draw around 400+ people which will be great. We have a tour that's TBA for later this year. We are shopping around for a good label to back us. We hope to build a community around our music and visual representation that we put a lot of creativity into.
10. Any shoutouts?
Our sound engineer Adam Shepard, Kyle Wagner of Nethergate, Phillibus Sativa of Full Terror Assault. Shoutout to Don from Magoo's in Chicago. Our artist Brian Thuringer, KINGQUARTZ in Pittsburgh, and to all of our fans, friends, and supporters.