Scars of Atrophy talks about how they've dealt with the pandemic, upcoming plans and much more.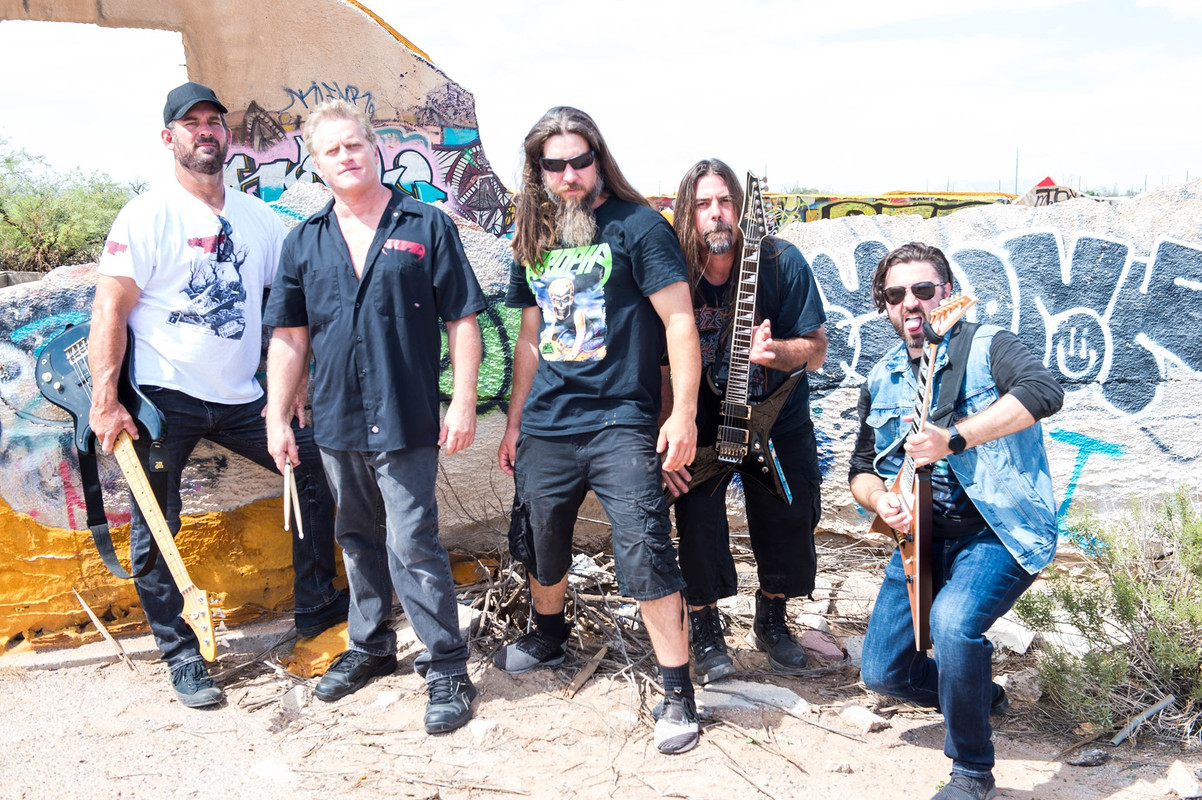 www.facebook.com/scarsofatrophy
From: Arizona
Sounds like: Thrash Metal
1. How did you get started with music and how did you develop your sound? Who thought of the name "Scars of Atrophy" and is there any meaning behind it?
I am pretty sure everyone in the band has been playing music for the majority of their life. Personally, I started with piano when I was 4, which I believe gave me a nice base to start from regarding music. We have all played in different bands and every one of those bands had an aggressive edge to it. I also think fate plays a role in our band as well, helping to bring us like minded folk together. When the core of us decided to move forward with this project, we agreed the music would be fast and heavy with catchy choruses.
Tim kelly (drummer), originally thought of the name, Scars of Atrophy. When covid brought Atrophy home from our European tour early, we had a serious momentum building. We started writing the third Atrophy album and Brian (singer) quit the band. He felt it had reached its peak. Tim (original Atrophy drummer) was not ready to hang it up and neither were Bob or myself. We wanted to finish writing our new album and keep playing shows, as well as playing all of the Atrophy songs that Tim helped create. Tim came up with Scars of Atrophy. This would allow us to play the old catalog of Atrophy songs as well as the new Scars of Atrophy songs, that had just been written. To be respectful to the original members in Atrophy, we were now Scars of Atrophy.
2. What do you want people to take away from your music?
We want music people can bang their head to, sing along with, mosh to, whatever it takes to be a part of celebrating the song together. Our lyrics talk about issues in life but are open to interpretation. If the listener can identify to what we have to say in our music, that's a huge payoff.
3. How would you describe your sound to the average listener?
We come right out of the gate swinging. We are brutally aggressive and we will rip your face off with Tim's thunderous drumming, mike's mosh inducing vocals, and the ferocious chords from our blistering guitar duo. Oh yeah, you will be singing along the whole time.
4. Who are three bands you'd like to tour with?
So many great bands out there. I think we would all love to tour with Lamb of God, Judas Priest or Iron Maiden and Testament, to name just a tiny few.
5. How has Covid affected what you do as a band?
Covid has been terrible. It affected our European tour when we were Atrophy. We had 21 shows and only played 5 before we were forced to come home. It slowed down a lot of our processes because of how unpredictable all phases of life were. We are tearing it up now with an even more aggressive approach. We are excited.
6. What's your take on the current state of Thrash Metal?
I was definitely around in the heart of Old School thrash. Arizona put out Flotsam, Sacred Reich and Atrophy. I was and am a huge fan of old school, which is definitely reflected in our music. There is a lot of incredible new music coming out. Tons of talent and heavy riffs. Knocked Loose, Parkway Drive, Paleface to name a few.
7. What's the current music scene like locally there in Arizona?
Both Tucson and Phoenix have some fantastic metal bands from many different genres. The death and black metal coming out of Az is phenomenal. Swarm of Serpents, He Who Binds Himself are two awesome death metal bands that should not be ignored. The scene is healthy and growing. A bit more support from the general public could help create new and better venues. Hopefully, crowds will grow as covid numbers fall.
8. What's your take on the royalties that streaming services pay out to artists?
I think the royalties are silly. Why even insult the musician any more than they are? No doubt things have changed. Making money off of music sales for the growing artist seems like a thing of the past. Its too bad because I loved buying albums and cds for the artwork and the goodies inside. There needs to be a better way that is more fair to the artist. Actually, the general outlook of musicians and artists overall needs an overhaul.
9. What's next for Scars of Atrophy?
We are literally days away from releasing our e.p., Smokescreen. We also will be releasing a new video. The artwork for the e.p. is awesome and I am excited for everyone to see it. We are playing the Dimestock Festival in Wisconsin in Aug., opening up for Exhorder and a scattering of shows around the Southwest. We will also be releasing a new album, which is written and possibly playing a few festivals overseas.
10. Any shoutouts?
Shoutouts to Mike and FTD Entertainment. I appreciate what you guys do and the relationships you create. Thanks for keeping Metal alive and moving. You guys are truly the backbone. Lets grow this thing!!!!