Cosmic Halitosis talks about their sound development, dealing with the pandemic and much more.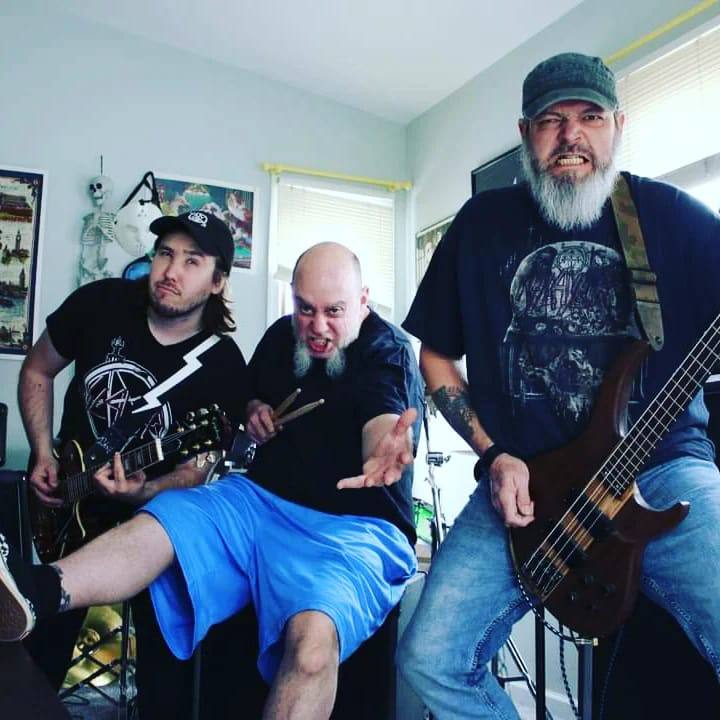 www.facebook.com/ROCKFROMURANUS
Sounds like: Punk/Rock
From: Maryland
1. How did you get started with music and how did you develop your sound? Who thought of the name "Cosmic Halitosis" and is there any meaning behind it?
I knew I wanted to play in a band thanks to Rancid 2000 and Rocket to Russia. Those were the two albums that sealed the deal for me and made me feel like I could do it too. My first band was the Ingrates with my best friends when we were 13. At the time I was the lead vocalist but slowly also started teaching myself to play drums, bass and guitar on the side. When I was 19 after multiple projects had fallen to the wayside, I felt confident enough to take on guitar duties and knew enough chords to start writing my own music to the lyrics I was writing. Thus, the beginning of Cosmic Halitosis. I had no real aspirations for the project, I just felt like I wanted to record some ideas on my 8 track. The name came from waking up one morning, probably after a night of debauchery and I went to brush my teeth. I let out a big breath and the smell that returned was repulsive. I stated, wow "THAT IS SOME COSMIC HALITOSIS". The rest is history...
2. What do you want people to take away from your music?
I want people to not have to think super hard about the music they're hearing. I think rock 'n' roll should be fun and you shouldn't have to spend the whole set trying to figure out if you "get it". I think great art should make an impact but also not be taken so seriously. At the same time, I like to write lyrics that can also be relatable. We're all going through the human experience together and music can be a way to connect the experiences we share, whether they're good or bad.
3. How would you describe your sound to the average listener?
It's music made by a diehard punk rocker that also loves metal, classic 70's rock and indie rock. I don't think rock 'n' roll has to have boundaries. I just write what I want to hear.
4. Who are three bands you'd like to tour with?
My favorite modern bands are Wavves, Bleached and King Tuff. I have been following their music for the last ten years and I think they are doing a great job carrying the rock 'n' roll torch. There's always great rock 'n' roll being made, you just need to know where to look.
5. How has Covid affected what you do?
Well, between 2020-2021 about ten years worth of stuff happened in about 18 months. I was really struggling with mental health, I decided to get sober and I found out me and my wife were going to have our second child. I had started working on our second full length in 2019 and COVID just stopped the recording dead in its tracks. At the time, the current line up was starting to fizzle out. It took everything I had to go and finish up the record and I had basically decided that would be the swan song for Cosmic. I planned to release it and call it a day. Last Summer, I started playing music and started a new friendship with our current drummer Kenny. He really motivated me to not let it die. I give him all the credit for Cosmic even existing right now. He brought his good friend Jake in to finish up the line up and we've been having an absolute blast.
6. What's your take on the current state of Punk?
The thing about punk is, as long as there's horrible stuff happening in the world, every new generation that's growing up is going to rebel against it. It was happening long before the Ramones first album and it will probably always be happening. I doubt there will be another musical revolution like the first Ramones album or Nevermind, but there's always gonna be angry kids that have something to say. But hey you never know, I just saw Amyl and the Sniffers last week and that was one of the best shows I've ever seen.
7. What's the current music scene like locally there in Maryland?
Well growing up in Frederick has been interesting because it's not quite as big as say Philly or DC but there's always something going on. The venues have come and gone but there has always been some local punk house to play. 10 years ago me and my sibling ran the Rat's Nest and now there is another local house called the Rat Hole. Plus we're so close to so many big cities, it makes it easy to connect with other bands.
8. What's your take on the royalties that streaming services pay out to artists?
Well that's not an easy thing to answer because you have to ask yourself, what do you want out of this? We live in a unique time where any body can record their own music and release it for the world to hear. The challenge is that literally ANYBODY can do that, so you have thousands of people doing the same thing you are. Sure I'd love to make more money off people streaming my music, but my goal is just for people to hear my music. I end up basically paying to do that. Which is fine. I don't have the intent to be some big rock star. I'm 30, I have two kids. I'm happy with my life, I just want people to know I have something to say.
9. What's next for Cosmic Halitosis?
Honestly Cosmic was never intended to be my main project. When the band I played drums for broke up, I had nothing going on so I decided to record a full length Cosmic album. My biggest goal was to get someone to release it. Thanks to my dear friends at What's For Breakfast Records, that happened! Honestly beyond that, whatever happens, happens. We've gotten some great opportunities, I'd never think I'd get to open for the Adicts. I absolutely love this new version of Cosmic with Kenny and Jake. They have become my best friends and we are just having an absolute blast. I just wanna rock with my best friends and eat some free chicken tenders.
10. Any shoutouts?
Well of course I wanna give a huge shout out to Dan from What's For Breakfast Records. Dan is my rock 'n' roll guru and has the biggest advocate of Cosmic. Of course shout out to Kenny and Jake who motivated me to get this project going again. My wife, my kids!!! Plus Pablo who has been my go-to for recording for the past 7 years and everyone that's every been a part of Cosmic, played with us or come to one of our shows. There's so many of my friends playing great music right now, too many to name! You know who you are.