Odd Atrocity talks about the friendships in bonding them, the Pennsylvania music scene and much more.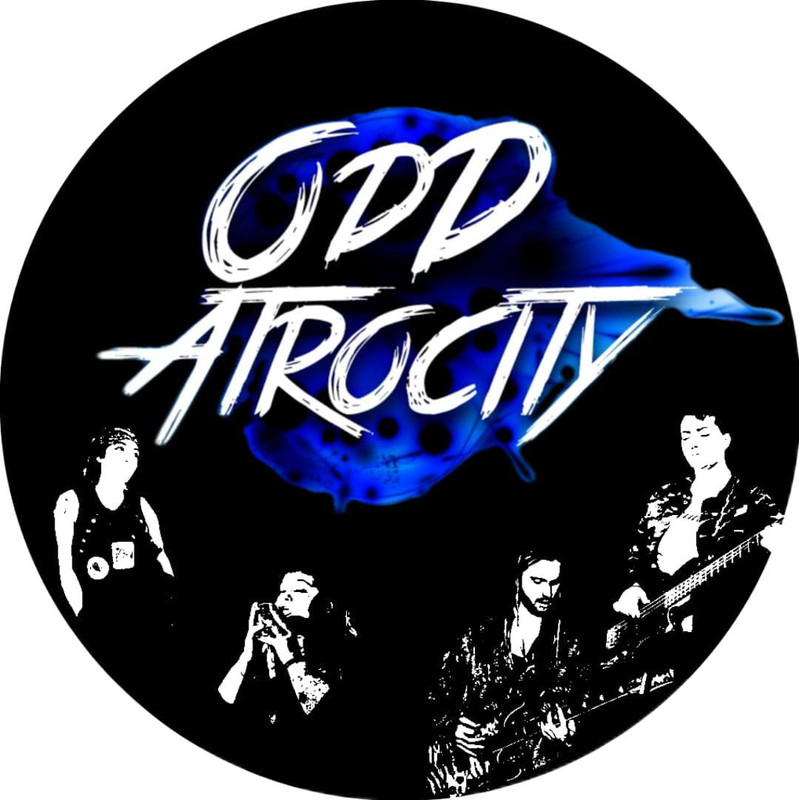 www.facebook.com/oddatrocity
Sounds like: Post Grunge
From: Pennsylvania
1. How did you get started with music and how did you develop your sound? Who thought of the name "Odd Atrocity" and is there any meaning behind it?
All of us are self taught musicians who have been into playing, learning and practicing music since childhood, we all became friends and realized we all wanted the same thing, to create together and be heard! So we started our band, originally named "LUCiD" and changed this year to Odd Atrocity. It was a toss-up of many different names we all voted on until ultimately deciding on this one. The name came from our singer Cypher, and it seemed fitting as we are an odd bunch and often joke about our music in deprecating ways. One song we have is called "Tell Us We Suck" and we love to encourage the crowd to loudly boo at us before we play it.
2. What do you want people to take away from your music?
When people listen to our music we want them to feel seen and understood. Our music is about real world issues like corruption, religion, politics, mental health and substance abuse. Making people feel less alone in their struggles and being able to open up that dialogue and normalize those types of conversations means a lot to us.
3. How would you describe your sound to the average listener?
The sound is pretty unique with each song being able to be categorized differently, it's definitely alternative and intense at times, but also danceable and light hearted at other times.
4. Who are three bands you'd like to tour with?
Violent Soho, Queens of the Stone Age, and Bush.
5. How has Covid affected what you do?
We are all best friends and live closely so during quarantine we were able to keep creating and practicing, when things slowly started to open back up it definitely changed how shows were being done but thankfully we were able to have safe shows. We remember one specifically where there was caution tape around the stage so no one could get too close and they had circles painted in the grass for people to stand in and dance around without being close to each other and I think its pretty cool that people came up with creative ways to still enjoy live music.
6. What's your take on the current state of Post Grunge?
Post grunge and all forms of grunge really are great and give me nostalgia from the late 90s. Grunge can be done in so many ways, melodic and deep to powerful and intense.
7. What's the current music scene like locally there in Pennsylvania?
I think the music scene here is really starting to thrive lately. There are countless bands playing gigs every weekend and Erie is really a pool of insane talent, there are a lot of younger musicians stepping out and forming bands that just absolutley kick ass.
8. What's your take on the royalties that streaming services pay out to artists?
Honestly streaming services are scamming artists and it really sucks because its the most popular way to consume music these days. They can definitely get you heard but unless you're getting millions of streams there really isn't much money in it.
9. What's next for Odd Atrocity?
We are continuing playing shows and festivals and recording, we have new music to be released soon and we are very excited about everything the future holds for us.
10. Any shoutouts?
A huge shout out to our producer Brian Gloskey, he is nothing short of an absolute gem of a human being. Recording with him is always a huge pleasure and a great time and he is one of our most favorite people. Also a shout out to some promoters and organizers whom we adore, Dread Metal Productions, Bob Jensen the owner of local venue Basement Transmissions, any show we have booked with them has always been fun and unique and they are such a pleasure to work with. Local bar Philly on the Rock's, PACA, Lavery's Brewing Co, all great hosts for a memorable experience performing. Our manager Marley who takes care of the daunting tasks and helps in so many ways behind the scenes. Lastly, all of our friends and supporters who show up to shows, who interact and support us online, without them we would not be doing any of this.