Zion Code talks about their new album, upcoming plans and much more.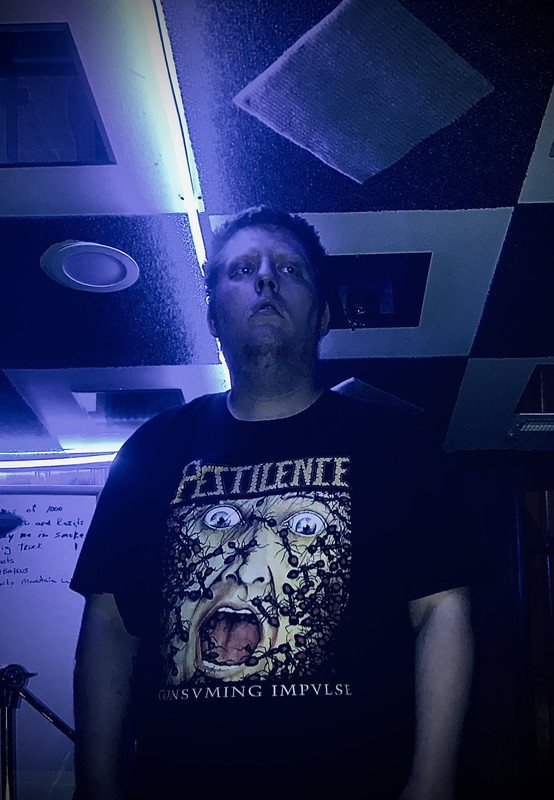 www.facebook.com/wearezioncode
From: Ohio
Sounds like: Metal
1. What's new with Zion Code?
Well, at the moment Zion Code is now a solo project. I've been releasing solo music for a while under the moniker A Karmic Gray but this has both for good and bad become a solo thing as well. I'm currently processing the death of my former drummer who happens to be my cousin from a band I spent about a year in in High School. I recently relocated back to my hometown of Newark, Ohio and aside from writing and continuing to put out music, I'm working a 9-5 job and producing a blues rock album for a guy that is friends with my uncle. I've been very fortunate to bounce back from some unfortunate events and I'm doing better than ever. I recently compiled and published the lyrics and proper accreditations for "Saviour" , "The Vibrance" as well as the upcoming album "Judas".
2. What do you want to achieve with the new album?
So the last album "Saviour" to me was a great record. Even though me and my former bandmate (vocalist) Brandon Ball are no longer on speaking terms after our 17 year friendship sort of imploded (for reasons that I wish to have remain private) I am very proud of him and the work he did as a solo artist as well as with me. With this record I wanted to veer away from religious topics and focus more on topics that seem to be either internal with my own growth, anger, as well as sociopolitical and maybe questioning the Judeo-Christian religion I was brought up in. I was very fortunate to have Joe Nurre (former Nevermore and Jeff Loomis touring guitarist, as well as Shaded Enmity mainman) provide lead guest vocals as well as lyrics to the album closer "Lost and Coming Down." Joe has a very unique personality and beautiful soul. He also happens to be one of the guys that influenced me as a lyricist in recent years. So that's been cool! I started recording the music not even a week after the release of "Saviour" and what is now "Iscariot" with different vocals. Brandon Ball had knocked a 10-minute track in the park and I released then I wanted this album to be very progressive structurally. Think like Machine Head's "The Blackening" There are more challenging guitar parts and a solo too.
3. What's the concept behind the cover art for the new album?
I wanted a certain style of art with Judas of the bible being referenced. Akeldama or "The Field of Blood" was where Judas Iscariot took his own life after betraying Jesus and I thought it made sense to reference betrayal and suicide in the cover.
4. Any thoughts regarding performing live?
I would have to really be impressed with a drummer and because I'm kind of a control freak, the members would have to be cool with playing the music I wrote. Aside from Brandon Ball who was my partner in music for nearly two decades (and he mainly focused on lyrics and keys) I was the sole music writer. Playing live is still possible but it would require backing tracks and streaming from home.
5. How does the writing process go with Zion Code?
I just write the music. I start with the guitars and then move into drum composition. Once drums are composed and midi is correctly timed I then begin writing lyrics and vocals are always last. I have been known to freestyle lyrics before like a rapper but with this record everything for the most part vocally was written first.
6. Any thoughts on recruiting more members?
At the moment no. I think I'm very content with Zion Code being a solo thing. If Brandon Ball and I were to somehow speak again or reconcile. I would give him his old position back. But uh, it doesn't need to be altered when I do everything myself anyhow.
7. What's your favorite tracks off the new album?
"Christcunt" is one of my favorites because of the lyrics and vocal patterns as well as structure. In my 17 years of playing guitar it's easily the most difficult song to play. Next would have to be "Lost and Coming Down\" with Joe, the shortest we've done and it's just amazing. The music was composed by my friend Raven Moon from Singapore (she is a singer) and she helped me to condense the song. So I want to give Raven credit for that. And then obviously Joe Nurre penned lyrics to it. I also love the intro instrumental to the record which was composed for fun initially and later would resurface. I like "Darkness In Denial" too.
8. What are you currently listening to?
New Decapitated record "Cancer Culture '' is straight up god-tier. Ibaraki (which is Matt Heafy of Trivium's solo project). My friend in California's solo metal band The Large Father who have an EP called "The Reckoning'', and Demonstealer who is a solo artist as well out of India (Sahil is a death metal genius) Also Sean Z of Death and Sinaseanum has a new band called Vented and their debut single is fire. Other stuff would be new Caliban record "Dystopia" and anything from Shaded Enmity. Also I listen to a guitarist from Singapore named Amyr Abadawn, He's great!
9. Why should people check out Zion Code?
Well Zion Code is very unique in some ways. We have elements from Prog metal, metalcore, power metal, death metal, thrash metal, and black metal. I would say it's a good blend of things and we try to deliver quality on the budget I have as a self produced kind of thing.
10. Any shoutouts?
Yes, first I want to shout out to Joe Nurre, thank you my friend for appearing on the record.Ross Rubin for over a decade of metal talks and love! I want to shout out my young musician friends Angelo and Tori, musician friend Raven Moon, Amber from TX (she's been my best friend for 3 years). I want to shout out The Large Father, my former bassist and good friend Tiara Hannan, my photographer Kristin Hinkle, Dustin Ditter (phenomenal trap and electronic music producer). Shoutout to Amyr Abadawn who is also a wonderful man and good friend of mine. My uncle Michael, who is the only reason I'm not currently homeless. Massive thanks to my internet pal Hailey Kay (she always listens to any and every song I send her). Shoutout to my good friend in Canada Midnight Crow. My friend in Jersey from the band Lord of Horns. And Willy from the Garden of Bones project. Also a shoutout to my sister and my brother in law overseas who are making me a first time uncle. And special thanks to Dave Smith, my cousin for every bit of support. This record will now be dedicated to Jon Wilson (RIP) my beautiful friend.