The Adverse Effect talks about their sound development, upcoming plans and much more.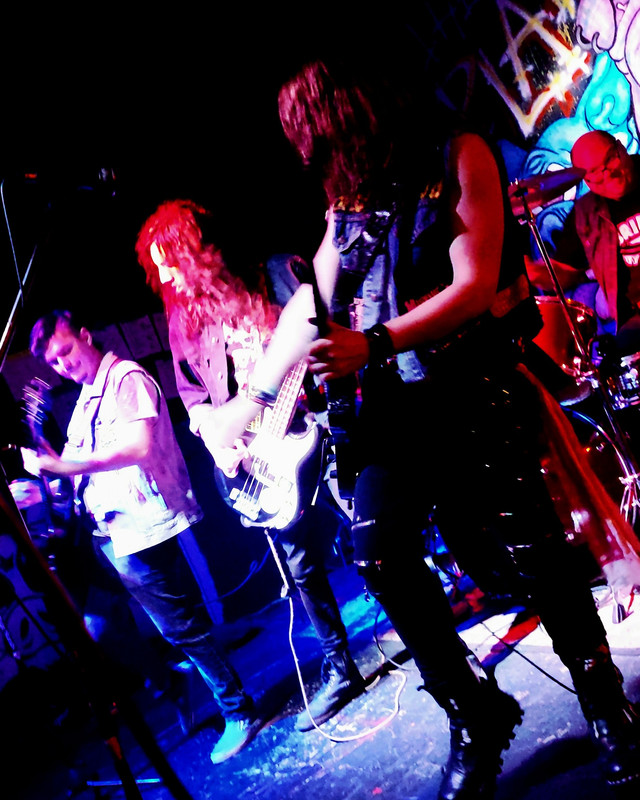 www.facebook.com/TheUpDownEffect
Sounds like: Rock/Punk
From: Washington
1. How did you get started with music and how did you develop your sound? Who thought of the name "The Adverse Effect" and is there any meaning behind it?
The Adverse Effect began officially as a band in the winter of 2018 as just a duo act, with R!ot (Ryan Krueger) and Doc (Bryan Dietrich) performing on guitars and violin to small clubs/bars in Seattle and the surrounding areas, eventually their tenacity to perform without a full band paid off, and were able to find musicians who were excited to become a part of the Adverse family! The band's sound has been in a constant state of development, starting as almost an Alternative Rock to Punk format in the beginning, to an edgier and harder drive element relative to a Hard Rock, Melodic Metal and Grunge sound to better represent our creative inspirations in music!
The name "The Adverse Effect" was a name that 'Doc' (Bryan Dietrich) had been envisioning since before he had a project to put it to. According to Webster's online dictionary, an "Adverse Effect" is an action or thing that acts against, or in a contrary direction than was originally desired, hence the reasoning behind our logo, a symbol of arrows pointing in opposite directions! Very often in everyday life, everyone deals with adverse effects, reactions and perceptions in everything that we as individuals do, say, and act upon. As musicians we find that as an extremely relatable and deep well to draw from for our art!
2. What do you want people to take away from your music?
Our music is very derivative of what we see and feel in our daily lives. Some songs may be very light and comical to the point of satire, while other songs may deal with darker and more serious subjects such as loss, heartbreak and resentment. Most of the underlying messages in our music is related to having the strength to cope and overcome hardships, as well as highlighting the things that make life worth living, and making a grand party of it!
3. How would you describe your sound to the average listener?
Similar sound to bands such as Metallica and Megadeth, while also occasionally sounding like My Chemical Romance, Greenday, Rise Against and Three Days Grace.
4. Who are three bands you'd like to tour with?
Rise Against, Breaking Benjamin, Sum 41.
5. How has Covid affected what you do?
Covid was a huge hit to our live performance schedule, as we had a full season full of shows to generate a following with our most recent lineup. We found other ways to safely perform via LiveStream Shows and sneak peeks into our rehearsals through our social media.
6. What's your take on the current state of Hard Rock?
We feel that Hard Rock is far from seeing it's last days as a relevant and exciting genre that excites and draws the masses together! It is true that Hard Rock is, and has been, constantly evolving into a more diversified sound more and more over the last several decades, but we are always inspired and encouraged by the new ways Hard Rock music has shown its inspiration through the generations!
7. What's the current music scene like locally there in Washington?
The music scene in our part of Washington State is very alive in almost every genre, from heavy death metal to indy folk artists to 80's synthwave to gothic punk, you can find it all in WA! The thing that has been inspiring us as of late amongst the local scene has been the showing the comradery of artists and bands by working together rather than competing for their fans' attention. The effects of Covid are still visible from the turnouts at local venues, which we are all trying to safely remedy! There are tons of hard working and passionate artists that we have had the ultimate pleasure working with so far along our path and we wouldn't trade them for the world.
8. What's your take on the royalties that streaming services pay out to artists?
In general, it is always nice to be properly compensated and adequately recognized for the hard work put into the music. For already established and thriving bands with massive fanbases, the royalties from streaming services is a next level income. For local bands just beginning their careers, they can become daunting and almost insurmountable. The "New Age of Media Platform" that has been debated amongst the music scene is no longer a "New" concept. It's here, it's now, and the only way to come out of it better off than when you began is by the tenacity and willingness to do the hard work of marketing and promoting yourselves so that you can be heard on a grand scale. We believe that with the help of "From The Depths Entertainment", our interactive fan base and our desire and ability to think outside the box, that eventually the royalties from streaming services may be a huge help in adding to the band's future financial opportunities.
9. What's next for The Adverse Effect?
We plan to record several of our new songs as singles, to be later wrapped together as a representation of the diverse range of the sound we are able to do. We also fully intend to be releasing multiple lyric videos and possibly music videos within a years time as content to be shared on all our social media platforms.
10. Any shoutouts?
No Buffer - Seattle
Twizted Images Cinematography
BandWars TV Show (we are featured in it! Soon to be released on Amazon Prime!)
LyonPride Music
Hemp Films
I-90 Fiasco - Seattle
Cryptamnesia - Seattle
Souls Worn Thin - Seattle
VooDoo Death Gun - Seattle
DeadBeat Blackout - Olympia
Kira Michele - Seattle
Set In Stone - Portland
And of course our Fans/Friends/Family! If you're one of these, then you are all of these in our opinion. We derive all our enjoyment from performing our art because of YOU!