Anti-Body Division talks about their formation, the current Metal scene and much more.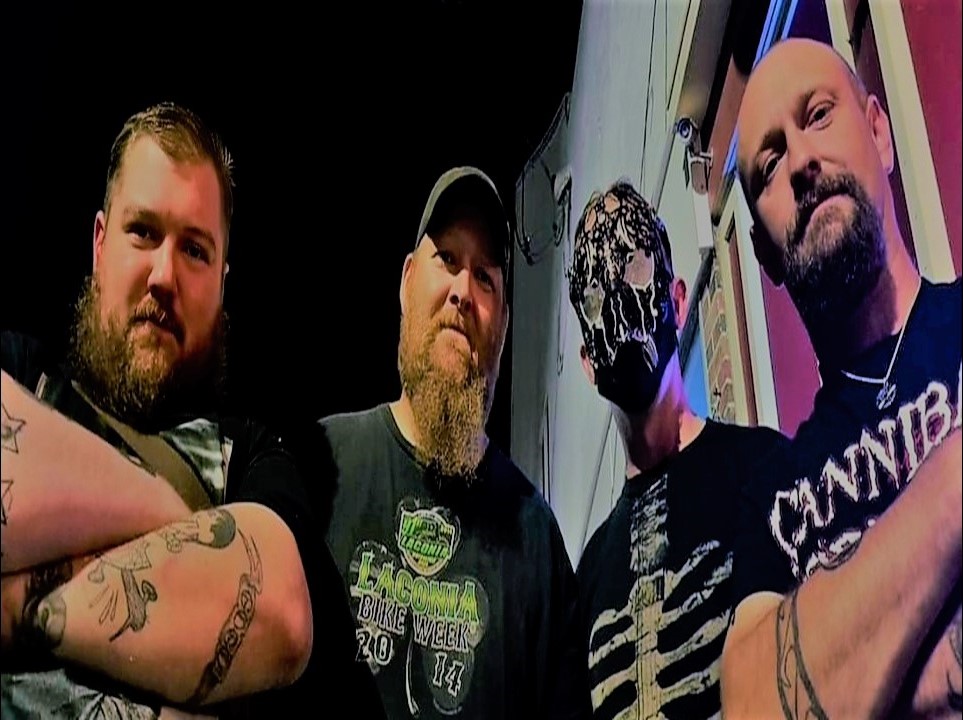 www.facebook.com/ABDivision
Sounds like: Metal
From: Connecticut
1. How did you get started with music and how did you develop your sound? Who thought of the name "Anti-Body Division" and is there any meaning behind it?
The band's origin dates to 2000 era as it was a combined project, formed by both Lucas (Rhythm Guitar) and Joshua Burt (Vocals) as The Anti-Body Division. Eventually Jay (Drums) would come into the fold and establish a more powerful sound for us. Highly influenced by strong melodic types such as In flames, Machine Head, Boy hits Car and KSE. Life gets harder as you age, and the group disbanded. But years later, the tragic death of our brother and good friend Joshua Burt, re-kindled the drive of both Lucas and Jay. Re-forming and re-grouping the long past band idea of Anti-Body Division. Ronnie (Bass) and Steve (Vocals) joined up and the band became whole. Bringing back some old tracks to lay foundation got the band rolling and as we progressed in the honor of our brother, something spectacular happened. New ideas, directions and sounds were emerging. Inputs from all members contributing to the fully harnessed sound that is now Anti-Body Division. Within four years, we have released 3 - 4 song demos; all self-titled with changing colorations shows our continued growth.
The name Anti-Body Division was created by our brother, Joshua Burt. He often spoke spiritually and intellectually as his idols did, namely Maynard of Tool. In his artistic mindset, he came up with the name and explained it as such;" Anti-Body means to realize that our physical beings are just shells and what's within is where reality really is. Division refers to the collective of all those that understand this concept and continue to push through trying times of said reality."
2. What do you want people to take away from your music?
We want people to enjoy the music and have a good time. We also want people to pay attention to the things we write and sing about. The band notices things around the world like others obviously do, but we would hope that our listeners would share in the perspective we have towards life itself. Hear the sounds, hear the words and hopefully through the lines one will be able to find transcendence.
3. How would you describe your sound to the average listener?
Best way to describe our sound would be to say that it's an eclectic sound. It can be chaotic, somber, uplifting and/or harmonious. As we've continued to write, the songs have become more and more diverse in our attempts at taking chances. Melodic metal seems to fit best. We often joke and say that every song is its own animal but still part of a whole connection.
4. Who are three bands you'd like to tour with?
We think playing out with the local scene we are familiar with is great. We don't put much thought or energy into the 'what if' scenarios. There are really cool bands around locally we'd love to share the stage with again or for the first time. Sure, who wouldn't be excited for opportunities to play with some heavy hitters, but it's just not a focus for us. Any of our influences would be awesome but playing with some good friends and like-minded bands is best. Bands like; Catalyst, Bullet Proof Backpack, Amitie, New idol, Shape of Rage, Thrashcult.
5. How has Covid affected what you do?
Honestly it gave us time to write and tighten up. Some of our latest stuff has actually come about during that time period. So instead of being inhibited by the pandemic, we saw an opportunity to press on within our garage to hash out our growing sound. We practiced basically the entire time. We played outdoor stuff when that started up. It's good to be back inside and supporting venues/staff again.
6. What's your take on the current state of Metal?
Metal is fine. Seeing tons of younger bands out there starting up. But we also don't really want to compare genres or the state of them. Also, we think it's healthy to listen to everything, don't make any one thing your thing. Don't be one dimensional. It's boring.
7. What's the current music scene like locally there in Connecticut?
There are really cool things brewing in the Connecticut scene right now. There are a ton of bands playing any kind of music you could imagine. It's vibrant and you can get some really neat shows that really are pretty diverse. It's definitely refreshing to see the various diverse types of sounds. Hell, even some of those influence us from time to time.
8. What's your take on the royalties that streaming services pay out to artists?
We really have no opinion on royalties or how artists are paid. We are your average workers in various fields, steel worker, technician, contract painter and heavy-machine operator. Music is something we do for fun. Most of the time we do this for free. Seeking music as a career seems hard to fathom for us right now. It's a question better answered by people pursuing it as a career. Best advice we could give....have a back up / more secure means of sustainability.
9. What's next for Anti-Body Divison?
More writing, more shows, more recording. Getting to hang with the guys is a highlight of the week. As we said, this is a fun thing for us. So, hopefully what's next for us is just a good ol' time together.
10. Any shoutouts?
Shoutouts go to the local folks who are putting on shows and playing them. Obviously, the people who are opening their doors to the band around our local scene. And last but not least, the people that come out supporting local music. Some name drops would be Prost Bier & Music Hall, Fete, 33 Golden, Horsebrook Cafe just to name a few places around Ct. But to add, we'd like to take this opportunity to acknowledge and express our thanks to all those who've personally supported us. Our parents, siblings, wives, children, extended family, close friends and to many of the bands we've shared the stage with. We love you all. And remember...."THE DIVISION IS COMING!!!"