White Tygër talks about their old school influences, upcoming plans and much more.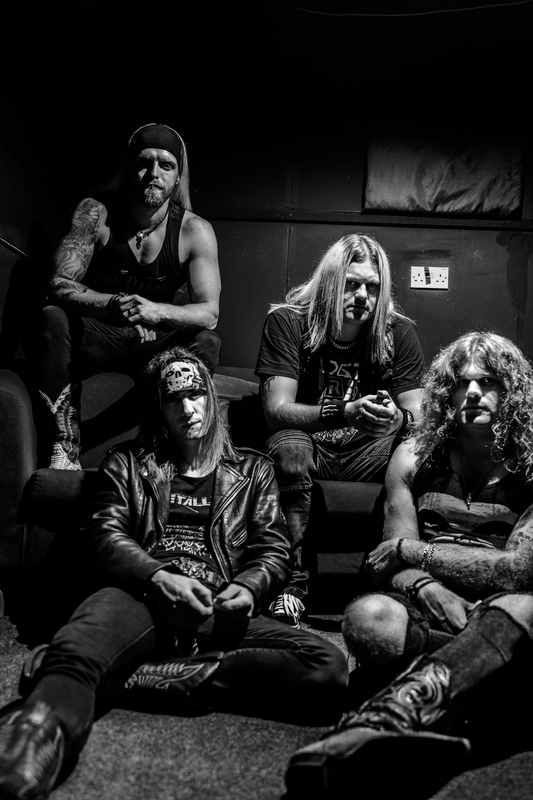 www.facebook.com/whitetygerrock
Sounds like: Rock/Metal
From: United Kingdom
1. How did you get started with music and how did you develop your sound? Who thought of the name "White Tygër" and is there any meaning behind it?
We started out in 2015 playing covers by bands we love such as Guns N Roses, Metallica, AC/DC, Whitesnake and a lot more. We soon realised we had some special chemistry and decided to start working on original material! We went through a few names when we started up and almost decided on Blood Pollution, one of the days on the way to rehearsal we were being nostalgic talking about how popular Power Rangers was when we were kids, we were talking about their names when Nip said there was one called White Tiger and said how it would be a cool name for a band, Chris came up with the idea to change the I to a Y and the rest is history…..
2. What do you want people to take away from your music?
Good times basically, we want people to have fun and enjoy themselves whether they're playing the album or watching us live, life is so serious at the moment and there's not enough fun stuff going on so we're trying to fill that gap I guess!
3. How would you describe your sound to the average listener?
It's very much like our influences which we have loads of so there's a bit for everyone really, it's very 80's sounding, but also with a modern twist too. A lot of people compare us to Skid Row and Guns N Roses a lot but take from it what you will, there's a lot of different style of rock/metal blended in there!
4. Who are three bands you'd like to tour with?
Tough question……these days it's tough to say, obviously any of our heroes so to speak would be a dream come true but let's say Skid Row if we're talking modern times, their new material sounds awesome and they're making a bit of a comeback! Plus as I said we get compared a lot too!
5. How has Covid affected what you do?
It affected us massively a was a big part of delaying our album release, we played whenever we could when restrictions lifted but for a band that were used to playing over 100 gigs a year to doing about 5-6 it was a big change! Playing live is what we love doing most so to have that taken away was quite a blow but now it's all calmed down a lot we're making up for lost time and things seem to be on a steady uphill climb!
6. What's your take on the current state of Rock/Metal?
Personally we think a lot of great bands get 'left out' by the mainstream over here in the UK! Everybody claims to want the good old days of Rock/Metal back but the bands out there with that sound, attitude and vibe seem to get ignored quite a lot in our opinion bar a few. There are some brilliant scenes going on but they remain more underground at the moment which is pretty cool in one way but in the big picture these guys have gotta eat too y'know, so a bit more mainstream success could bring Metal back up to where it used to be 'back in the day' as people say!
7. What's the current music scene like locally there in the UK?
There's certainly worse places but at the same time it could be better. Covid obviously hit venues and bands hard but gigs are starting to fill up again now. It's all a bit hit and miss still but bands seem to doing well, festivals have been packed out of the summer so it's not all bad. It's been great to see it all return after such a troublesome couple of years!
8. What's your take on the royalties that streaming services pay out to artists?
We're only just getting into it all but from what we hear it's not very helpful financially to artists unless they're hugely successful. As much as musicians enjoy their art, it's still a job at the end of the day and I think they deserve fair payment. We are all human, all have bills to pay and food to put on our tables. But it's the way of the world now, I personally believe the whole streaming thing is brilliant for getting bands heard but it's not bringing in the wages that CD's and Vinyls used to for musicians so it's a Catch 22 situation!
9. What's next for White Tygër?
Our goals for the future is to get our album out to as many rock loving people as possible, we want to get some decent tours under our belt and continue working hard at what we love doing! We're already writing for the next album, it's fair to say we're very excited for what's next!
10. Any shoutouts?
Yes, we wanna get a shoutout to anyone who's took the time to buy an album, checked it out on streaming services etc, brought tickets to our shows, bought merch and just supported us in general! You're all amazing and we hope to see you again soon!