Death Assault talks about their Thrash Metal fusion sound, upcoming plans and much more.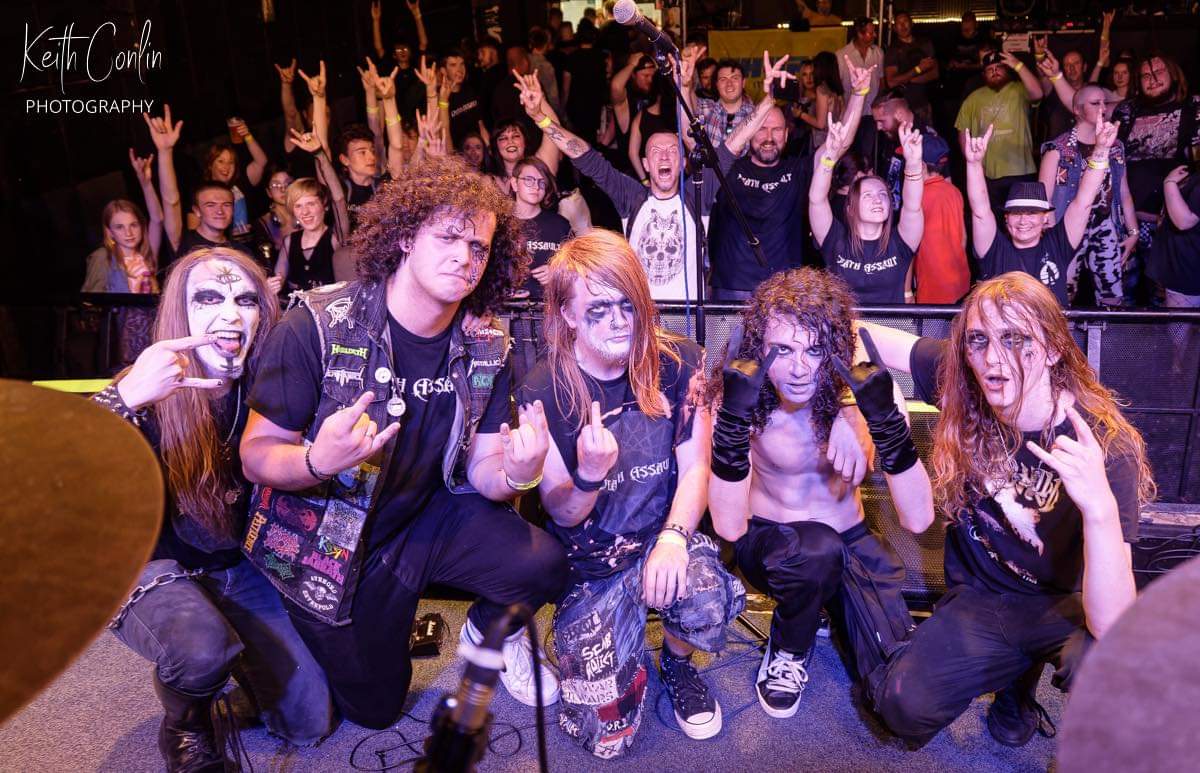 www.facebook.com/deathassaultband
From: United Kingdom
Sounds like: Thrash Metal
1. How did you get started with music and how did you develop your sound? Who thought of the name "Death Assault" and is there any meaning behind it?
Our two guitarists Jake and George met in college via the level 3 music course where they connected through their love of thrash, our bassist wiktor was introduced when him and jake were in another band together and he decided to join the band, our drummer levi was introduced when the spot opened up and he displayed his skills with flying colours and connected with the band deeply and finally we met our singer Darrel through a Facebook group where he sent us over a demo and we were blown away by his talent. Jake thought of the name Death Assault through the love of the metal band Nuclear Assault and picked the word Death through a random name generator, so the name hasn't got any meaning really.
2. What do you want people to take away from your music?
We want our fans to take a different perspective of life and learn that we all need to care and respect each other like brothers and sisters and that each of us are equal as we are all family, also to have fun doing so.
3. How would you describe your sound to the average listener?
Our sound is more of a Thrash metal fusion as each of us bring our love of other genres to develop our unique sound, so our music can appeal to everyone.
4. Who are three bands you'd like to tour with?
We would love to tour with bands such as Lamb Of God, Vader and Pantera as we all take big influences from each group.
5. How has Covid affected what you do?
Covid gave us all the chance to perfect our craft and allow us to come together and gel well, however covid didn't effect us as a band as we started after lockdown.
6. What's your take on the current state of Thrash Metal?
In our opinion the state of thrash is coming back, however still broken so we and many other bands in the scene our here to repair the whole that was left.
7. What's the current music scene like there in the UK?
The current UK metal scene is small, however that allows us all to connect with each other and become one collective group of talented individuals.
8. What's your take on the royalties that streaming services pay out to artists?
We believe that the current pay that artist get through streaming is not enough for the hard work that gets put into developing tracks/albums.
9. What's next for Death Assault?
Currently we are working on our debut EP with a single soon to be released on all streaming platforms, also sometime next year we will begin work on our debut album.
10. Any shoutouts?
We would like to shout out our good friends at Mechanised who are our brothers in arms trying to kickstart the Plymouth thrash metal scene. We would also like to shoutout livewire youth music project and live sound productions for the forever help they provide for the music scene in Plymouth and finally we would like to shoutout our good friend Keith Conlin who shows his masterful skill when taking pictures of our live performances.