Asylum Pyre talks about their Power Metal sound, the French music scene and much more.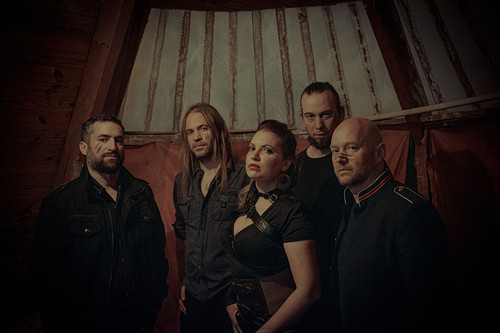 www.facebook.com/asylumpyre
Sounds like: Power Metal
From: France
1. How did you get started with music and how did you develop your sound? Who thought of the name "Asylum Pyre" and is there any meaning behind it?
Just by a series of chances... Someone who win a guitar, a lost cd,... unbelievable encounters at work... really, it was like the universe was sending a message saying : go make music! The sound has started with something in between blind guardian, pain of salvation and nightwish. Step by step we have added new elements. Many new elements. We have tried plenty of stuff in the whole range of music! Really. There are still ways to explore of course but from rap to black metal, it is this kind of mix that have allowed us to develop it. The name of the band has been found just my mixing words during a brainstorming and, there, when I saw it. I said to myself: Well behind this there is a full story that can be developed ! We will explain it in the month to come on social medias.
2. What do you want people to take away from your music?
Tunes to sing, shout and cry! And some lyrics that could help cheering them up! Even if they are dark they also call for a warming unity.
3. How would you describe your sound to the average listener?
Very tough questions. Our basics were, are and will always be power metal but we have enriched it with many different parts, tribal, growls, electro, pop, black, prog, ambiant... It is a great mix but the main focus is on melody, catchy choruses and emotions.
4. Who are three bands you'd like to tour with?
Definitely Beast in Black and Helloween, and maybe tour again with a band with Luca Turilli!
5. How has Covid affected what you do?
Well it has prevented us from properly promoting our previous album "N°4" and that's really a pity but, it also gave us more time to work on the new one, so all in all, we try to look at the bright side of life
6. What's your take on the current state of Power Metal?
In metal, in general, more and more technique, less and less inspiration and a real tendency to sound alike and to make several times the same album and, even on a n album, the same songs. That's what we try to avoid. Power metal remains one of our favorite but sometimes it lacks the magic of a natural production.
7. What's the current music scene like there in France?
It's all about Rap and RnB here. Plus the traditional french pop. Regarding metal, the most common genre and taste is focused on technical melo death metal. But there are also great bands in many genres Misanthrope with a really unique theatretical thrash death sounds, Nightmare (heavy), Hevius (Heavy), Angellore (dark ambiant). A lot less people are atteding to the shows these unless for the really big international names.
8. What's your take on the royalties that streaming services pay out to artists?
Your questions make me think I'm a dark pessimist person ! :D Well, music is free now. That's a reality we have to admit. The share we have on our work does not even allow us to cover our charge. Even big bands and some metal legends are struggling so.
9. What's next for Asylum Pyre?
Videos and videos, shows and shows, meeting all of you and preparing the next album!
10. Any shoutouts?
Give us a listen. A deep one. You won't regret it. If you do regret it, come speak to us! If our music don't please, wer're still cool guys!