Changing Tymz talks about their sound development, upcoming plans and much more.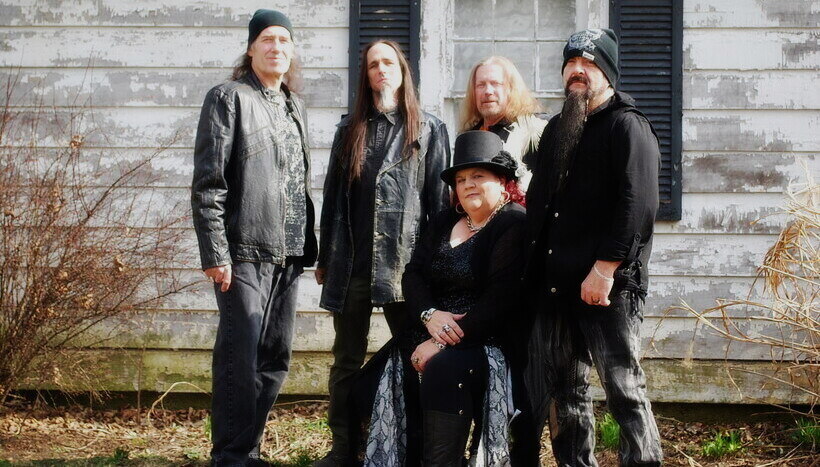 www.facebook.com/changingtymz
From: Pennsylvania
Sounds like: Hard Rock/Metal
1. Who is in Changing Tymz and where are they from? Which instrument do they play?
Joann E. Wolfe – lead vocalist. – Southwestern Ohio.
Brian Weber – lead/rhythm guitars. – Born in Norway, Michigan U.P., grew up in Wisconsin, moved to Ohio in 2018.
Timmy Wysong – lead/rhythm guitars and backing vocals. – Born in Michigan, raised in Tennessee. And been in Ohio since 1998.
Bryan McQuade – bass guitar, backing vocals, producer, recording, and mixing engineer. – Born in Southeastern Ohio – New Staitsville – but grew up in Nelsonville, Ohio, and now live in Columbus, Ohio.
Tony Rossi – drums – Born and raised in Pittsburgh Pennsylvania in the USA.
2. How did you get started with music and how did you develop your sound?
Joann – It became obvious during my toddler years that I had a keen interest in music. I was always singing and was quick to learn lyrics and melodies. Oddly, when I began singing and bouncing in my car seat to the rhythm of the music at the same time, it was like a feeling in me was born and there was only one way to go. At six years old I felt the dream! My parents took notice of my love for music, and I was signed up for piano lessons that continued until the age of 16. The piano gave me great insight into all aspects of music, as I learned a thorough understanding of timing, melody, and harmony. Once I found the stage there was no turning back! My influences are numerous and come from a wide variety of genres…. yet I'd say two of my three top choices would be the powerful and smooth soul vibes of Aretha Franklin and Whitney Houston…..the third being rock powerhouse Heart. Aretha, the Queen of Soul was so powerful, and her voice and talent are simply second to none! Whitney Houston had unbelievable chops and can never be matched. Heart, in my opinion, is the best female rock duo in history, and gave us some of the greatest rock songs ever made!
Brian – I grew up in a musical family. My brother and I were both in the boy choir. My sister was in the girl choir. We all were bitten by the music bug very early and still have it. Classical music was always blasting through the stereo, and we were always encouraged to embrace things we were passionate about. I started training in martial arts at a young age as well, and the lessons I had learned through that were easily brought into music. The importance of being diligent with practice, dedication…all that would come through for me when I started playing guitar at 14. That love of music found an outlet on the guitar and my dream was born, never to be put down. My sound comes from years of trial and err. Having a classical ear, I strive for precision in my playing with a mix of the modern heavy strumming of rhythms.
Timmy – The love for music runs in my family. I grew up listening to music, even recording on old cassette recorders, just of me singing, until I picked up my first guitar. That was when I was 5 and since then have always been supported and encouraged to pursue music and play the guitar. When I was younger (maybe 12 or so), I had asked a friend of my mother at the time to teach me some more and different stuff on the guitar. He said, "You can't play the guitar any better than you do, you should learn the harmonica instead." THAT was the day I took my music and guitar playing direction seriously, and my dream became obvious. I knew as soon as that person said that to me, I knew I was born and meant to play guitar. What some call a handy-cap, I call a "built-in guitar pick." That in itself is what gives me my unique sound. I'm influenced by everything from the blues of Motown to the sound of bands like Godsmack and Disturbed.
Bryan – My mother had played piano in church as I grew up and in 4th grade, so I began playing saxophone. I continued on with that, playing as well as singing in church. Once I got to high school, I was in concert band, stage band, and the show choir. After that stage experience I knew where I wanted to be. When my passion for the bass developed I knew how to get there and the dream has never left me, not turning back after that. Geddy Lee of Rush, and Steve Harris of Iron Maiden had the biggest influence on my style and my sound.
Tony- My father had a music studio so although I may not have always agreed, I was fortunate to have an instrument pushed on me, and learning music that really didn't interest me. It wasn't until my early teens that I truly fell for the drums and the passion to play them came alive. That passion birthed my dream because I just loved to play. Oddly enough though, the reason I chose drums at an early age was because my older brother chose guitar and, in my mind, the drums were louder and better, and I wanted to outdo him. The biggest influence on me would come from Alan White of YES, Neil Peart of RUSH, and Mike Portnoy of Dream Theater. I believe those 3 had the greatest impact on my style and the way I approach my drumming.
3. How did the name "Changing Tymz" come about and is there any meaning to it?
Well, our name started with a drawing of a hat. We all picked 10 possible names and narrowed it down by voting. So, we ended up with "CHANGE." We then decided to add to that as it was like...Change? ... Change what? ... With all the craziness going on in the world it was easy to add "TIMES" We used the letters of our names to come up with a different spelling and arrived at a final name, "CHANGING TYMZ". The name does have a meaning. When times change, and they will in spite of our attempts to keep control, we write about things in life those changes can have an effect on, good or bad, in hopes of provoking a way of thinking through things that lead to positive outcomes.
4. What do you want people to take away from your music?
We are hoping the debut album TYMZ UP will take listeners on a journey through their thoughts, opening the mind to better decisions, leaving the listener with a positive vibe. Musically, we pulled out all the stops! Throughout the album, we showcase the passion we have for our instruments. We left spots for everyone to shine and show off the time they have invested in their craft. But yet as seasoned veterans of the trade everyone writes with maturity to create a polished tight sound as every piece is thought out with purpose and every note has a reason. Whether it's good music, good songs, or inspiring lyrics with flowing melodies that you enjoy, our debut album TYMZ UP will leave listeners satisfied.
5. How would you describe your sound to the average listener?
Our sound is best described as Hardrock/Metal with a Harder modern edge, which we have found by combining the 2 elements of nu-metal and classic metal. That coupled with rich catchy melodies that are sung with clean powerful vocals, and vibrant harmonies, give us our own unique sound. We deliver honest passionate music and although we have created our own unique sound, suggestions of Heart, Boston, Megadeth, Candlemass and Evanescence can be heard throughout our music.
6. Who are three bands you'd like to tour with?
Dream Theater, Disturbed and Queensryche
7. How has Covid affected what you do?
With the EP coming out February 2020, just before Covid with all the shutdowns, all we could do was promote the release. Oddly, as it turned out the band and Matt the original singer parted ways within a year of the EP. That put everything on hold with any live shows/performance. The change in vocalists took over a year and once final we began the writing process. How we write or come up with things really wasn't affected by Covid at all. When writing we start with a guitar idea for a song that is sent to the drummer who works through that to find his groove, add breaks and work it back and forth between the guitarists until we have it where we want. Once that is established, we send it to Bryan, who works the bass with the drums, but yet adds a melody that compliments the rhythm guitar. Then it goes to Joann, after she has the melody Tony writes the lyrics to fit and Joann then works them into the song. Lastly, we add in the guitar solos and, if needed, a lead rhythm as well. Fortunately, we have the capability to do all this by sending our track files around as we all have home studios, this couldn't happen without that. So, the collaboration process is one that allows us to work out our ideas at each individual's creative place in their home. It truly is a perfect set-up to work as a unit and allows the highest level of creativity from us as individuals. With all the CHANGE we experienced and how we do things as a band the result was COVID had no effect on what we put together.
8. What's your take on the current state of Hard Rock/Metal?
Well, it doesn't take a lot of looking to see that Hardrock/Metal fans are loyal and supportive to the bands that give it their all, especially in Europe. The genre is thriving and has gained fans in the USA as well, which is having a very positive effect for us. People are starting to take the value of our genre more seriously as they want it to thrive. These fans love their Metal.. There are a ton of great bands out there these days and to stand out you have to be on top of your game. A band that can deliver is a band the fans can get behind and that's how to succeed in today's Hardrock and Heavy Metal world.
9. What's the current music scene like there in Pennsylvania?
It has always been a hard town for original bands here in Pittsburgh. Unfortunately, I can't say it's any different now. That situation has given way for cover and tribute bands to do well in the area though. But with the opportunities the internet has created for original artists, where a band gets their start has less of an impact.
10. What's your take on the royalties that streaming services pay out to artists?
Well, I think 1st we need to be grateful there is an avenue for bands to get their music out there. There is so much to learn about that market that if a band takes the time to learn what to do, the streaming services hold tremendous value in building a fan base as well as helping to cover costs in promoting the music. Once a band has success, the streaming makes for a nice bonus but will not make a band wealthy along the way. And once a band has the pleasure of a fan base like a Metallica or Nickel back, well then the streaming would produce an income better than I ever could have ever imagined. Nothing is free, but if you learn the ropes and put in the work, produce good quality music and have the patience, things can happen.
11. What's next for Changing Tymz?
Changing Tymz is a strong unit as we have had to make changes in our line-up, learning to grow and trust each other. We now have a solid line-up, so as long as we are able we will continue to write and record music. With the release of our single SO FAR AWAY From the upcoming album TYMZ UP, we are hoping to attract the attention of promoters with our increased airplay and our growing fan base as the album gets closer to release. This will hopefully land us in opening spots for national acts. We would welcome the opportunity to tour and play our music live on stage. As it stands, we operate under our established LLC with all the necessary resources for recording, mixing, promoting and artwork development, but are open to the opportunity of working with a label. So, for now, continue to expect us to produce great songs with passionate music and dynamic vocals with inspiring lyrics that will open your mind to positive views on life. In turn, we will be expecting to see you out on tour. Till then, Metal Lives On! Blessings.